Searching for the best rewording tool for enhancing your articles or essays? Sometimes we get stuck when trying to rephrase some research pooled from the internet, so we need help.
A quick way to improve the quality of your work is by using an AI rewriter tool such as WordAi or QuillBot, as it gives us different ways to say the same thing from different approaches and use cases.
The wordings that these tools generate are something that we would have never, in a million years, thought of.
By using an AI rewriter, you now have a starting point.
Instead of staring at a blank page and scratching our heads, we have options to choose from and get the ball rolling.
These types of generative AI software also go by other names:
Sentence rewriters
Sentence changers
Word changers
Article spinners
Article rewriters
AI paraphrasers
Sentence rephrasers
Sentence restructure tools
Now, regardless of how you choose to refer to them, they serve one purpose: to make your content unique.
Why use an AI rewriter?
People use AI paraphrasers to help them:
Avoid plagiarism: Sometimes, you may need to make the same argument that you've made before. To avoid duplicate content, you can use a rewriting tool to come up with different versions of the same.
Write content on the same topic with a different marketing angle: Let's say you're an SEO company with a website containing service pages targeting different audiences. Your local pages will contain most of the information on the main service pages. You can use an article rewriter to quickly generate content targeting other locations — for instance, web design Los Angeles, web design California, etc.
Present thoughts in a clearer manner: Rewording tools can help break down complex text into easier-to-understand content. Some tools on the market allow you to set reading grades, and they'll rewrite the content based on the instructions you've given.
Reuse content: You can use an online paraphrasing tool to rewrite a given article or copy so that you can repurpose it for a different audience (guest posting, social media, LinkedIn post, Medium.com, Quora, etc) without having to create content from scratch on a topic you've previously covered.
What are the best rewording tools?
Some of the best AI rewriting tools include:
1) WordAi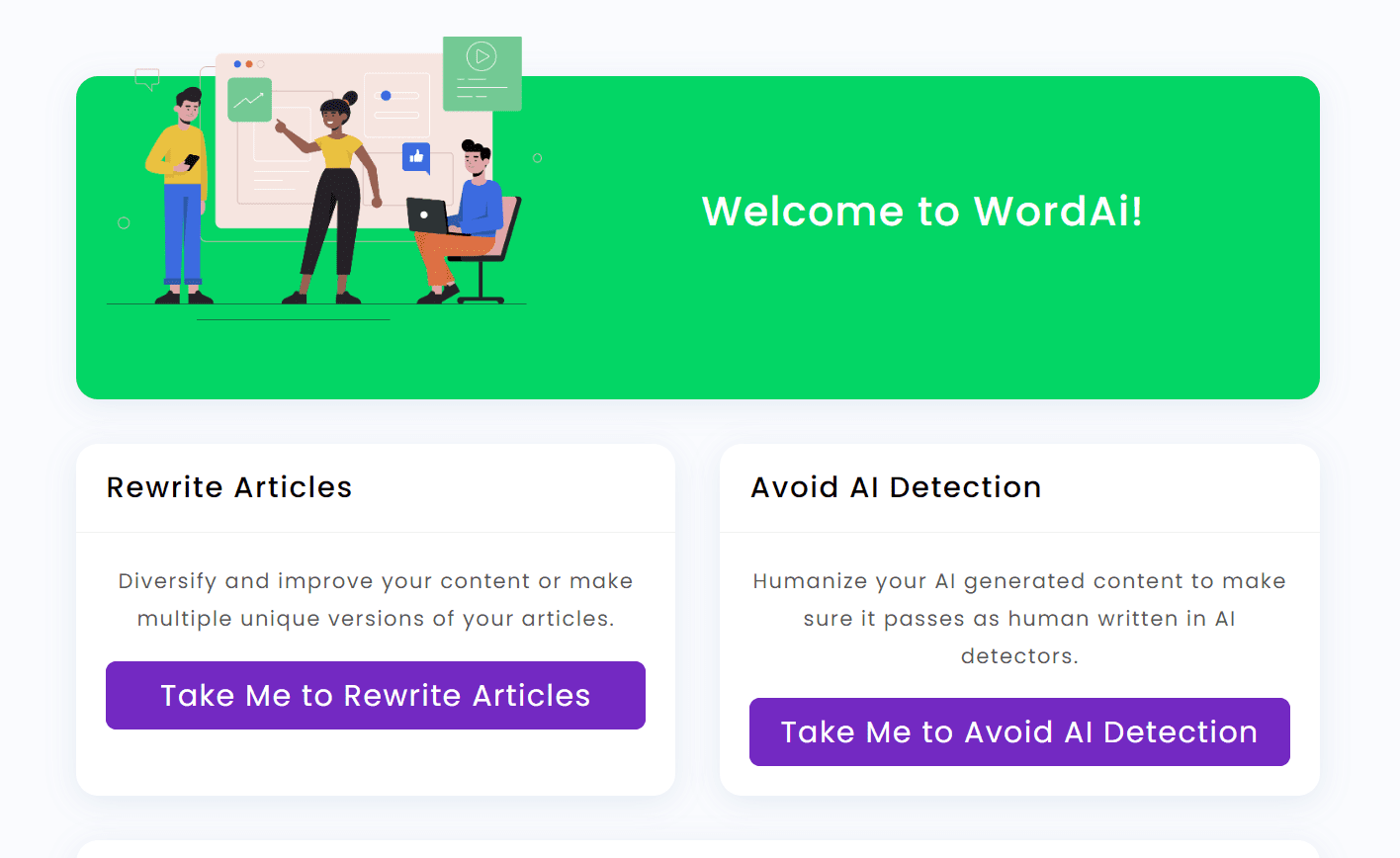 WordAi takes content rewriting to a whole new level by creating unique content beyond just synonyms.
The interface is super friendly. Simply paste your content into the input box and click rewrite to get started.
WordAi also seamlessly integrates with Articleforge, an AI content generator for creating full articles in minutes. With this integration, you can either import an article or write a new one right from the WordAi dashboard.
This tool also auto-fixes grammar mistakes that are found in the original text. Thus the errors do not reflect in the spun copy.
WordAi Supported Features:
Bulk rewriting
API integration
Sentence and phrase-level rewriting
Multilingual support; Italian, French, and Spanish
HTML support
WordAi pricing
WordAi offers a simple pricing plan:
Monthly plan: $57/month
Annual plan: $27/month



The standard subscription allows up to 3,000,000 rewritten words per month.
To learn more about how this sentence rewriter works, read our comprehensive WordAi review.
2) QuillBot AI tools


If you're looking for a more robust AI rewriter that has other supporting writing tools, then you can't go wrong going with QuillBot.
QuillBot is a popular and powerful paraphrasing tool that helps writers, students, bloggers, and other creatives to create unique content faster.
There's a free plan that is enough for you to explore what you can accomplish with the tool, but the real magic comes with QuillBot. And don't worry, it doesn't cost an arm and a leg, I promise.
While it's mostly known for AI paraphrasing, QuillBot does more, way more.
QuillBot supported features:
AI paraphraser
Grammar checker
Plagiarism checker
Summarizing tool
Citation generator
Compare Modes for comparing text
Google Chrome and Doc Extensions
QuillBot Co-writer, an AI-powered document editor that helps with sentence completion
I recently did a detailed QuillBot review that you can go over if you want to learn more.
Otherwise, you can grab this tool here for just $49/year
QuillBot pricing
QuillBot offers duration-based pricing that is quite a bargain:
Pay monthly — $9.95 per month
Pay semi-annually— $6.66 per month ($39.95 every 6 months)
Pay annually — $4.17 per month ($49.95 every 12 months)
3) Copymatic AI Rewriter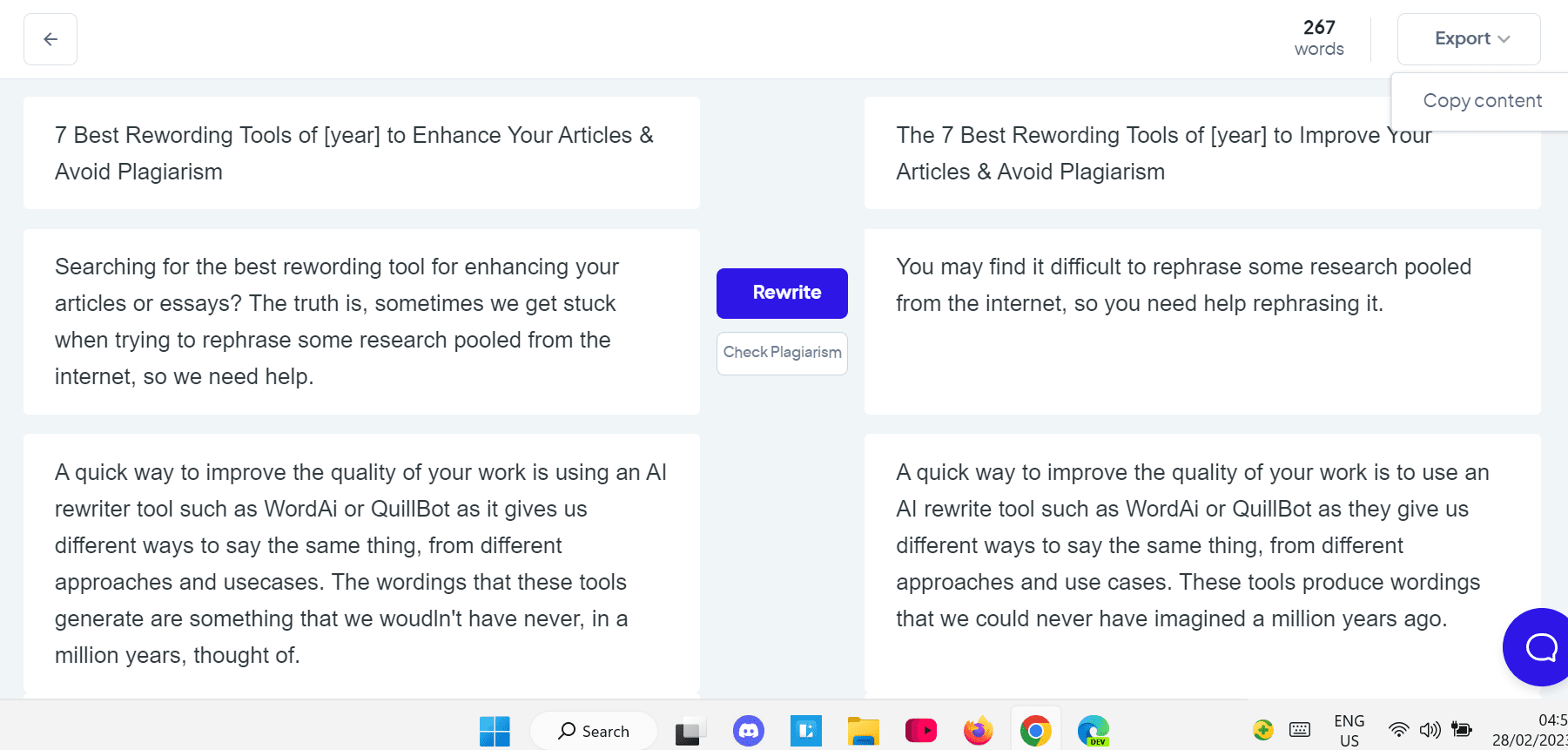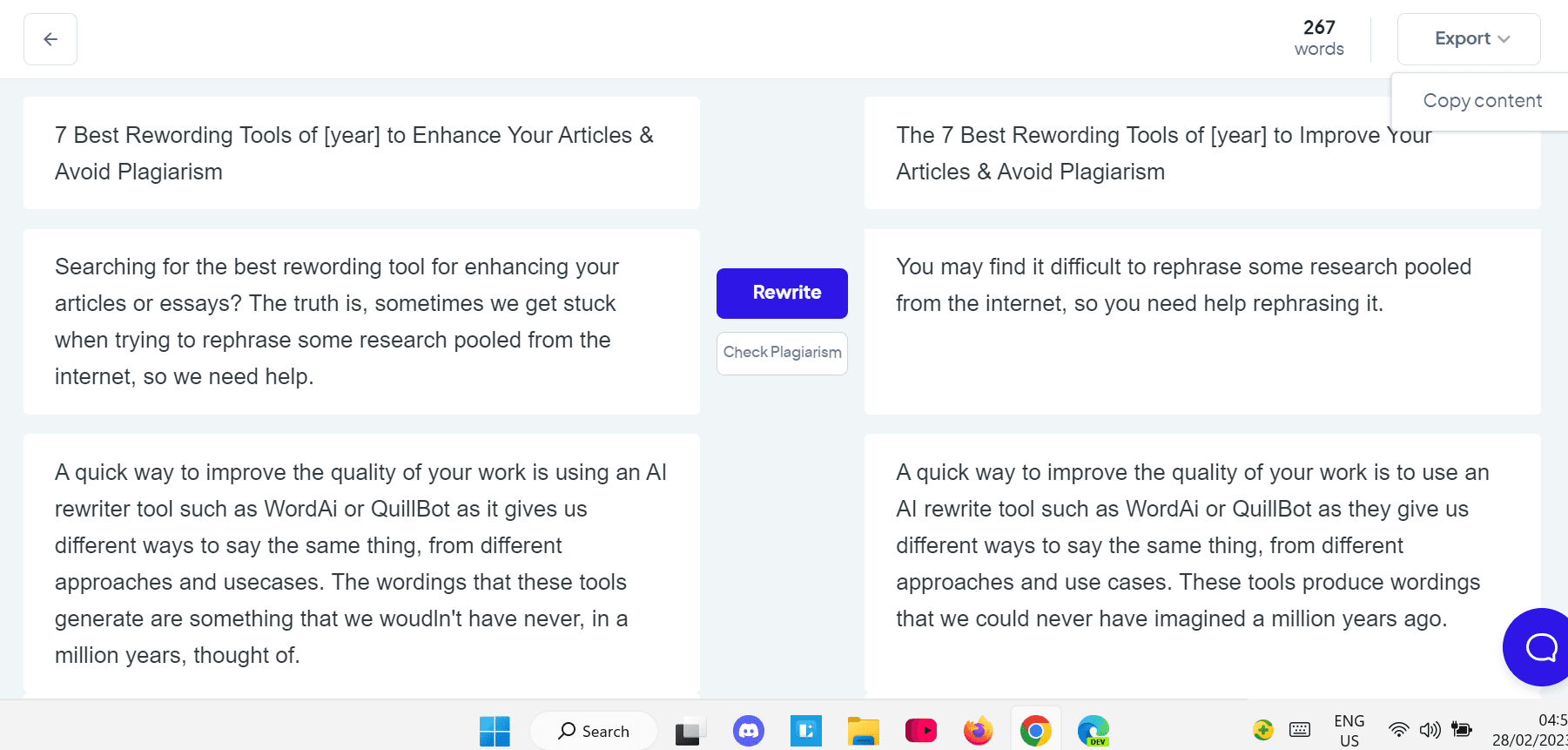 While Copymatic AI isn't a dedicated AI rewriter (it's an AI content generator, just like Jasper), it does have an easy-to-use and intuitive AI content rewriter that allows you to rewrite content from scratch without plagiarizing.
Using Copymatic AI Rewriter, you can turn your articles into unique content pieces with just one click.
Here's a step-by-step guide to rewriting content with this tool:
Amongst the 81 AI templates, select Content Rewriter
Next, paste the content you want the AI to rewrite



You can also import content by pasting the URL instead to a live web page
When ready, press the "Start Rewriting" button at the bottom center of the editor
Copymatic will then rewrite the entire article for you.
You'll notice that your paragraphs are sort of split apart to make it easier to compare and modify at the paragraph level instead of rewriting everything in case you didn't like some sections in your rewrites. Just paraphrase these sections separately.
To do this, hover over the section you want to modify, and at the center, two buttons will appear: "Rewrite" and "Check Plagiarism." Click on the Rewrite button to generate a different variant.
When your content is ready, you can copy it to the clipboard by clicking on the "Export" button on the top-right of the rewrite screen.
Or read our Copymatic AI review
Copymatic AI pricing:
$9 / month — 15,000 words ($6 / month when paid annually)
$29 / month — 50,000 words ($19 / month when paid annually)
$49 / month — 200,000 words ($32 / month paid annually)
Copymatic AI Discount Code:
You can save 20% lifetime by using our affiliate link and entering the following coupon code on checkout.
Promotional Code: 20TODAY
4) Spin Rewriter
Spin Rewriter uses ENL Semantic Spinning technology, meaning analyzes the context of the text provided before rewriting. It claims it's the only article spinner that truly understands the meaning of the content given.
By knowing how each word relates to the context it's in, Spin Rewriter is less likely to replace your context with phrases that completely change the intended meaning.
With this tool, you can take a single article, feed it to it and let it generate dozens of unique, human-quality articles.
This Ai rewriting tool uses three steps:
Step 1: Enter the article you want to rewrite
Step 2: Use One-Click Rewrite to generate your first unique rewrite
Step 3: Hit Export to create different variations of the original article



What's great about this tool, besides getting the meaning right, is that it enables you to do a side-by-side comparison of the original content and the spun one. It also integrates with free stock photo sites, allowing you to easily search for relevant images and add them to your new articles in seconds. It also supports 5 of the most popular spintax styles, giving you freedom in the direction you want the spun articles to take.
Spin Rewriter supported features:
Bulk article spinning
ENL semantic spinning
New paragraph creation
Mass exporting
Stock photo integration
Cloud-based access from every device
Side-by-side comparison
Spin Rewriter pricing:
Spin Rewriter pricing starts at $47 per month, but you can take advantage of their annual subscription offer for just $77 a year. It also offers a lifetime deal at $497.
To try Spin Rewriter for free, select the annual plan. You will get access to all the features for free for five days, and you can decide for yourself if it's worth investing in it.
5) Jasper AI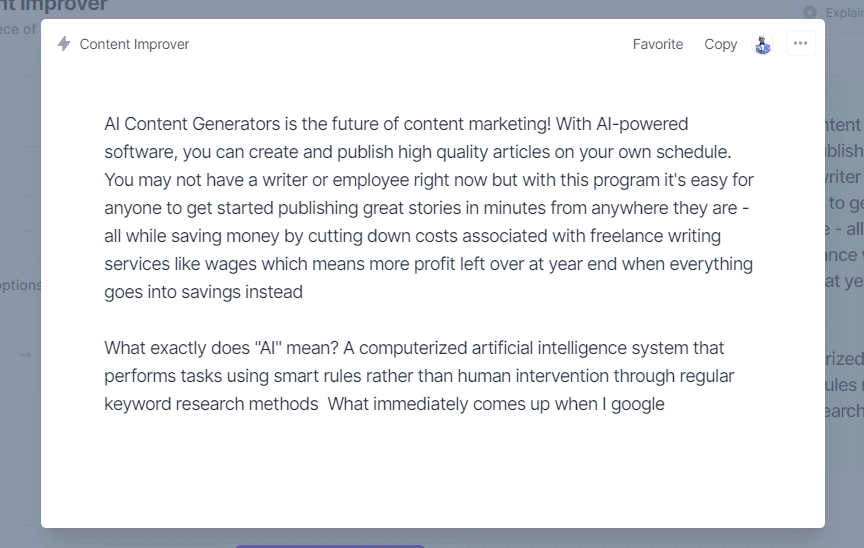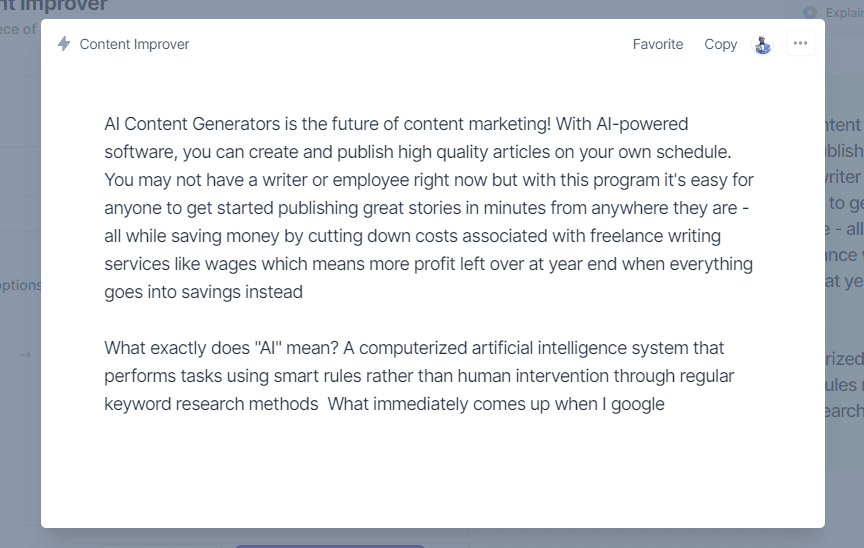 This is probably one AI writer you're well versed with, as it was one of the pioneers when GPT-3 was first launched.
Now, unless you need to rephrase lots of content at once, you don't need a separate rewording software if you already have Jasper AI, as it does it all.
The tool you'd use to accomplish results similar to Quillbot and WordAi with Jasper is the AI Rewriter workflow.
Besides the rewriter workflow, Jasper has other tools and features that can help with paraphrasing your content:
Sentence expander feature
Content improver template
Paragraph rewriter
6) The Best Spinner 4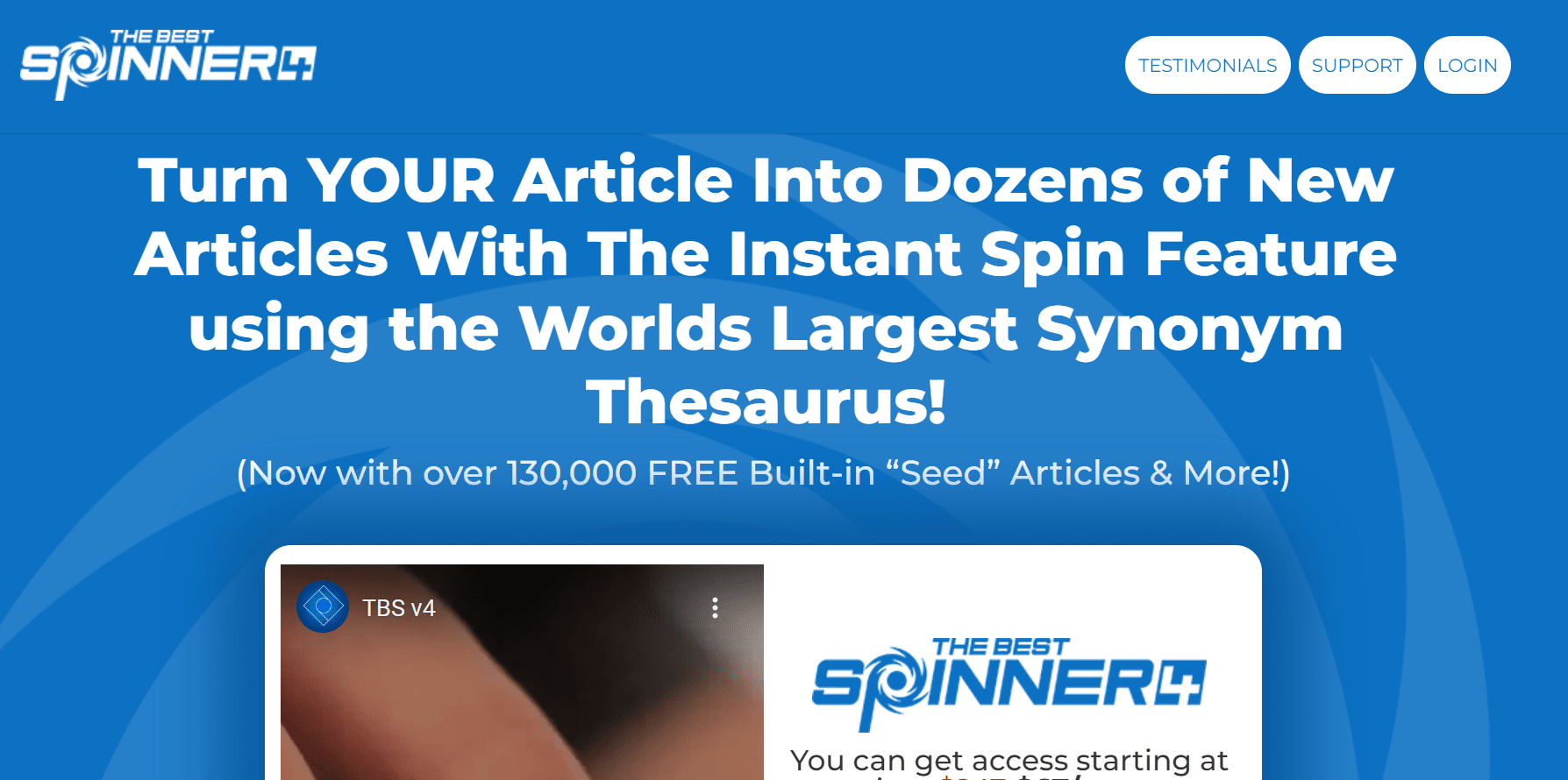 The Best Spinner is a powerful sentence rewriter tool that you can use to create human-readable spun content in seconds.
Best Spinner 4 features
CMS support
Translate content into 15 different languages
Text-to-speech support. Turn your articles into audio files for podcasting or embedding on top of the article page on your website.
The Best Spinner pricing:
This tool offers three plans; all billed annually:
Basic — $67/year with 30 audio conversion and translation credits
Standard — $127/year with 60 audio conversion and translation credits
Pro — $297/year with 300 audio and translation credits
7) Spinner Chief 7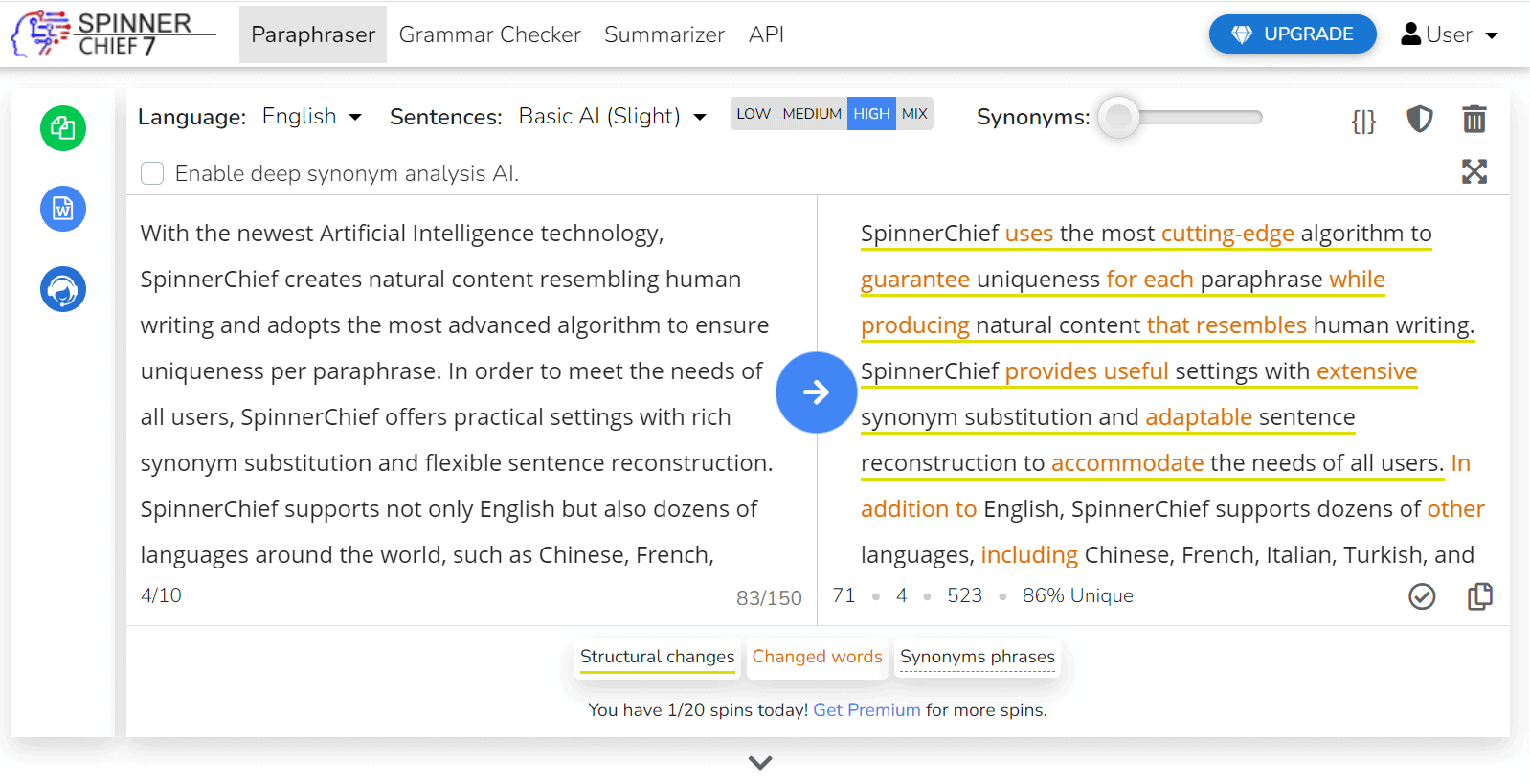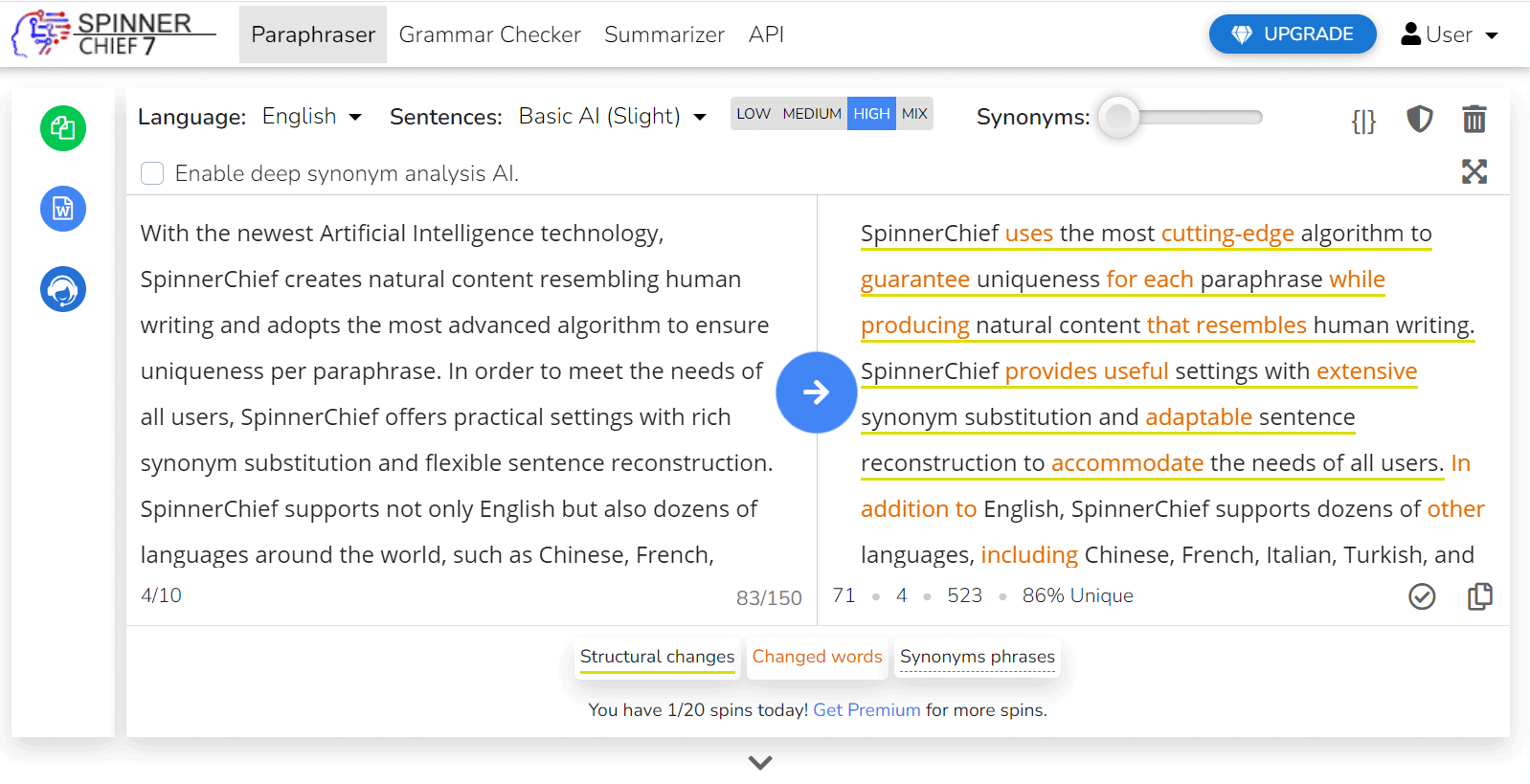 If you are looking for a more advanced paraphrase tool for article spinning, then you should give Spinner Chief 7 a shot.
This handy tool uses Natural Language Analysis and Processing technology that powers many AI writing tools to break down your content, understand the context and rewrite it for uniqueness and simplicity.
Spinner Chief 7 features
Online and offline access
Advanced rewriting powered by Statistical Replacement technology
Support for 20 different languages
Bulk article rewriting
In-built grammar checker
Support for major spintax formats
API integrations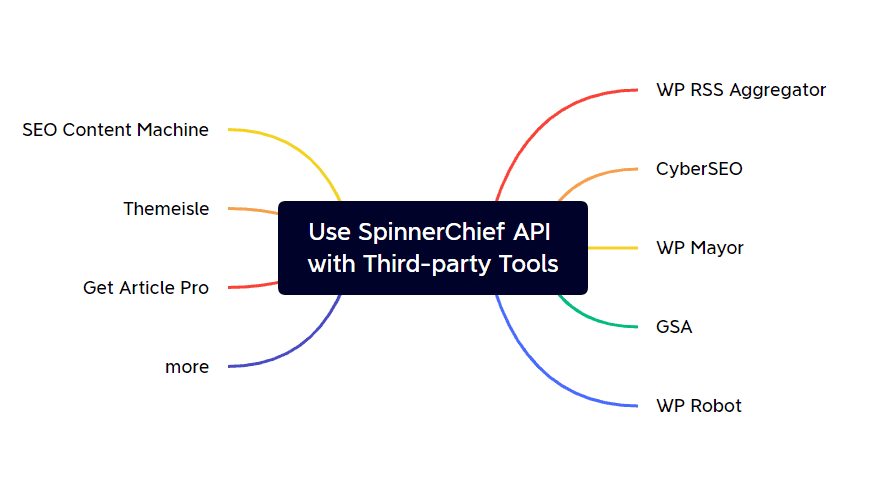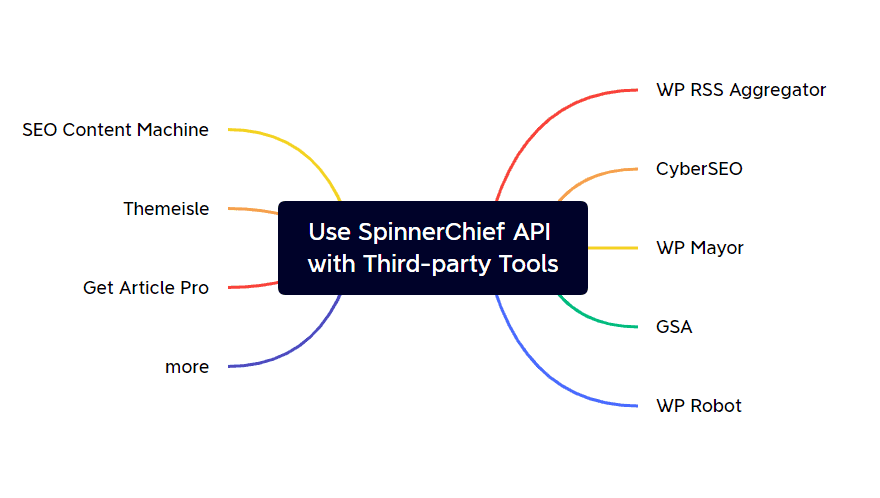 Spinner Chief pricing
Spinner Chief 7 offers different pricing plans:
Monthly plans at $57/month
Annual plans at $107/year (Best offer)
Lifetime plans at $307 (One time fee)
8) CleverSpinner
CleverSpinner is one of the cheapest article rewriters on the market, powered by AI.
You can create a unique article based on the original ready for posting with just a single click. Just like Spin Rewriter, it analyses the context to understand how the words and phrases have been used before rewriting.
The tool offers several levels of paraphrasing, from word, phrase, and sentence to paragraph levels.
CleverSpinner Pricing:
CleverSpinner offers one straightforward pricing plan at $9.99 a month, and you can get started with their three-day free trial to test it out.
Requires payment setup (PayPal)
9) Hypotenuse AI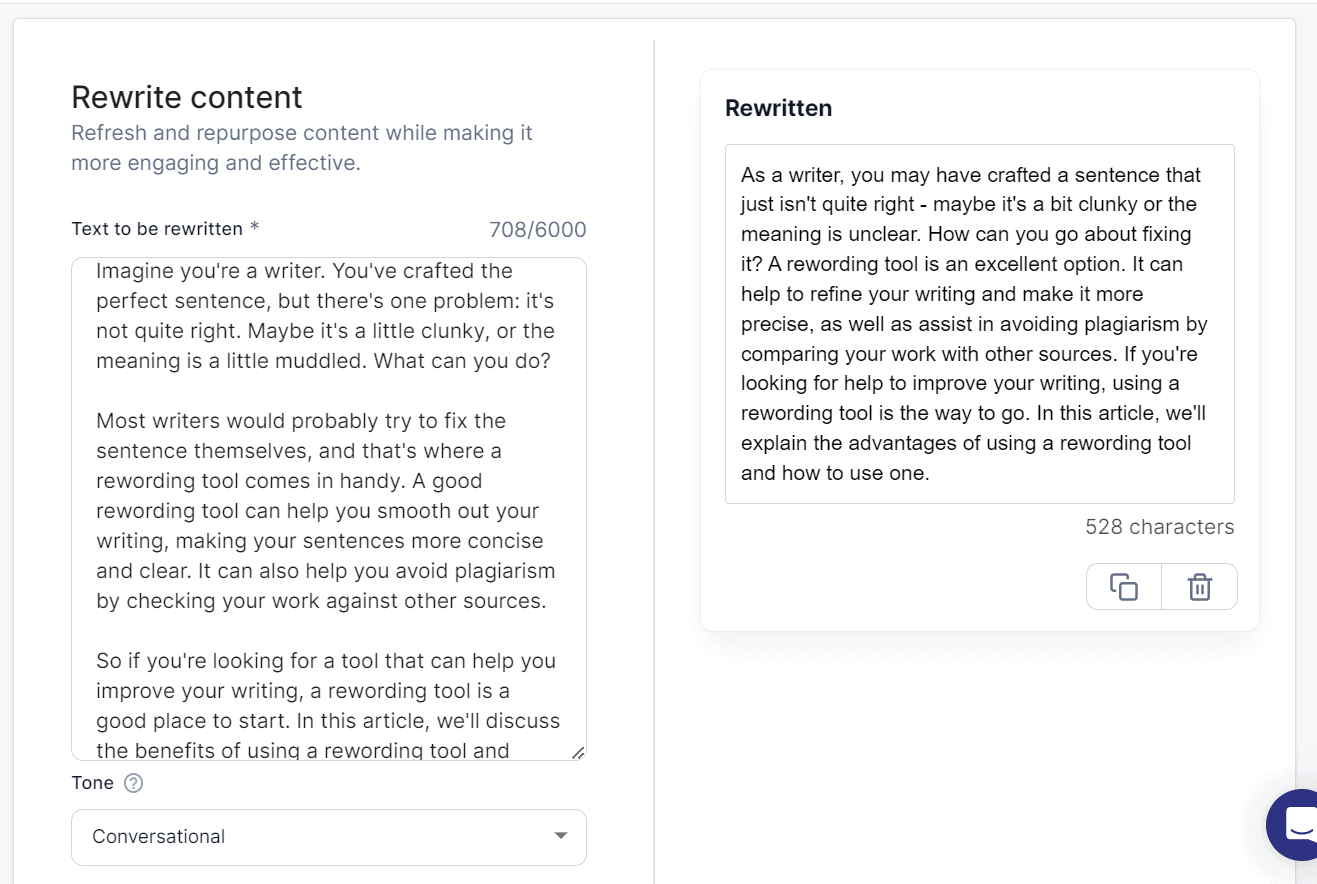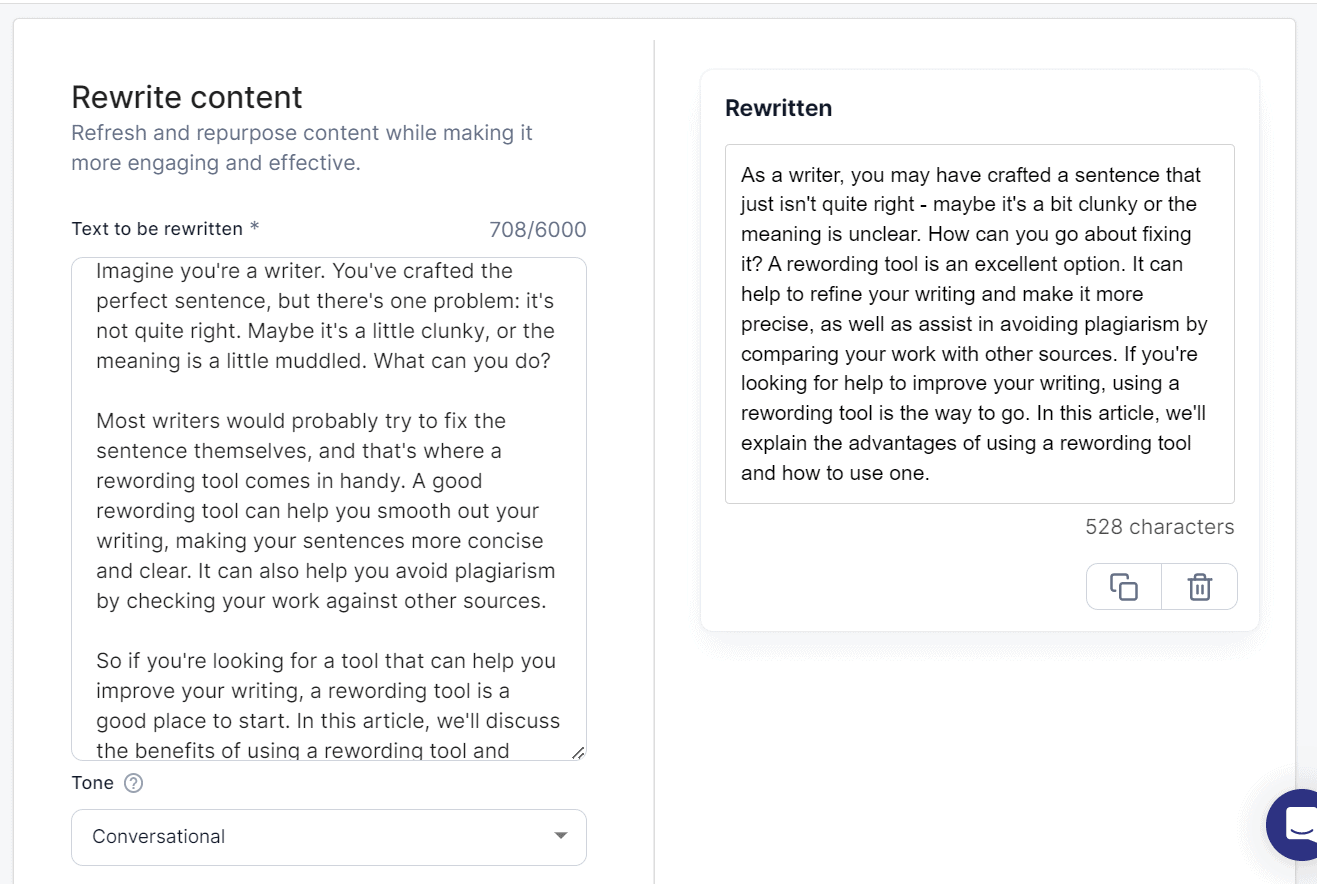 Hypotenuse AI does have a dedicated reword tool, but you do need to have an account to use it. After pasting the content and clicking on the rewrite button, you're directed to a page where you need to create an account.
What's cool about this tool is that it can AI prompts, allowing you to direct it on how to reword your content instead of resorting to very rigid customization options.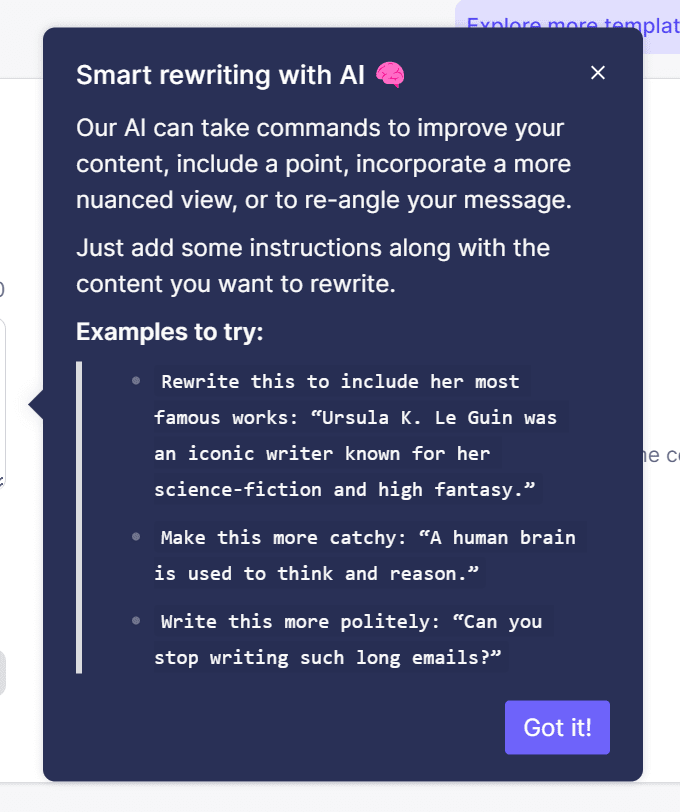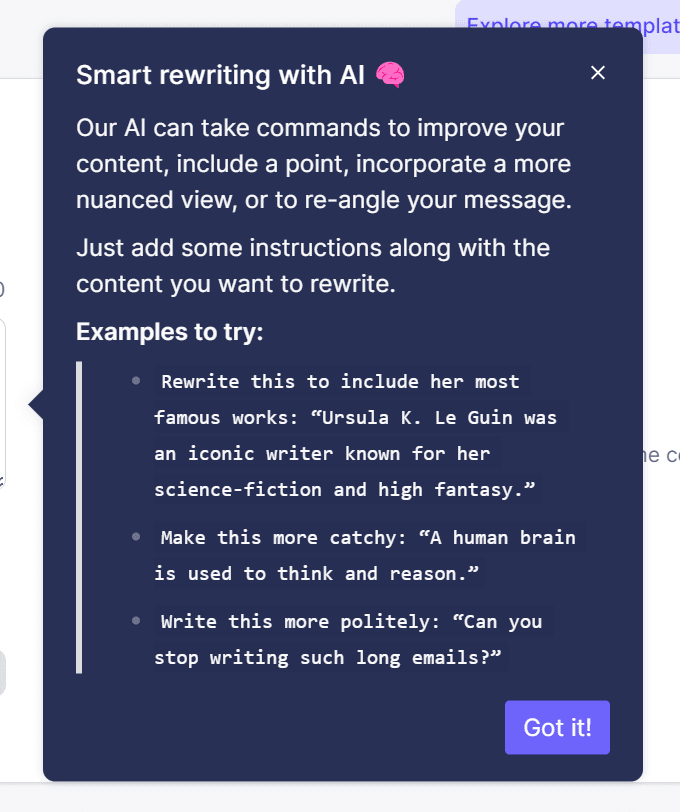 To rewrite content, paste your text alongside any instructions in the editor, select a tone from the list of available options, and then press Generate. Each rewrite consumes 1 credit.
Hypotenuse AI Pricing
Starter plan at $29/month – 100 credits (about 25,000 words)
Growth plan at $59/month – 350 credits (about 87,500 words
10) Wordtune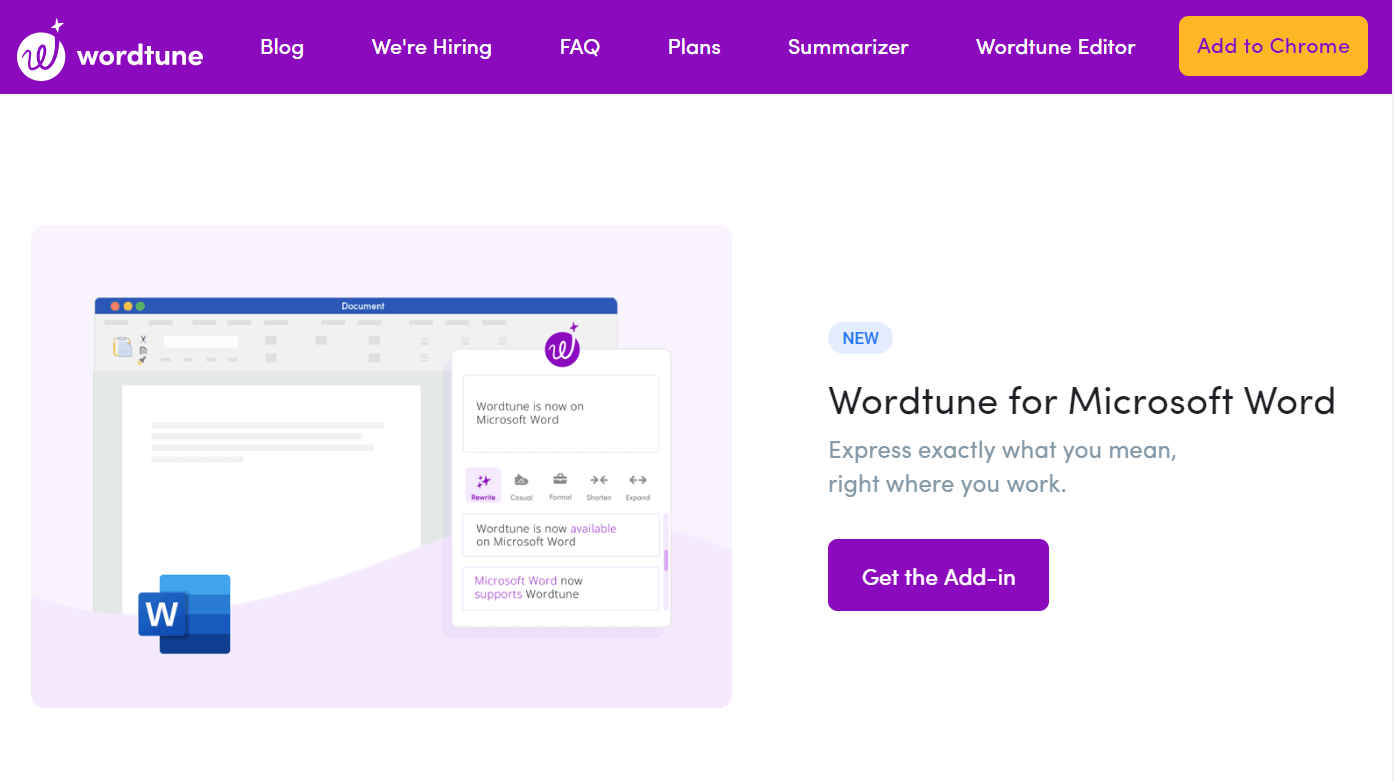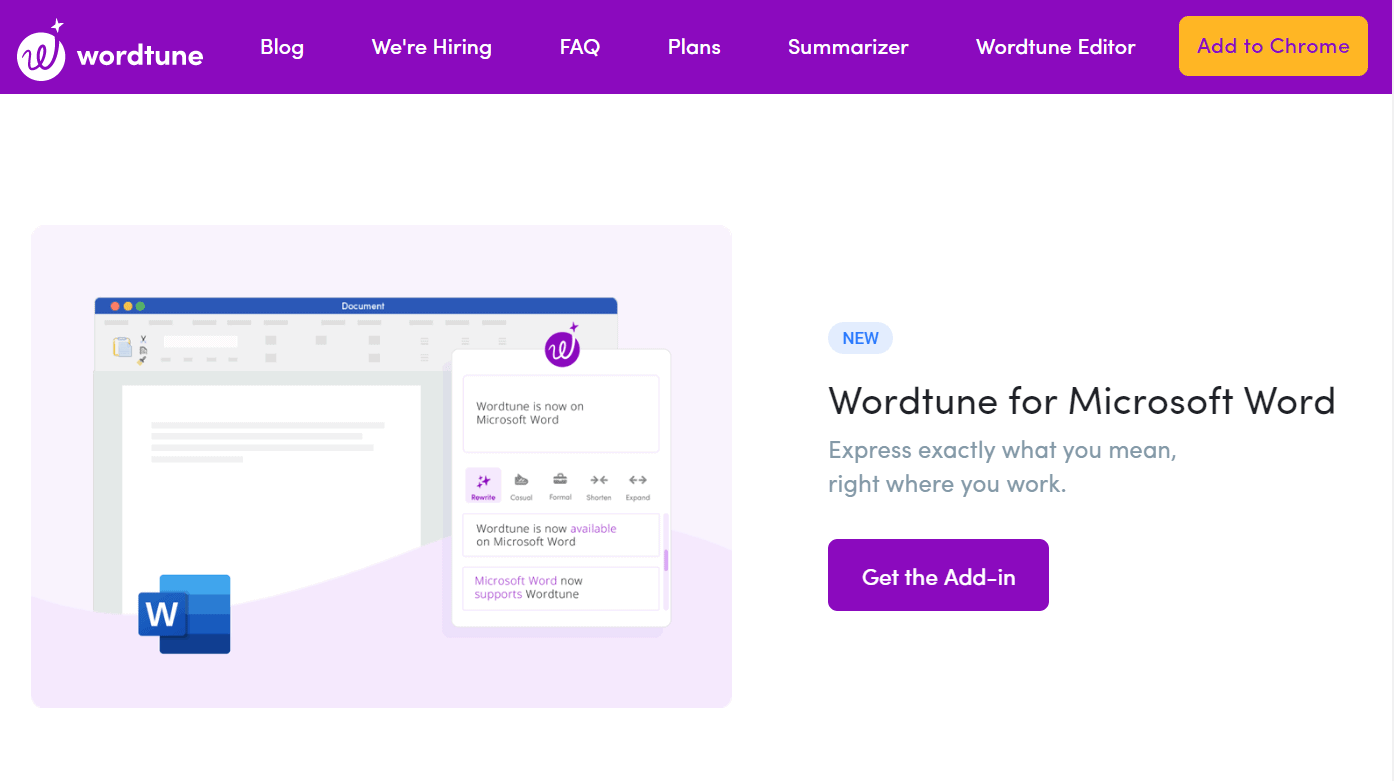 Wordtune is a powerful paraphrasing tool that uses AI to rewrite content to make it more engaging and consumable. By understanding the context and the semantics of the content provided using its neural-net-based Natural Language Analysis technology, WordTune can generate different variants without losing the original meaning.
It uses multiple language models to rephrase the content, making it one of the best ai paraphrasers on the market.
Wordtune features
Smart pasting feature
Semantic-based rewrites
Thesaurus real-time suggestions
Chrome extension
Wordtune pricing
Wordtune offers three plans:
Free plan
Premium: $9.99 billed annually, or $24.99 billed monthly
Premium for Teams: Custom pricing
11) SpinBot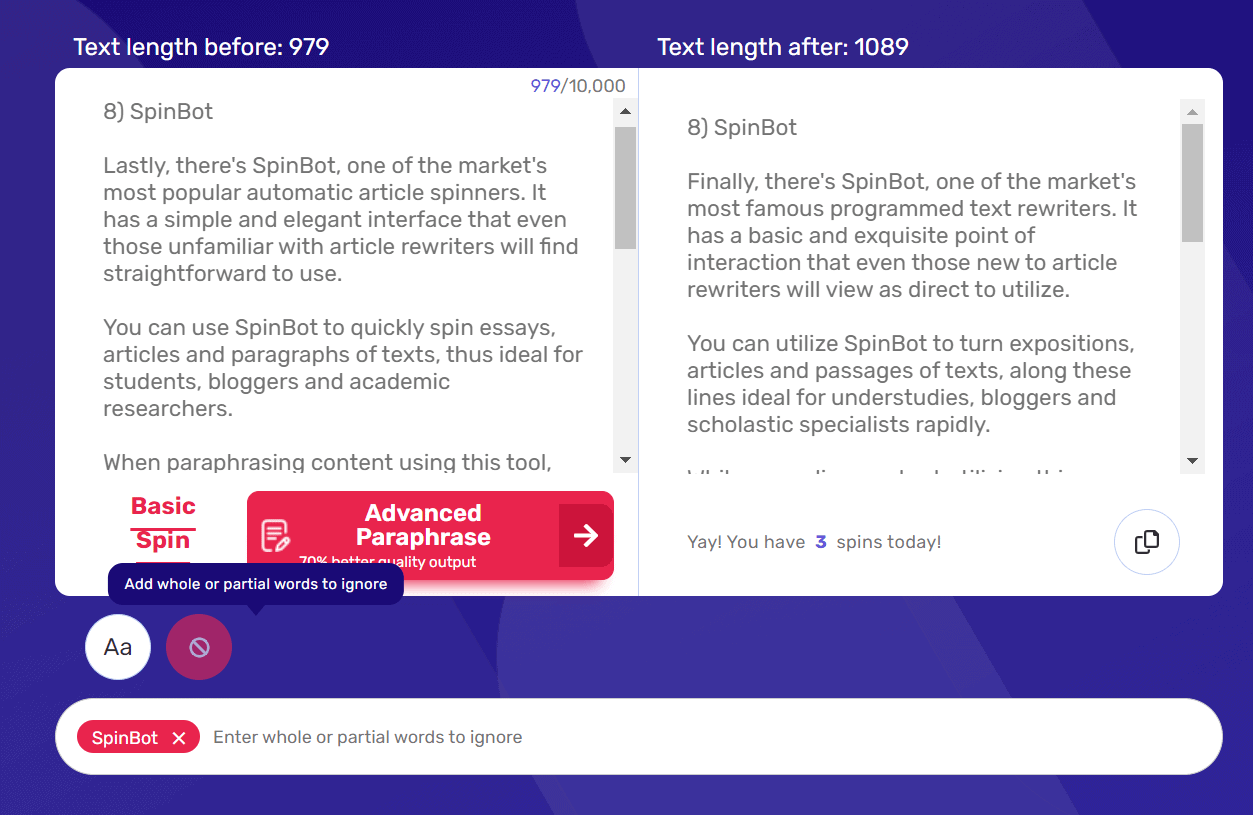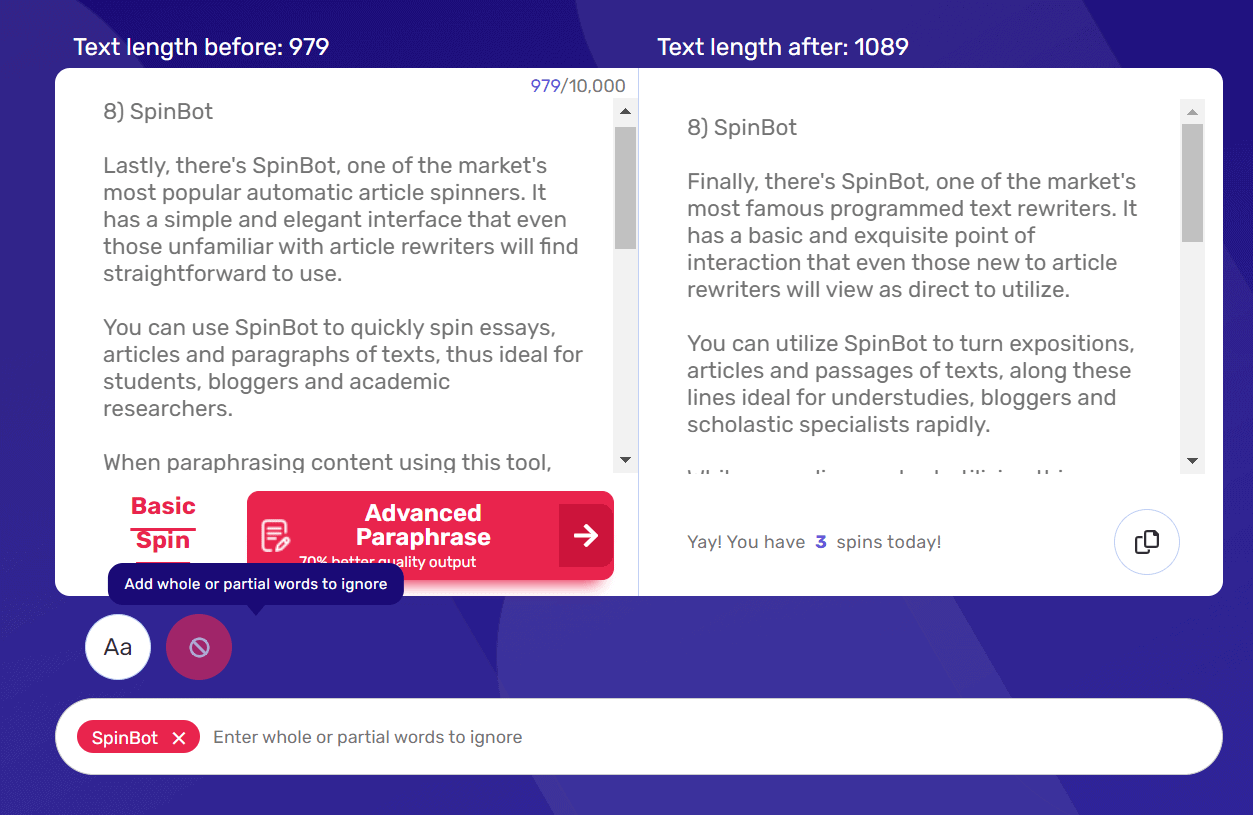 Lastly, there's SpinBot, one of the market's most popular automatic article spinners. It has a simple and elegant interface that even those unfamiliar with article rewriters will find straightforward to use.
You can use SpinBot to quickly spin essays, articles, and paragraphs of texts, thus ideal for students, bloggers, and academic researchers.
When paraphrasing content using this tool, you can opt for the basic or the advanced modes. The Basic plan uses SpinBot rephrasing tools, while the Advanced option will redirect you to QuillBot, which is kind of a cheat though
Being a one-click article rewriter tool, SpinBot doesn't come with lots of customizations. You do, however, have the option to:
Allow for changing capitalized words in your text
Add a list of whole or partial words for the spinner to ignore when rewriting content
Unlike other tools in this list, SpinBot doesn't make it easy to compare outputs, no highlights, no uniqueness scores.
What is the best rewording tool?
The best rewording website is one that allows you to do more, return high-quality rewrites, and makes it super easy and no-brainer to use.
So naturally, you want to stay away from free rewording tools like paraphrase.io and small SEO paraphrasing tools since you will be bombarded with ads, left and center.
Instead, stick with these 3 options:
Now you have some of the best AI text rewriters. Most of these tools offer free trials, so give them a spin to see which one clicks with you the most.