Raise your hand if you've tried every AI copywriting tool out there and didn't find one that:
Fits your $50 max budget
Returns perfect copy without needing to do multiple runs
Has a super user-friendly interface
Makes it easy to generate entire blog posts and long sales copy with an intuitive wizard
Has every template for every use case…
I have been there, and in my opinion, though not perfect yet, Copymatic AI excels at all the above.
In this Copymatic Review, I take you through the Copymatic Difference, and hopefully, you will get to try yourself using the 10 FREE Credits that Copymatic gives you.
What is Copymatic?
Copymatic AI is a content generator software that uses the power of GPT-3, a Natural Language Generation model developed by OpenAI to generate next words and generates based on the context that the tool is given.
Other AI writing tools on the market today include:
Looking for the best AI content generator?

Jasper AI is our recommended solution as it has better output and a sleek interface. This tool can help you write 1000 words in under 20 minutes instead of the usual 3 hours.

Curious?

Take Jasper AI for a spin for 5 days without any charge!

Claim 10,000-words credit for FREE here!
As an AI copywriter, Copymatic enables you to quickly generate highly persuasive copy, engaging content, and SEO-optimized blog posts to serve your various content needs.
Copymatic Pros and Cons
Pros
Access to 50+ Copywriting and content tools: Use copywriting frameworks and content aid tools to help you create specific content types that you need in minutes.
Quick content generation: With Copymatic, you can scale content production, whether you need some for social copy, web copy blog posts or ad copy.
Affordable: Compared to the other AI content generators on the market, Copymatic is quite affordable and is credits-based, meaning you aren't locked out of features with lower plans.
User-friendly graphic interface: Once you've signed up, you don't need to go through a bunch of tutorials to know how to use the tool, as it's super-intuitive.
Multiple content variants: Whenever you run a tool, you get about 5-7 content, meaning you have better chances of getting great copy without consuming many credits if you are on the Starter plan
Cons
Sometimes the copy generated is generic, and you need to run the AI two to three times to get better content.
Lacks advanced features available on other platforms such as continuous content generation.
Copymatic Pricing
Copymatic AI provides two simple pricing plans that are quite affordable:
Starter plan at $29/month—for up to 1000 credits
Pro plan at $49/month—Unlimited content generation (Unlimited credits)
What Content Types Can You Generate With Copymatic?
With over 50+ templates, you can generate almost any content type. You can use Copymatic to create:
Sales copy using copywriting frameworks such as AIDA, PAS, Feature to Benefits, and Quest
Answers to questions on Quora
Product descriptions
Full blog posts with the Blog writer tool
SEO meta descriptions
Testimonials and Reviews
FAQs
Video scripts
Welcome, Followup, and Cancellation email copy
Social media posts
Ad copy etc.
Besides the copy itself, Copymatic helps you brainstorm blog posts, and product, and product name ideas as well. Simply run the respective templates from your Copymatic workspace.
A recently added tool to Copymatic is the Article Writer. With this tool, you can easily modify your content to create unique content without making it synonyms-awkward.
How does Copymatic work?
Like many GPT-3 powered AI writers, Copymatic leverages templates to help you create a specific content type. For instance, to create copy for my new business, Levatin, a web design and content development agency, we follow the steps below:
Here are the details about the page we are going to create:
Service: Blog Management Service
Target audience: Small business owners, SaaS entrepreneurs and Solopreneurs
AIDA framework
First, we run the AIDA framework. Here are some of the content that Copymatic generated for us.
Grab a few that resonates with you and paste them on a Google docs canvas. Then, rearrange them, make edits until your copy is clear and crispy.
When drafting your copy, it helps to try a few frameworks, as you find that sometimes messaging hits differently with a different approach.
Pain-Agitate-Solution
On running the PAS framework, I got the following copy: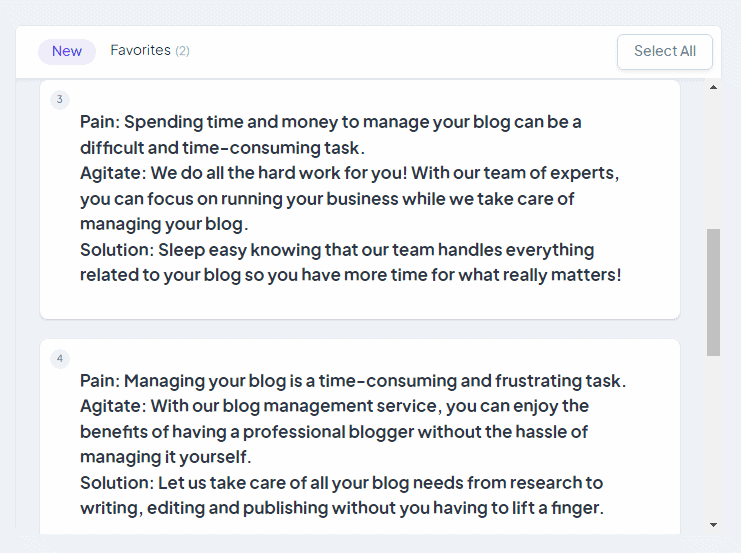 QUEST framework
The QUEST framework consists of 5 steps for great copywriting, and it's a framework that many experienced copywriters rely on every day:
Qualify
Understand
Educate
Stimulate
Transition
For the query above, we got the following copy: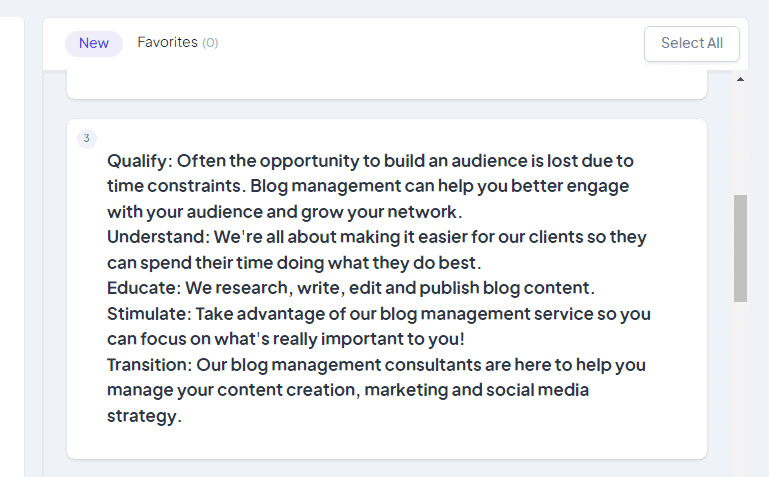 As you carry out this little exercise, you begin to slowly understand how different copy variants can be merged. In other words, you slowly become a copy wizard…
You have an option to favorite the copy variants so that you can find them later own. Another thing that I tend to do is to open a blank new docs document and paste all the generated copy that catches my eye.
After doing 2-3 runs, go to your google docs canvas, and start playing around with your copy lines, deleting those you don't need, rewording those that don't match your brand voice, and rearranging them to have a smooth flow.
Do this correctly, taking your time, and within an hour, you'll have a compelling page copy that speaks to the hearts and souls of your prospects.
Copymatic Review: How to Write Full Blog Posts with Blog Wizard
Besides enabling you to generate short copy for social media, and other use cases, Copymatic is also a powerful article generator. Built into the platform is the blogging wizard consisting of 5 simple processes of article writing, namely:
Enter your blog details
Generate a creative Title
Generate blog intro
Generate blog outline
Turn your outline into blog sections
Here's the step-by-step process of how to create an article with Copymatic AI:
First, log in to your account, and from the dashboard, look for a template titled Blog Post Writer. Click on it to be taken to the blog writer pane.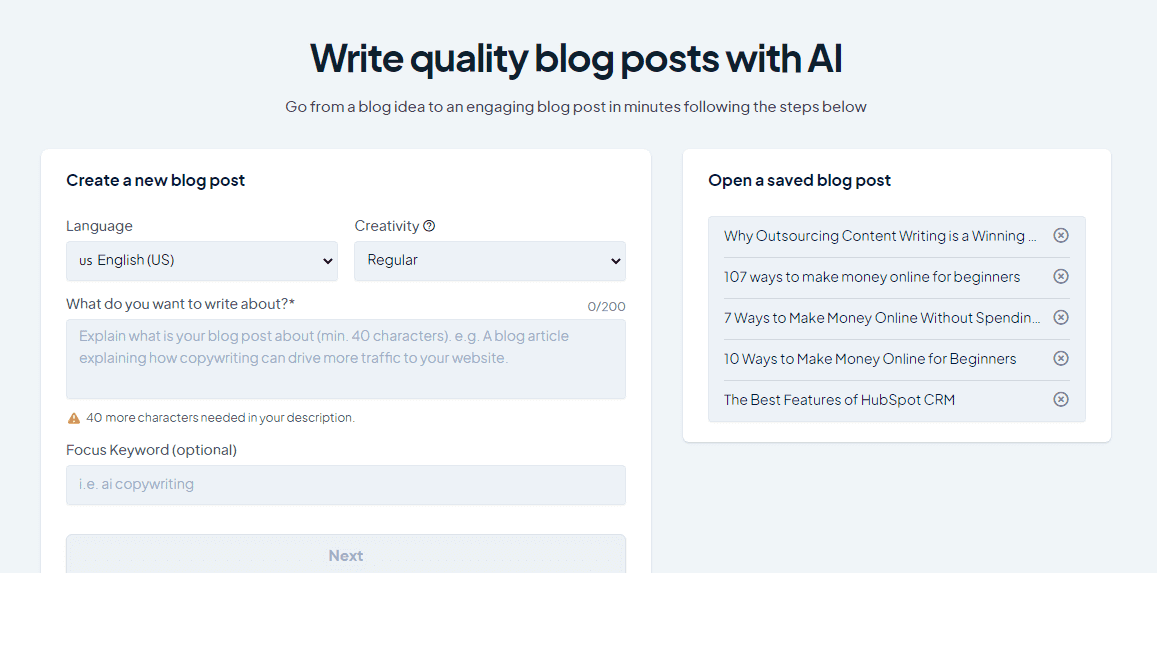 On the left of this page is the area where you can enter your post details to start generating a new article, and on the right are your previously generated posts.
Clicking on any title from your history opens the generated content to continue modifying it.
To create new content, fill in your details on the left and press next to be taken to the AI wizard.
To experiment with this tool, I created an article about 7 Ways to Make Money Online, and here's a section of the article generated in under 5 minutes.
Here's the brief input: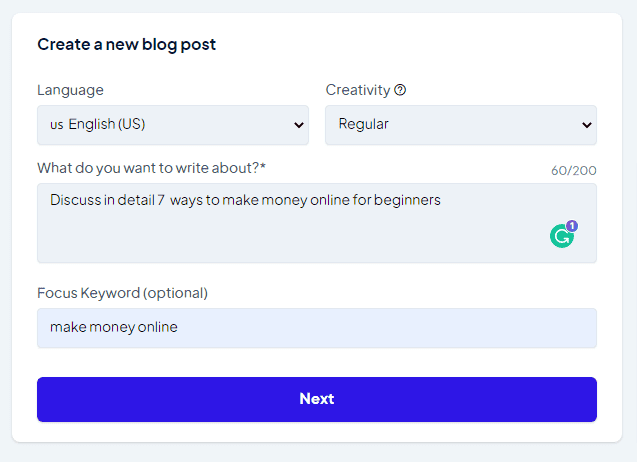 Here are some titles that the AI suggested for me: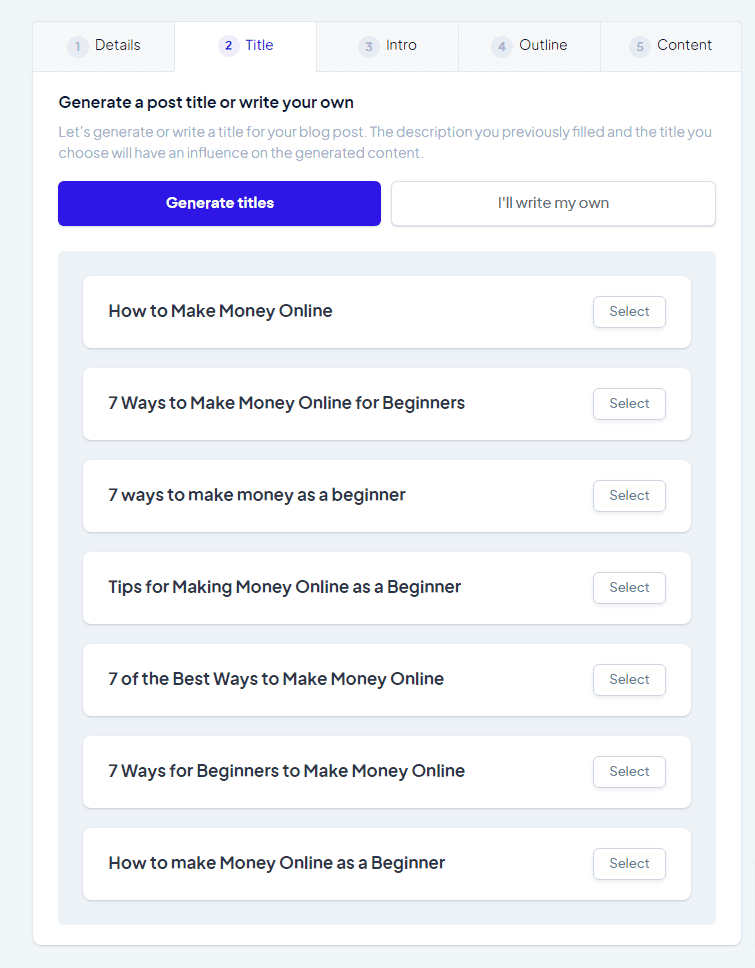 I went through the rest of the steps, generating the blog title, introduction, and blog outline with Copymatic. Now, when you have generated the outline in step 4, you can simply select your preferred outline and ask Copymatic to generate a paragraph for each section. It only takes a minute. I did that for this example.
Copymatic understands that your lines in the outline are subheadings, so it converts them as such and then generates a paragraph under each heading, solely based on the content of your subheading. All these with just a click of a button!
In the final step, 5, you are prompted to generate the paragraphs for your subheadings. Simply click on the Yes, please button.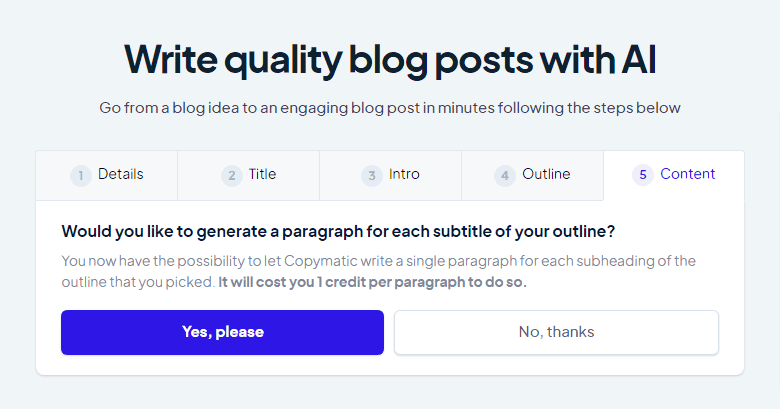 The final result looked like this: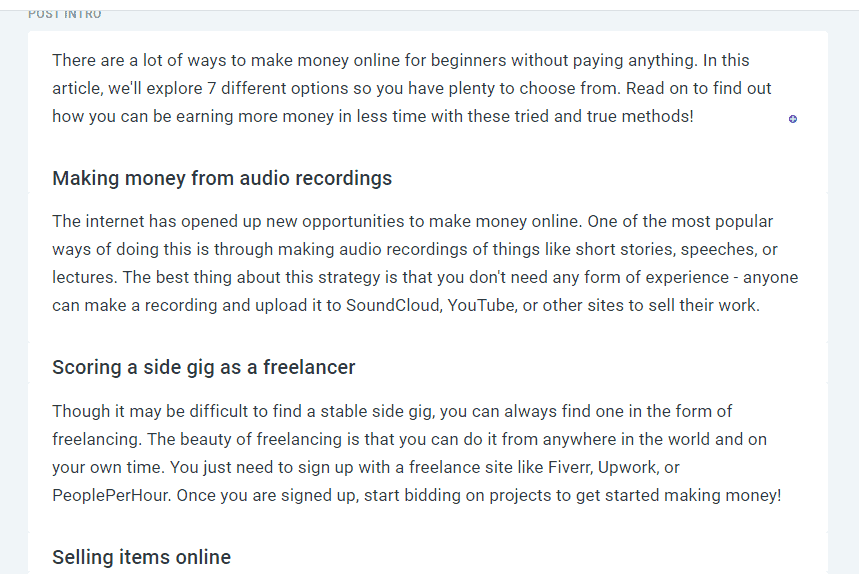 The rest of the article read:
To use this article for my blog, I would need to modify the content further, adding my inputs and insights. However, I must say that the draft itself is pretty good.
The final destination is the editor page, where you can modify the content as you see fit. For example, you can add your own wordings, break down paragraphs, or generate more content. To generate content from this pane, hover on the section you want to modify, and two buttons will appear on the left side.
Generate: This action generates new section content based on the blog title and section headline.
Write more: This action completes your existing section content from the cursor position.
Both of these actions consume 1 credit each every time they're run.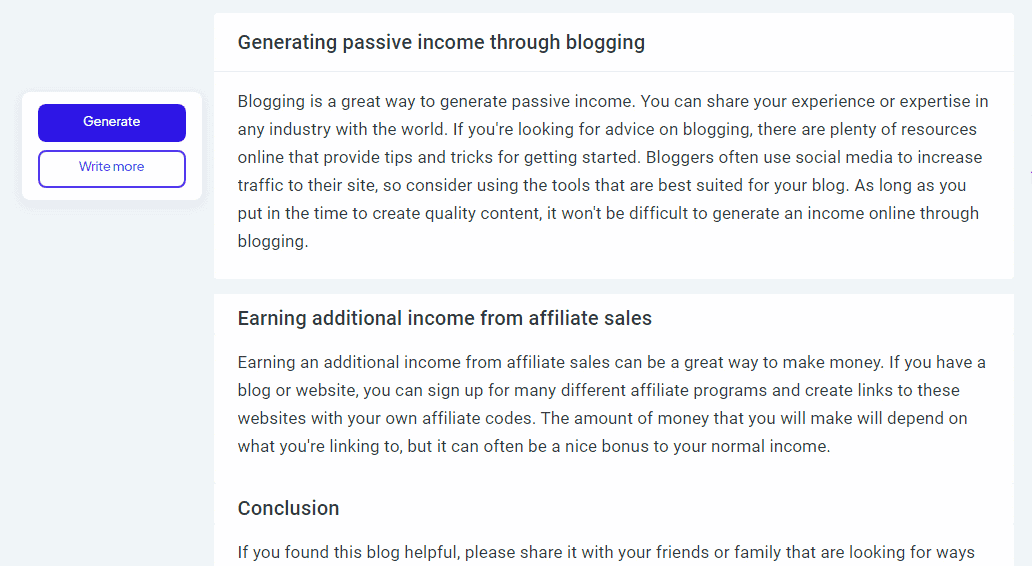 Copymatic Planned Features:
AI Landing page designer: This tool will revolutionize your landing pages to help you convert more visitors into leads and customers
WordPress plugin: You can integrate your Copymatic account and start publishing your articles directly to WordPress
Copymatic Review Final Thoughts
Copymatic is a great AI content generator and copywriting tool that can help you scale content production for your business. I recommend spending your first month trying a few ways to use, mix and match different templates and create your own processes to make AI content generation fun and easier.