AI copywriting tools are here with us, they have been since 2020. Today, these tools are being used by content creators, marketers, and copywriters to help fasten the content development process.
If you have a tool like Jasper AI or CopyAI (Most popular AI copywriting tools on the market), you might have been wondering how to leverage it to make more money.
In this article, I take you through how to make money with AI tools.
What are AI copywriting Tools?
AI copywriting tools are types of software that use GPT-3 and other Natural Learning technologies to generate content in a human-like format based on the text they have been fed with.
Some of the best AI writers include:
These tools are perfect for breaking your writer's block and brainstorming ideas and marketing angles.
How to Make Money with AI
Let's now get to various ways you can make money with these machine learning and Artificial Intelligence-powered content generators.
1) Become a Freelance Copywriter
Becoming a copywriter used to take you years of dedicated learning, hours of case studies and pages of swipe files, and thousands of rows of power words.
Today, even the not-so-experienced writer can craft highly persuasive and converting sales copy with the help of AI copywriting tools. This is because these tools have built-in templates that utilize proven copywriting frameworks such as QUEST, Feature to Benefits, AIDA, Problem — Agitate — Solution (PAS), Before — After — Bridge, etc.
By playing around with these different templates, you will be able to come up with unique marketing angles, that you wouldn't have otherwise thought of on your own.
To try Jasper AI, the best copywriting tool and long-form content generator tool, click the link below.
2) Start an AI-Powered Blog
When you have an AI writer like Jasper (Jarvis AI), it's like having 5 other content writers working for you 5 days a week. Starting a blog is one of the best ways to make money with AI tools. This is because you are building a passive income stream that will generate money for you for years to come.
Now, starting a blog is more than just churning out dozens of awesome content every month. You need a strategy. Before you start your AI-powered blog, take time to do your research. You want to find a blog niche that is:
Less competitive with considerable keywords or topics with low to medium search volumes
The topics should be general enough that AI writing tools won't struggle to create content on their own
Is less scientific or technical
Keep in mind that you will be using AI tools to publish 3-5 blog posts every day for at least a year, so if you go for a niche that is too technical, these tools won't help you much as you will be doing lots of editing yourself.
When doing keyword research, it helps to invest in a tool like Semrush. You only have to sign up for the first month and spend this duration doing keyword research. Once you have identified a niche, then go ahead to research topics. Add potential topical keywords to a list or group, and then export them as CSV.
This way, you will always have the keywords to target even after discontinuing your Semrush subscription.
If you would rather do your keyword on a budget, then I recommend using Keysearch, an affordable keyword research tool.
3) Offer Pinterest Descriptions on Fiverr
Writing optimized Pinterest descriptions is a challenge that many bloggers face. Being the shrewd freelancer that you are, this is something you can leverage to rake in $50 a day
There are several AI tools that Pinterest description generators such as Nichesss.
Jasper AI has a dedicated Pinterest Title and Description template that you can use to brainstorm ideas for your clients.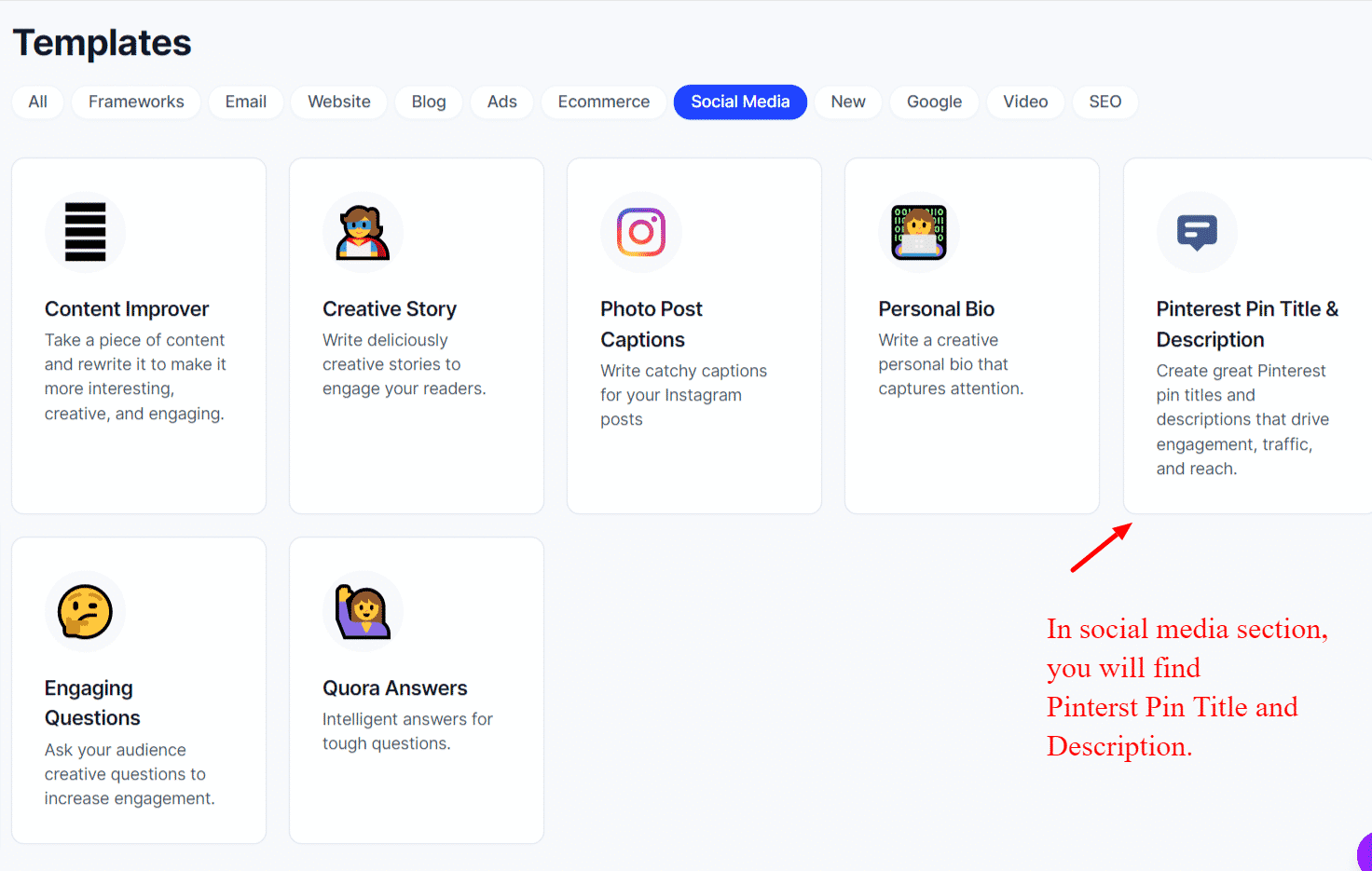 For a service like this, you can easily charge $10 on Fiverr and be able to have 5 bookings a day. Of course, you do need to prove yourself first, but once you have a few 5-star reviews, you could start getting orders on autopilot.
Things to note:
Your pin description should sound native with keywords naturally used without sounding like you are just randomly throwing in keywords

Pin descriptions max at 500 characters
Include a call to action
4) Get Paid to Do Keyword Research
If you have access to AI keyword research tools such as Semrush, and Ahrefs, then you know how addictive data can be.
If data excites you then you can make money with AI as a keyword researcher. Clients pay you a set amount to help them identify relevant topics that they can easily rank for.
Some of the popular AI keyword research tools that you can use to offer this service include:
Frase AI: A powerful content research and copywriting tool with an SEO keyword that comes in handy in identifying sub-topics to cover
Writerzen: This is like a Semrush plus Jasper AI.
Semrush: A dedicated keyword research and content analysis tool
5) Become a Product Description Writer
Many AI tools have intuitive product description generators that can help you in creating product descriptions for any type of product.
You can offer this service on your website or through a freelance marketplace like Fiverr or Upwork.
The tools I recommend for product descriptions are Jasper AI and ContentBot.
6) Create and Sell PLR Digital Products
PLR info products are digital products that are licensed for reuse or even resell.
If you have been offering PLR products, then you'll be glad to note that your work just got a lot easier, as AI tools will shorten the time to create them.
Types of PLR products to create:
Articles
Presentations decks
eBooks
Video scripts
Autoresponder messages
Lead magnets

Brandable courses etc
How much you charge depends on the commercial value of the PLR product. For short articles, you could charge $5 while for eBooks and brandable courses, you could charge anywhere above $67. For shorter PLRs, you can bundle a few together to make the offer more exciting.
7) Create and Sell Swipe Files
Swipe files are some of the most popular types of digital products that sell well today. Before, you would have to spend time researching, brainstorming, and rewriting your copy until you have enough to bundle together.
Today, with the help of a powerful AI tool like Jasper, you could comfortably create a swipe copy with 50 plus variants on a weekend.
Some swipe files ideas to try include:
Email outreach copy templates
LinkedIn outreach templates
Social media copy
Facebook ad copy
Email subject lines
Blog Intros
Product launch email swipe files
Product description swipe files
You might one to niche down to a specific product type or industry instead of all and sundry.
Ready to Start Making Money with AI?
If that is so, then make sure you grab your Jasper offer to generate up to 10,000 words of content for free in the next 5 days after signing up.