Looking to make money on Fiverr or hire freelancers from the platform? Then this detailed guide on how does Fiverr work is all you need to get started right away.
But first, we need to understand what Fiverr is
What is Fiverr?
Fiverr is a freelance platform where Fiverr sellers provide all sorts of services that the buyers need. Some of the common services offered on Fiverr include:
Fiverr logo design
Social media management
Virtual assistant services
SEO writing
Product description writing
File format conversions
Web design
eBook cover designs amongst others
The platform was named Fiverr since most of the services were simple tasks that only cost buyers $5.
With time, Fiverr has grown to a full outsourcing platform, with services going as high as $20,000 a project.
How Does Fiverr Work for Sellers?
For sellers, Fiverr is a marketplace where you get to list your services.
Each service will have a dedicated listing page where buyers can learn more about your offering, and if they are satisfied, they can make a purchase directly from this page, or contact you for inquiries.
The services listed on Fiverr are referred to as 'gigs.'
When listing your service, you will need to define your pricing, and delivery duration and set the minimum requirements that the buyer has to submit before you can start working on a project.
Once you receive an order from a buyer and have all the order requirements submitted, the countdown starts ticking, and you get to work to create awesome work for your client.
Upon submitting your work, a buyer can accept, or request modifications. The number of revision rounds that a client can request is defined by you on the gig's page.
The order can be marked complete by the client if they are satisfied with your work. If a buyer doesn't react to your delivery, your order is auto marked as complete 3 days after submission.
Fiverr Terms
Gig: This refers to a service offered on Fiverr. A gig page is the service sales page where buyers can directly order it.
Fiverr Seller: This is a registered Fiverr user who offers freelance services on the platform
Fiverr Buyer: This is a user who has purchased a gig.
Buyer Requests: A section where Fiverr sellers can browse all the custom requests made by buyers. Sellers can then make their offers that the buyer may choose to accept. If the offer is accepted, the order begins
Order: Refers to a service purchased. An order may be new, in-progress, canceled, delivered, in revision, or complete.
Post a Request: This is a feature that buyers can use to make a request that will appear in the Buyer Requests section for sellers to make their offers.
How to Use Fiverr as a Freelancer
Step 1: Create a Fiverr Account
To get started on Fiverr, all you need to do is to create a Fiverr account.
Here are the steps to creating a gig on Fiverr:
1. Create an account. Go to the Fiverr homepage, and navigate to Become a Seller from the top navigation page.
2. Update your profile, and fill in all the required sections to ensure that your profile is complete before you can start selling.
When creating an account, I recommend using a Fiverr username that clearly states what you do, as this may boost your rankings on the platform.
For instance, if you will be writing articles, then you want to use a username like seowriter, jennwrites, powercontent, samcopy, etc. Likewise, usernames like marveldesigns, idesign, canvadesigns, samdesigns might fit a graphic designer.
Just ensure that your username is broad enough so you aren't limited to the types of services you will be providing. A username like samlogos, might limit Sam to only providing logo design services.
Step 2: Take a Free Fiverr Course (Optional)
To help you get started the right way on Fiverr, I found this short free Fiverr course on Skillshare. Skillshare is a membership learning platform with 16,000 plus classes.
Using our affiliate link, you get free access to all of the Skillshare classes with a 30-day free trial, instead of the regular 7 days. With this offer, you get to enjoy access to 15000 plus classes, including about 600 classes on Fiverr and Freelancing alone.
This class will help you to identify what services to sell on the platform, based on your skillsets and the demand on the platform. It also teaches you how to perfect your skillset(s) so that you can stand out from the crowd and build a sustainable, passive income with the platform.
Step 3: Optimize Your Fiverr Profile
Before you can start selling on Fiverr, you need to complete your profile.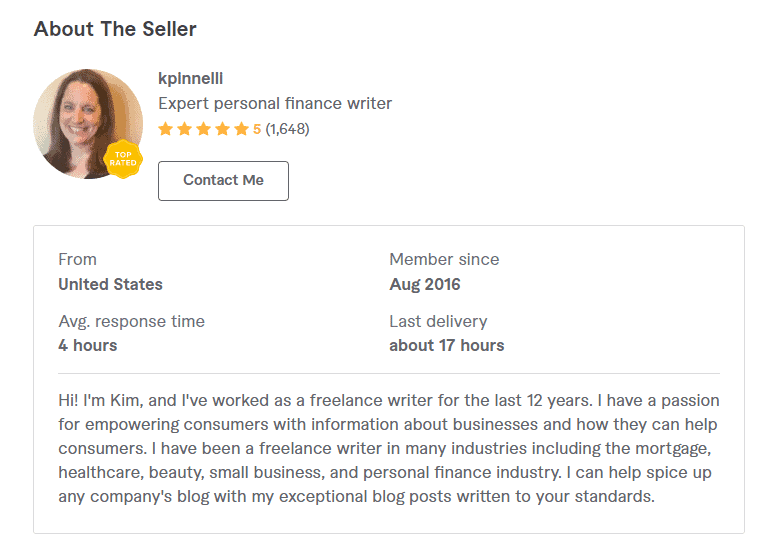 An optimized Fiverr profile means that you have:
Provided a compelling Fiverr profile description that appeals to your target customers.
You have listed your skills in the Skills section
Added your past clients
Added your work samples in the portfolio section of your Fiverr profile
Linked your social accounts
Included Education details and certifications if any.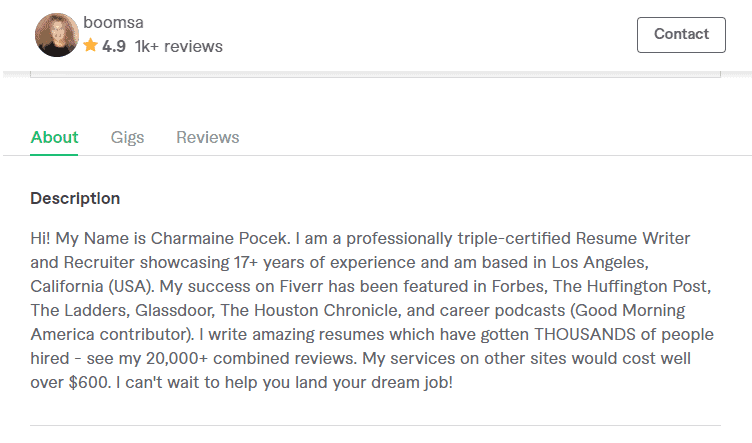 Once you have added most of the details above, the next thing you want to do is to start listing your gigs so that buyers can discover and order your services on the platform.
Step 4: Create your First Gig
To start selling, you need to create at least one gig.
How to Create a Gig on Fiverr
Creating a gig on Fiverr is a process that involves 6 steps. To create a gig, simply click on Create your first gig button after creating and updating your account.
If you already have gigs and want to add a new one, simply navigate to the Gigs page on your profile from the top navigation, and click on the Create a New Gig button.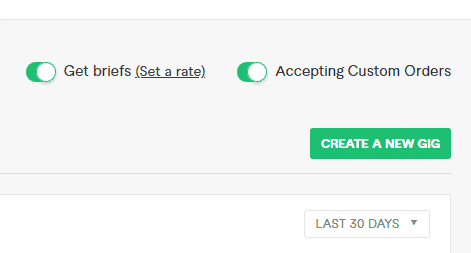 You can toggle on the following two options:
Get briefs: This matches you to buyers who use the Brief and Match feature to find top-quality sellers. When you are matched, you'll receive a notification. You can click on Create Offer to send in your match offer, or Not Interested to dismiss the offer.
Accepting Custom Offers: When buyers visit your profile, they will see all the services you are currently offering, and if they like they can go ahead and place an order. Sometimes, buyers want you to work with them, but on a service that is not listed. They can use the custom offer feature to request the service from you.
Now, to create a gig on Fiverr, here are 6 steps to complete:
Service Overview
Pricing
Description and FAQs
Gig Requirements
Media Gallery
Publish
For a step-by-step guide on how to do this, read our tutorial on how to create a gig on Fiverr step by step.
Step 5: Start Promoting Your Service
After you have created a gig, the next thing you want to do is to start sharing it so that potential buyers may discover it. Some of the ways to promote your gig include:
Write an introductory post on social media platforms like LinkedIn, Twitter, and Facebook groups. Don't just drop your URL there, provide context and make sure that the copy gets people excited about offers.
Create a Shortlink and use it on your social media platforms where you are actively engaging: Instagram, Pinterest, Twitter, and TikTok
Embed your Fiverr profile widget on your website. Fiverr gives you a sleek embed code that you can add to your website.
If you do guest posting, link to a page where you mention your services on Fiverr.
These are just but a few, I'll be writing a full post on how to promote your Fiverr gigs, so be sure to subscribe to be notified.
Step 6: Add More Gigs
To increase your chances of getting clients, I recommend creating more gigs. You can create gig variants even if they are for the same service.
For instance, if you are offering SEO writing services to Personal Finance, SaaS, and B2B clients, you can decide to create 4 different gigs: One for general SEO writing and three for the 3 different niches.
How Does Fiverr Work for Buyers
If you are looking to outsource some of your business tasks, then Fiverr provides the most affordable option. The truth is, Fiverr is full of amazing and talented freelancers if you just master the art of scanning profiles.
You can switch between a Seller and a Buyer dashboard quickly, so you aren't tied to a seller or a buyer account. Now as a Fiverr buyer, there are a few things to keep in mind:
A $5 gig will land you a $5 quality service. If you want to avoid going back to proofreading delivered files, then you may opt to work with Level 1 and Level 2 sellers with proven portfolios, or even choose Fiverr pro services. Pro services are offered by sellers who have been vetted by the Fiverr team.
When you find quality sellers, do your best to keep them. First, offer tips and always rate them. Your ratings help them grow and continue making a living on the platform. Second, offer more work, and where work is demanding, suggest a raise.
You can also connect with these freelancers outside of Fiverr. Just don't ask to do so on Fiverr. One way you can find their contact details is by visiting their portfolio websites. Over there look for links to their LinkedIn accounts and even email addresses. Make an introduction and appreciate them for working with you. Continue working with them on Fiverr, until you're both confident that you can comfortably work on a contractual basis.
More Fiverr FAQs
Do Fiverr Pay You Before or After?

Fiverr pays you 14 days after the order has been marked as complete. This means that if a buyer doesn't mark the order as complete, you will have to wait for 17 days before you can access your funds since the order is auto-marked as complete 3 days after delivery.
How Does Fiverr Payment Work?
On Fiverr, you only keep 80% of all of the earnings, including tips that you make by completing clients' orders. Your earnings are delayed for 14 days for all Level 2 and below sellers, after which you can withdraw your earnings via a connected payment method. PayPal or Payoneer. Fiverr buyers pay in advance, so you can rest assured that you will receive payments once you successfully complete the project.
How Does Fiverr Pay Freelancers?
Fiverr releases your earnings to your Fiverr account 14 days after the order has been marked as complete. Your earnings will be available for withdrawal through PayPal, Payoneer, Fiverr Revenue Card, or Bank transfer (for US freelancers)
How Much Does Fiverr Take?
Fiverr takes 20% of all of your earnings, including tips that clients leave you.