In today's digital age, artificial intelligence (AI) has permeated almost every facet of our lives. From self-driving cars to personalized product recommendations, AI is at the forefront of innovation.
One of the latest entrants in the AI world is Google's Bard AI, a conversational generative artificial intelligence chatbot. But what exactly is Bard AI, and how can you use it to make money? Let's dive in.
What is Bard AI?
Bard AI is a conversational generative AI chatbot developed by Google. It was initially based on the LaMDA family of large language models (LLMs).
It's now, however, fully powered by PaLM (Parallel Language Model), that's designed for large-scale text generation.
This conversational AI was created as a direct response to the rise of OpenAI's ChatGPT. Google released Bard in a limited capacity in March 2023, before expanding it to over 180 countries.
Bard AI is trained on a massive amount of text data, and it is able to communicate and generate human-like text in response to a wide range of prompts and questions. For example, Bard AI can provide summaries of factual topics or create stories.
Bard AI is still under development, but it has learned to perform many kinds of tasks, including:
Following your instructions and completing your requests thoughtfully.
Using its knowledge to answer your questions in a comprehensive and informative way, even if they are open-ended, challenging, or strange.
Generating different creative text formats of text content, like poems, code, scripts, musical pieces, emails, letters, etc.
If you've been using ChatGPT for content generation, then Bard AI, which is totally free at the moment, should take your productivity to another level.
How to use Google Bard for free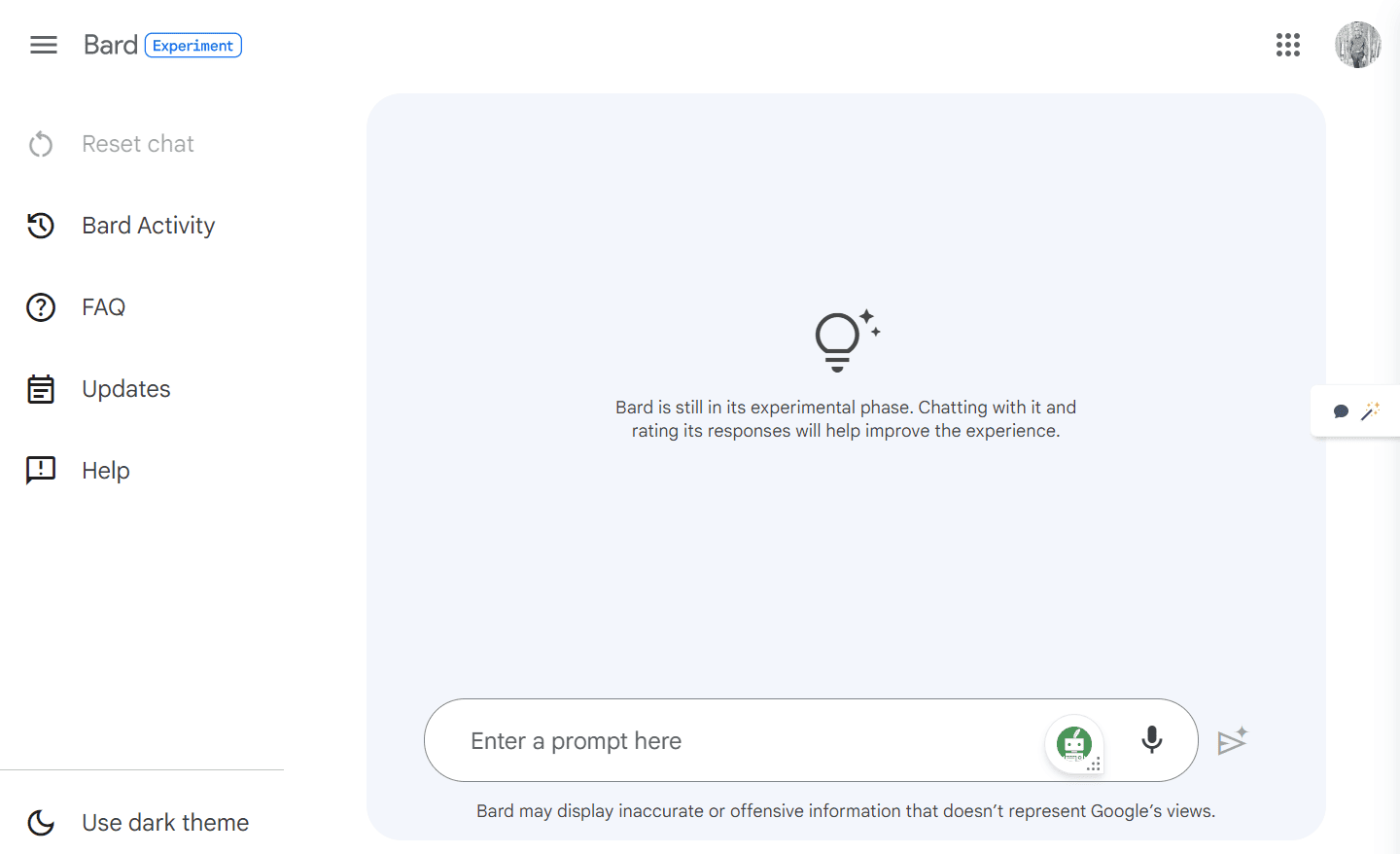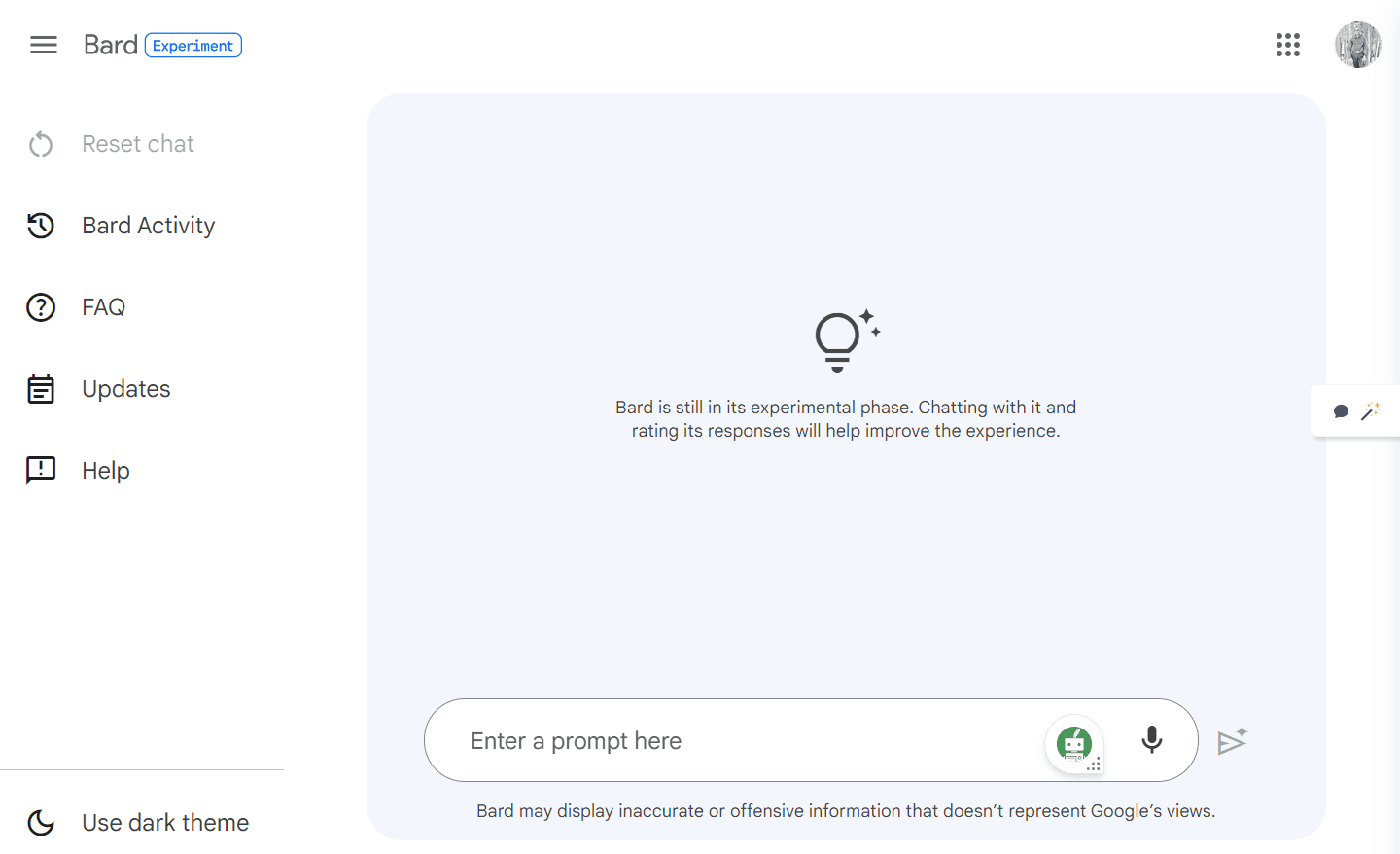 Before you get started, you need to have a personal Google Account that you manage on your own, or a Google Workspace account for which your administrator has enabled access to Bard.
You can't access Bard with a Google Account managed by Family Link or with a Google Workspace for Education account designated as under the age of 18.
To use Google Bard for free, you need to follow these steps:
Visit the Google Bard website ( https://bard.google.com/ )
Sign in to your account if you're not signed in already.
In the text box at the bottom, enter your question or prompt.
Press ENTER key to submit.
You can ask follow-up questions
How to make money with Bard AI
But how can you leverage this powerful tool to generate income? Here are 13 ways you can make money with Bard AI:
1) Start an AI-powered niche blog
Bard AI, known for generating human-like text, becomes an invaluable tool for your content creation needs. Like ChatGPT, Google Bard can produce high-quality content across a variety of niches, such as tech, travel, finance, health, and many more.
With this generative AI, you get a continuous flow of blog content on your chosen niche, eliminating the constant need for brainstorming ideas and the stress of writing articles from scratch. With the right prompting, you can generate SEO articles that follow your writing style and formatting guidelines.
The AI can help with keyword research, finding blog ideas, drafting, and proofreading, ensuring your content is optimized and error-free.
The key to running a successful AI-powered blog is to choose a micro niche that's already well-covered and then target low-competition keywords. Focus on topics that you can cover with less than 1500 words. Make sure to edit all the articles thoughtfully before publishing.
Let's say you want to start a blog about sustainable living. Your first step is setting up a platform to share your content. WordPress is a great choice for beginners due to its user-friendly interface. You can set it up with Bluehost, an affordable web hosting company that offers a seamless WordPress integration.
Using Elementor, a website builder for WordPress, you can design your blog without any coding knowledge.
Once your blog is set up, it's time to generate content. Bard can help you find sustainable living topics that are trending or have a high search volume. It can then draft blog posts, which you can edit and fine-tune before publishing.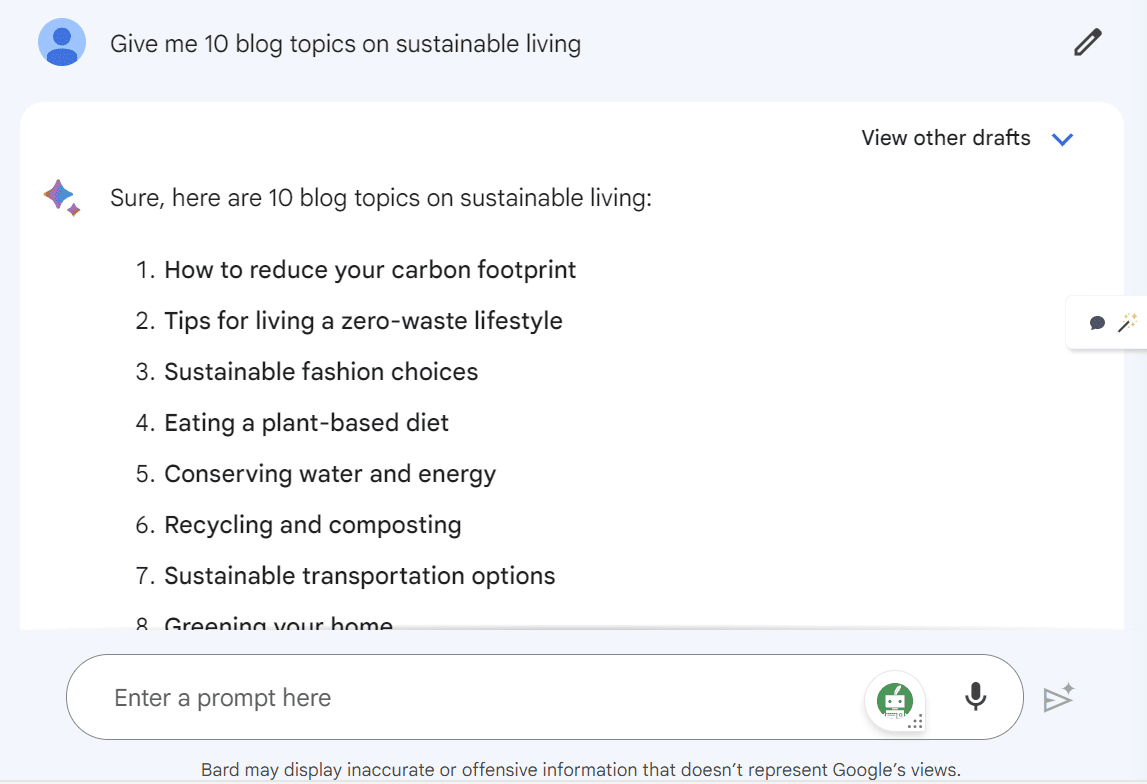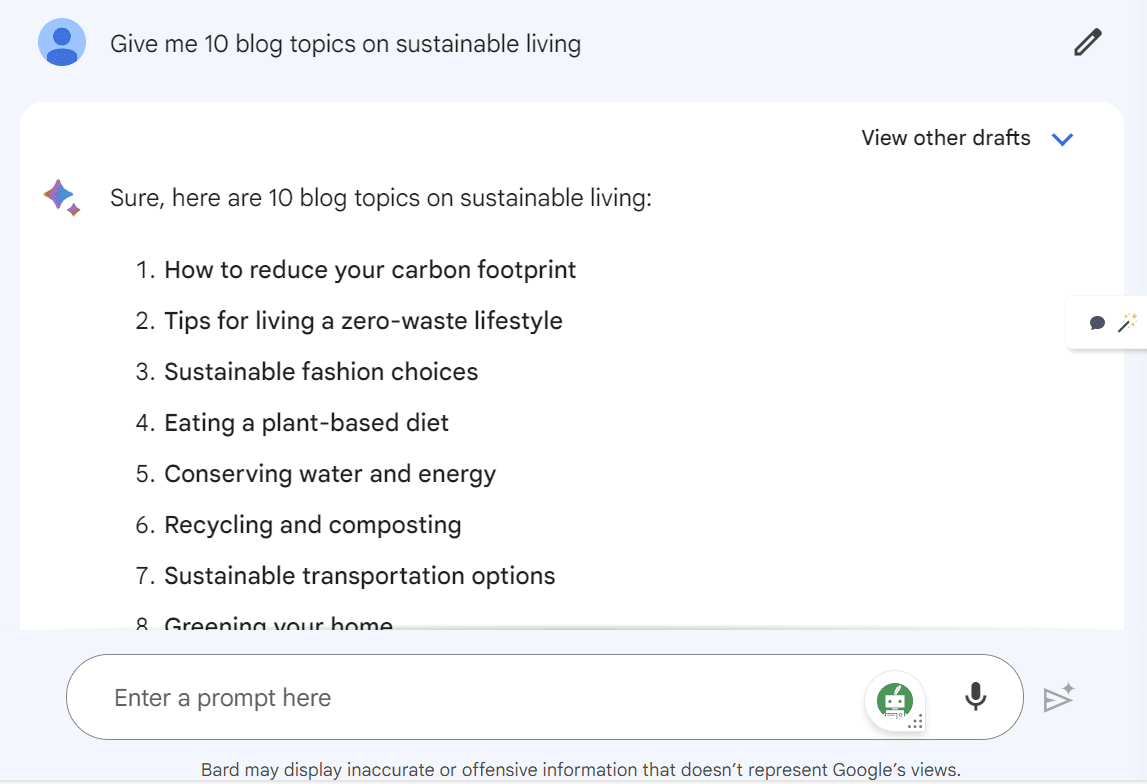 Since you are using AI for drafting, you should be able to publish 2-3 articles daily, and within a year of running your blog, you should have at least 700 articles, with 30,000 monthly visitors. This can have you netting between $200 – $500 in display ad revenues.
You can then make money by running display ads through ad networks such as Ezoic, Monumetric, Mediavine, or Adthrive. Other great options include affiliate marketing, digital products, and sponsored posts.
I however recommend exploring the power of Jasper AI and ChatGPT if you want to produce more extensive content as these two have been refined over the past few years, unlike Bard, which just entered the AI space at the beginning of 2023.
Jasper now costs just $49/month for unlimited generations, down from $119, and if you opt to pay annually, the cost comes down to just $39.
Use our link to test this tool for 5 days, and generate up to 10,000 words of AI content for free.
2) Become a freelance writer
If you have a knack for writing, you could use Bard AI to become a freelance writer. The AI can assist with idea generation, draft creation, and proofreading, enabling you to produce high-quality work quickly.
You could write blog posts, articles, marketing copy, and more. With Bard AI, you can handle a larger volume of work, increasing your earning potential.
You can also opt to offer AI-generated content as a stand-alone service. Some clients might be interested in this due to its efficiency and cost-effectiveness.
Remember, Bard AI can write on any topic, so you can use this to your advantage and expand your services to include niches that you normally wouldn't take on.
You can find freelance writing gigs on platforms like Upwork, Fiverr, and Freelancer. You can also reach out to companies directly if you find a good fit. Your Bard-powered writing samples will surely impress potential clients.
For proofreading AI-generated content, tools like Grammarly and QuillBot can be a lifesaver.
Don't forget to price your services competitively. Your rates should reflect the quality of your work and the time you invest. However, remember that your efficiency will likely improve with Bard, so factor that into your pricing as well.
3) Offer paid coding services
Yes, that's right. Bard AI can generate code, as it uses a language model that understands the intricacies and nuances of over 20 programming languages. This presents an opportunity for tech-savvy individuals like you to offer freelance dev services:
Website development
Software programming
Game development



Mobile apps development
Web applications development
Chrome extensions, etc.
Like freelance writing services, you can find clients on freelance services such as Fiverr and Upwork. These services constitute some of the most expensive Fiverr gigs, so you can make anywhere between $400 and $3000 per project.
So, how does Bard AI come into play? Bard AI can help you with tasks such as:
Visualizing the coding project: Bard can help you visualize your coding project by suggesting different parts of your application, or sections of the website. This can help you get a better understanding of the project and communicate your ideas better.
Mapping out user journeys: Use this AI to map out user journeys by identifying the different steps that users will take when using your app or website. This can help you improve the user experience and ensure that your app or website is easy to use.
Generating code documentation: Bard can generate code documentation, including comments, docstrings, and API reference documentation. This can help you and others understand how your code works.
Learning new programming languages: Bard can help you learn new programming languages by providing you with examples and tutorials. This can help you get up to speed quickly on a new language.
Generating code: You can actually use Bard to generate executable snippets to help you build apps faster. This can be helpful for tasks such as creating new features for your app or writing unit tests.
Debugging code: Bard can help you debug your code by finding errors and suggesting solutions. This can save you a lot of time and frustration.
This tool does come in handy when it comes to streamlining repetitive programming tasks. By generating code snippets for common functions, you can increase your productivity, enabling you to handle a larger workload and thereby increase your earnings.
To offer AI-powered coding services, you need to have a solid understanding of both programming and the capabilities of Bard AI. With these skills, you can provide high-value, efficient services that are attractive to businesses in our technology-driven world.
You'll need a portfolio to showcase your work to potential clients. Start by developing personal projects or offer discounted services for friends and family. This will give you experience and something to show to potential clients​.
Platforms like Fiverr and Upwork are great places to find clients for your services. However, don't underestimate the power of networking. Building connections with potential partners such as other developers or designers and advertising yourself on tech blogs or at tech conferences can land you some valuable clients​.
Clear communication with clients is crucial. Make sure to have a conversation about their needs and expectations for the project, and set clear expectations for each stage of development​.
4) Start an AI content agency
Starting a content agency is another excellent way to monetize Bard AI. Here's how:
The first step is to identify your target market. This could be businesses in a certain industry, eCommerce stores, or blogs. Then, create a portfolio showcasing the services you offer and the quality of your work.
Secondly, define the types of content you'll offer. This could range from blog posts and SEO articles to product descriptions and more. With Bard AI generating the first drafts of your content, you'll significantly reduce the time it takes to write an article.
Next, assemble a team of writers and editors to refine the AI-generated content. This collaborative approach ensures the final content is polished and high-quality.
The next step is to set up a website showcasing your agency's services and portfolio. This will give potential clients an idea of what you can offer and the quality of your work.
To promote your new digital agency, utilize social media platforms like Facebook and TikTok to reach out to a wider audience and attract potential clients.
Don't forget to leverage the power of LinkedIn, as it's a great platform for networking and finding clients.
You'll also need project management tools like Trello, Notion, or Clickup to assist in managing your projects and keeping your team on track.
Other tools:
Jasper AI for better content generation
Copyscape for checking plagiarism



Grammarly for proofreading
Writer.com for controlled writing styles
QuillBot for grammar, plagiarism, rewriting, citation, and co-writing features.
WordAI for better AI rewriting capabilities
When it comes to pricing, you could charge per word, per article, or even set up monthly retainer contracts with clients. Keep in mind, the value you provide should reflect in your pricing. Don't be just another content agency, find a positioning strategy and hone in on it.
5) Develop AI-based tools
Developing AI-based tools using Bard AI is another avenue for income generation. You could create tools for keyword research, content generation, or grammar checking, to name a few examples.
To get started, you'll need a solid understanding of programming and AI concepts. If you are not a coder yourself, you can work with a partner who is.
Once you've developed your tool, you can monetize it by offering it as a paid service, or by using a freemium model where basic features are free, but users have to pay for premium features.
For simple tools such as calculators and generators, you can focus on channeling organic traffic via SEO and then monetizing via display ads.
6) Write and sell eBooks
Writing and selling eBooks is another viable way to monetize Bard AI. You can use Bard AI to help with the research, outline creation, drafting, and editing processes, speeding up the book writing process significantly.
You can sell your eBooks directly from your own website or use platforms like Amazon Kindle Direct Publishing. To generate more sales, consider creating a book launch marketing strategy, which might include building an email list, using social media, and getting reviews for your book.
7) Launch an online course
If you're an expert in a certain field, creating an online course or tutorial series can be a great way to share your knowledge and earn income.
You can use Bard AI to help you:
Structure your course content,
Write engaging scripts for video lessons, and even
Generate quiz questions to test your students' understanding of the material.
First, you need to identify your area of expertise. It could be anything from coding to digital marketing. Once you've identified your niche, start planning your course. Outline the modules and lessons, and start writing the content. Bard AI can help you with this by providing suggestions and editing your content.
Next, choose a platform to host your course. This could be your own website or platforms like Udemy, Coursera, or Skillshare. These platforms have a large audience base that you can tap into.
You can also opt to sell via hosted LMS platforms such as Thinkific or Teachable.
8) Offer AI consulting services
As more businesses recognize the value of AI, there's a growing demand for AI consulting services. You could offer advice on AI strategy, implementation, or even specific training on how to use Bard AI effectively.
To get started, develop your knowledge in AI tools like ChatGPT and Bard AI specifically. Then, create a portfolio showcasing your expertise and skills. You can find clients through networking, or by marketing your services online.
9) Create a copywriting service
Copywriting is a high-demand and well-paid skill, and Bard AI can help you provide high-quality copywriting services. With the AI's ability to generate human-like text, you can offer compelling copy for websites, ads, social media posts, and more.
To get started, familiarize yourself with the principles of copywriting as well as copywriting frameworks such as Feature to Benefits, PAS, AIDA, etc.
Once confident with your copywriting skills, explore how you can use Bard AI to create different marketing content for the clients in your industry.
10) Social media management services
Social media is a powerful tool for businesses of all sizes. It can be used to connect with customers, promote products and services, and build brand awareness. However, managing a social media presence can be time-consuming and challenging. That's where social media management services come in.
Social media management services can help businesses of all sizes to:
Create and schedule social media posts
Manage social media interactions
Track social media analytics
Develop and execute social media strategies



Bard AI can be a valuable tool for social media management services. You can use it to create engaging content and captions for social media. You can also use Google Bard to develop and execute social media strategies.
If you are interested in starting a social media management business, Bard AI, together with other AI text generators, can be valuable assets. Bard can help you to save time and money, and it can help you to improve the results of your social media marketing efforts.
Here are some tips for starting a social media management business with Bard AI:
Define your target market. Who are you trying to reach with your social media management services? Once you know your target market, you can tailor your services to their needs.
Develop a strong portfolio. Create a portfolio of your work to show potential clients what you can do. This portfolio should include examples of your social media posts, social media analytics, and social media strategies.
Set your rates. Decide how much you will charge for your services. Be sure to factor in the cost of Bard AI and other expenses when setting your rates.
Market your business. Let potential clients know about your social media management services. You can market your business through online advertising, social media, and networking.
By following these tips, you can start a successful social media management business with Bard AI.
Final thoughts on earning money with Bard AI
The potential of Bard AI is vast and its applications are not limited to the methods we've discussed above. AI is continuously evolving and as you work with it, you'll undoubtedly uncover new ways to utilize Bard to generate revenue and grow your business.
The key is to remain adaptable and innovative, always looking for opportunities to leverage this cutting-edge technology.
Remember, while AI can significantly boost your efficiency and productivity, it is a tool to support your endeavors. Successful entrepreneurship requires creativity, strategic planning, and consistent effort. Bard AI can help streamline your operations, but it's your vision and determination that will ultimately define your success.