If you're a creative soul looking for a new way to monetize your talents, selling low-content books might just be your next big thing.
Amazon KDP, or Kindle Direct Publishing, is a service provided by Amazon for authors to self-publish their books. This platform accepts both digital (ebooks, Kindle) and physical books (paperback and hardcover).
Since you will be selling paperback versions of your books, Amazon takes care of the printing and shipping, all you have to do is to come up with creative designs. This eliminates the need to hold or store any inventory, making it an attractive option for self-publishers.
If you've heard about Print on Demand (PoD), this is it. You can still choose to sell your books via other PoD services such as Printify, but Amazon provides a large marketplace for users to easily discover your books.
The process is fairly simple. You provide the necessary information for your book, including a book cover, interior contents, book title, and your keywords. Once a customer places an order, Amazon takes care of the printing and shipping process, as well as any customer service issues or returns. You then receive a royalty payment from Amazon.
In this detailed guide, I take you through everything you need to know on how to sell low content books on Amazon for profits.
What are low content books and why are they popular? 
Low-content books are books with little to no written content. They're essentially blank canvases waiting for the user's creativity to fill them in.
Some examples of low-content and no-content books include sketchbooks, journals, coloring books, planners, diaries puzzle books, trackers, log books, etc.
These books are great for self-publishing because they require minimal effort to create. For instance, a journal may consist of repeated layouts of lined or dotted pages, while a planner may have repeated weekly or daily layouts. A no-content book, like a sketchbook, could have blank pages throughout.
So, why the popularity?
They're versatile: You can doodle in a coloring book or organize your life with a planner. Low-content books can be anything you need them to be.
They spark creativity: With plenty of blank spaces, these books are ideal for those looking to unleash their artistic side.
They're affordable: In comparison to traditional books, low-content books are often less expensive to produce, making them super wallet-friendly.
Easy to produce: These books require minimal design and writing, thus it's possible to publish a dozen or so of them every month.
Choosing the perfect niche for your low content book
The first step in choosing a perfect niche is understanding who your target audience is. Will your book cater to kids, adults, or a specific profession? Knowing your audience will help you create a book that they'll love and use regularly.
Next on the list is research. It's all about spotting what's trending. This can be as simple as browsing through Amazon's bestseller lists or diving deep into social media trends. The trick is to identify what's hot, yet not overly saturated.
You can also use a tool like Book Bolt to find niches specific to low-content publishing. Use our affiliate link to try this tool for free, afterwards, it's just $9.99 a month.
Lastly, but most importantly, align your book with your passion. If you're passionate about a topic, it'll show in your work and resonate with your readers. So, choose a niche that excites you and lets your creativity shine!
Choosing the perfect niche might seem daunting, but remember, it's all about understanding your audience, researching popular trends, and aligning with your passion. Do this, and you're well on your way to creating a low content book that sells!
Deciding on the type of book to create
No content and low content books come in so many types. Before you go ahead to ideation and design, choose a few types to focus on.
Here are some popular types of low-content books to get your creative juices flowing:
| | |
| --- | --- |
| Activity Books | Memory Books |
| Agendas | Notebooks |
| Calendars | Notepads |
| Coloring Books | Planners |
| Composition Books | Prayer Books |
| Diaries | Puzzle Books |
| Guest Books | Study Guides |
| Journals | Trackers |
| Log Books | Workbooks |
Essential tools for creating low-content books
Once you've decided on the type of book you want to create, the next step is to design it. The three main tools you'll need are:
Microsoft Word or Google Docs: These are great for creating the interior of your book, especially if it's a lined notebook or journal.
Book Bolt: the best all-in-one book design software for creating interiors and cover designs. It also has great research tools for identifying keywords and book ideas.
Canva: This is an excellent tool for designing your book cover. It's free to use and offers a plethora of design options, making it perfect for beginners.
Generative AI tool: It's 2023, and AI has come a long way. You can now leverage the power of AI tools like ChatGPT, Koala, or Jasper to help brainstorm book ideas, give you book cover prompts that you can then use on an AI generator like Midjourney, plan the interior of your book, etc.
To convert your Word, PowerPoint, or Google Docs file to a PDF, you can use Adobe Acrobat PRO or SmallPDF.
There are also some great Chrome extensions that will help you do Amazon keyword and product research. These extensions include:
The importance of keywords and categories for discoverability
Keywords and categories play a crucial role in enhancing the discoverability of your book on platforms like Amazon.
By strategically selecting relevant keywords and choosing the appropriate categories, you can increase the visibility of your book and attract the right audience.
Here's why keywords and categories are important for discoverability:
Improved search rankings: When readers search for books on Amazon, they use keywords to find relevant titles. By including appropriate keywords in your book's description, title, and metadata, you increase the likelihood of your book appearing in relevant search results. Higher search rankings mean more visibility and potential for increased sales.
Targeted audience reach: Keywords help you reach your target audience by aligning your book with the specific interests, themes, or genres that readers are searching for. By using keywords that accurately reflect the content and tone of your book, you can attract readers who are more likely to be interested in your work.
Enhanced category placement: Choosing the right category for your book is essential for discoverability. Categories act as virtual shelves, allowing readers to browse books in specific genres or subjects. Properly categorizing your book ensures that it appears in the right sections, making it easier for readers interested in those categories to find and explore your work.
Competitive advantage: By targeting niche keywords or long-tail keywords, you can tap into a smaller but more engaged audience, facing less competition from other books. This increases your chances of ranking higher in search results and attracting readers who are specifically looking for what your book offers.
When it comes to conducting keyword and topical research for your book, using a tool like Book Bolt can be incredibly beneficial.
This comprehensive software for low-content publishers offers a range of tools for doing research for your book:
Extensive keyword database: Book Bolt provides access to a vast database of relevant keywords specifically tailored for books. This allows you to explore a wide range of keywords and identify the most effective ones for your book's genre or topic.
Competitor analysis: Book Bolt enables you to analyze the keywords used by top-performing books in your genre. By studying the keywords that successful books utilize, you can gain insights into what resonates with your target audience and adapt your own keyword strategy accordingly.
Category suggestions: Book Bolt provides category suggestions based on your book's content, allowing you to choose the most relevant and fitting category for optimal discoverability. By selecting the right category, you increase your book's visibility and improve its chances of reaching the right audience.
Interior design
The first step to designing your book's interior is to let your creative juices flow, but remember, simplicity is key. Your book should be easy to use and appealing to look at.
Choose a layout that complements your content.
Use clean, legible fonts that are easy on the eyes.



Consider including spaces for notes, doodles, or reflections.
You also need to format your book to fit KDP-specific guidelines. Basically, you need to choose the right trim size, set margins according to KDP requirements, and also ensure that your images are sharp enough.
You can find great low content book templates that make your work a lot easier.
a) Designing a Journal in Microsoft Word or Google Docs
Creating a blank-lined journal in Microsoft Word or Google Docs is a fairly straightforward process.
Here's a simple step-by-step guide:
Open a new Word document.
Set your page margins to 0.5″ all around.
Click on the Insert tab.
Select the "line" shape from the Shapes drop-down menu.
Draw a line from left to right, holding down the Shift key to ensure it's straight.
Adjust the length and position of your line.
Copy and paste the line as many times as you like to create the lines on your notebook page.
Once you're happy with your page, duplicate it until you have your desired number of pages.
Save your manuscript as a PDF.
b) Quickly design book interiors with Book Bolt
Thanks to Book Bolt, you can now whip up stunning interiors in no time, making it super easy to publish several hundred books every year.
This design tool offers an Interior Wizard tool that allows users to quickly design book interiors for their Amazon publishing needs.
You only need to select the book type, size, interior, and the number of pages. You can find more customization options in the Book Bolt Studio.
Go to the Book Bolt website at bookbolt.io and sign up for an account if you haven't already. (Start a 3-day FREE trial)



Once signed in, click on the "Interior Wizard" button at the top of the page.
Select the size of your book, the interior template you want to use, and the number of pages you want.
Customize your interior by changing the font, font size, and other design elements if desired.
Once you're satisfied with your interior, click the "Download PDF" button to download your interior PDF.
The Book Bolt Interior generator has over 100 different interior layouts to choose from, from dot lines, and simple planners to mood trackers, recipe journals, day planners, weekly planners, utility trackers, etc.
Not ready to try out this tool yet, you can read our guide on Book Bolt Review to learn how to best leverage it for your self-publishing business.
c) Using Canva
Here are the steps on how to design low-content books using Canva:
Create a Canva account. You can create a free account or a paid account. The free account will give you access to a limited number of templates and elements, but it's enough to get started.
Create a new design: First, grab your book sizes from the Amazon book calculator, and then create a new custom-size design on Canva. Enter the book size details from Amazon here. (e.g. 6 x 9 inches). Now click the Create new design button to get started.
Choose a template. Canva has a library of templates that you can use as a starting point for your low-content book. On the left sidebar from the Canva editor, navigate to the Design tab, then templates, and search using relevant keywords or phrases. Pick the ones that are close to what you're looking to create, and add them to your design. There are templates for a variety of low-content books, including:

Notebooks
Planners
Logbooks
Crossword puzzles
Coloring books
Blank books

Customize the template. Once you've chosen a few templates, you can customize them to your liking. You can change the text, add images, reposition items, and adjust the colors.
Add your content. This is where you'll add the content that will make up your low-content book. For example, if you're creating a notebook, you'll add pages with lines, grids, or dot grids. If you're creating a planner, you'll add pages with calendars, to-do lists, and habit trackers.
Leverage the power of AI: If you are a Canva Pro user, you can take advantage of the Magic Write tool. Simply click on the floating Canva Assist icon on the bottom right, and select the Magic Write feature under the Recommended Actions section. Enter your instructions and let AI generate content for your book.
Preview and export your book. Once you're happy with your design, you can preview it to make sure it looks the way you want it to. To download it simply navigate to Share from the top right, scroll down and click on Download and select the Print PDF option.



Pro tips when using Canva
Here are a few tips to take your Canva designs to the next level:
Use Grids: Grids help you align your content and maintain a consistent layout. This can make your book look more professional and easy to read.
Save Your Brand Colors and Fonts: Consistency is key in design. By saving your brand colors and fonts in Canva, you can ensure that your book maintains a consistent look and feel.
Use Canva's Stock Images: If you need images for your design, Canva has a library of millions of high-quality images. 
In our Book Bolt vs Canva, we take you through the detailed features that make these two tools suited for different publishing use cases.
Designing a winning book cover
A well-designed book cover can make potential buyers pause, engage, and eventually click that 'buy now' button.
The key to success here is originality and understanding your target audience. What sparks their interest? What kind of aesthetics are they drawn to? Research is your best friend in this case.
Once you've got a good handle on these factors, you can create a design that not only stands out but also resonates with your potential readers.
There are several design tools that you can use to create a book cover for your low-content paperback.
Regardless of the tool you use for your designs, you need to ensure that your book cover meets KDP's requirements. You can read more about what these are here.
Next, download the cover template for the size you are creating directly from Amazon, and use this as a basis for your design.
a) Using Canva
Canva is a great tool for creating custom unique book covers, letting you tailor your design to perfectly match your book's content.
With a vast array of fonts, images, and layout options, you can make a cover that truly stands out on Amazon.
To create your book cover on Canva, follow these steps:
Open Canva and create a new design with custom dimensions to match the size of your book.
Be sure to import or paste the cover template from Amazon to guide you when designing your cover.
Choose or create a background for your cover.
Add text elements for your book title, subtitle, and author name.
You can also add images, shapes, or other elements to make your cover stand out.
Download your cover design as a high-quality PDF.
b) Using Book Bolt Designer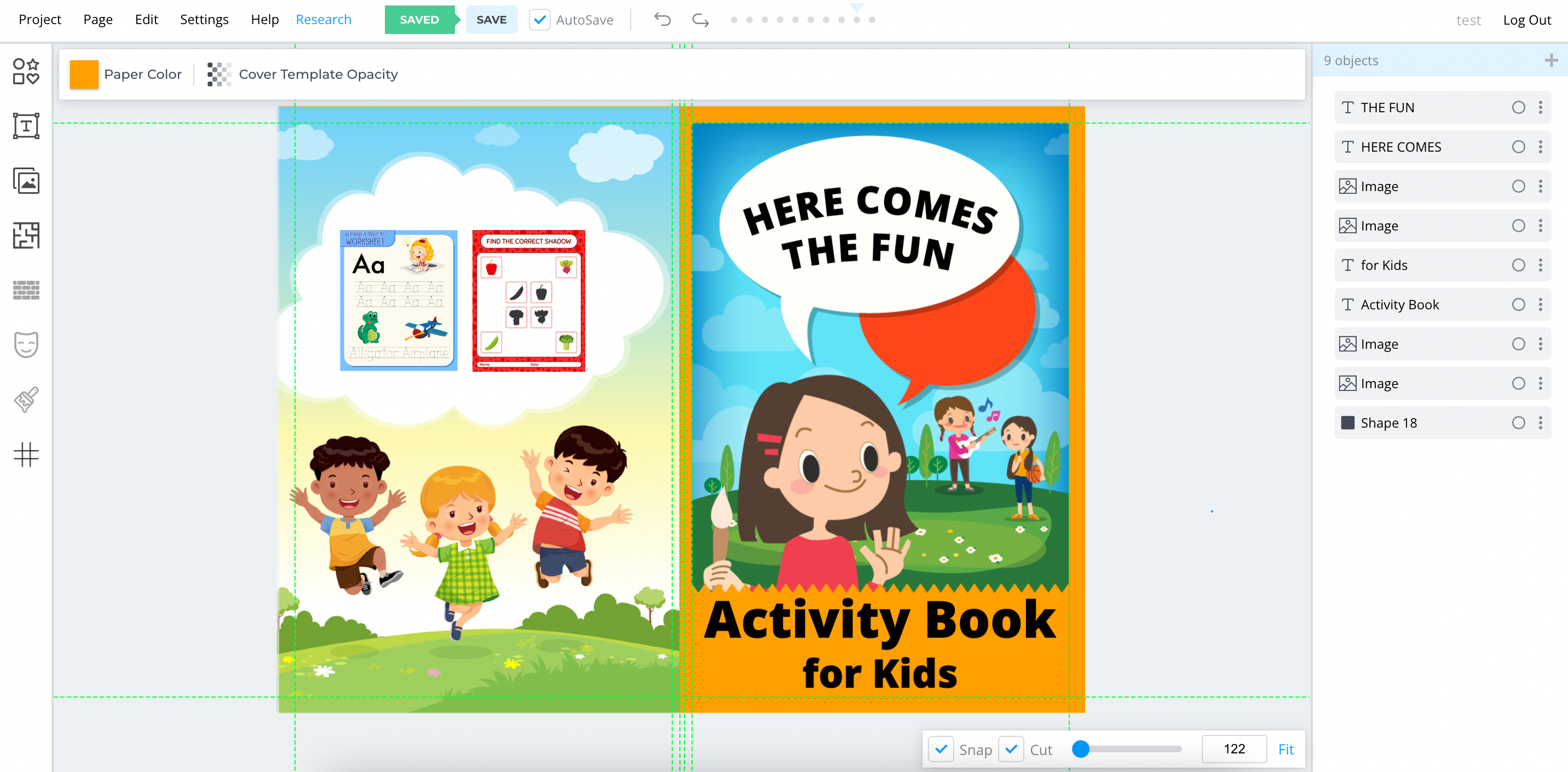 The Book Bolt Studio offers a powerful and easy-to-use cover design feature that allows users to create stunning book covers for their Amazon KDP Business with no design experience needed.
The drag-and-drop KDP cover editor is packed with customization options and filters to help users create the perfect cover for their book.
Here's how you can create a book cover inside the Book Bolt Studio:
Sign up for free and access the drag-and-drop KDP cover editor.
Choose from over 1200+ free fonts and 1 million royalty-free images.



Add patterns, eye-popping graphics, and more to customize your cover.
Preview your design and make any necessary changes.
Save your progress and access your library of projects from anywhere.
Publish your book cover and let your designs shine!
Uploading to Amazon Kindle
Your book is now ready, and the next step is to upload it to your Amazon KDP account.
To add a new book to KDP, follow these steps:
Go to your KDP Bookshelf
Click the "+ Create" button.
Choose the type of book you want to create.
Enter your book details, such as the title, author name, and description. Note that HTML tags are not accepted in certain fields.
Upload your book cover
Upload your manuscript file in the "Manuscript" section by clicking "Upload eBook manuscript"
Preview your book content and make any necessary changes.



Add any desired back matter, such as a "Books by Author" page, by clicking the "+" sign next to the Backmatter section and selecting the appropriate option
Edit your book details and content as needed
Set your book's price and publish it by clicking "Publish" on the Pricing page
Writing compelling descriptions to sell your low-content book
Writing a book description for a no-content or low-content book can be a unique challenge since the lack of substantial content makes it difficult to focus on the traditional elements of a book description. However, you can still craft an engaging and intriguing description by highlighting the book's purpose, target audience, and any unique features or benefits it offers.
Here's a guideline to help you write a captivating book description:
Start with a captivating hook: Begin the description with an attention-grabbing statement or question that piques the reader's curiosity. For example:

"Unlock your creativity with this innovative journal…"
"Discover a new level of mindfulness with this beautiful coloring book…"

Define the purpose: Clearly explain why the book exists and what it aims to achieve. This helps set reader expectations. For a no-content or low-content book, the purpose could be providing a creative outlet, relaxation, or a tool for personal reflection.

"Designed for those seeking a daily creative outlet, this journal provides a blank canvas for your imagination to soar."
"This planner offers a practical and visually stunning way to record your thoughts, organize your ideas, and increase productivity."

Describe the target audience: Identify who would benefit from the book and why. Highlight specific groups or individuals that the book caters to.

"Ideal for artists, writers, and dreamers, this journal encourages free expression and helps overcome creative blocks."
"Perfect for busy professionals or anyone looking to unwind, this low-content book provides a tranquil escape from the daily grind."

Highlight unique features: Emphasize any distinguishing features that make the book stand out. These could include the format, design, interactive elements, prompts, accompanying tools, or any other engaging aspects.

"Featuring exquisite illustrations and thought-provoking prompts, this journal inspires you to explore new artistic territories."
"With its elegant minimalist design, this content planner fosters a sense of calm, enabling you to find balance and focus in your life."

Describe the benefits: Focus on the benefits that readers can gain from using the book. This could include stress relief, enhanced creativity, personal growth, or a sense of accomplishment.
Conclude with a call to action: Encourage readers to take the next step, such as making a purchase or exploring the book further. For example:

"Unleash your creativity and embark on a journey of self-discovery. Get your copy of … today and let your imagination soar."
"Rediscover the joy of simplicity and embrace mindfulness in your daily routine. Explore the transformative power of this … planner."
Low content book description example
Title: "Mindful Moments: A Guided Journal for Daily Reflection"

Description:
Escape the chaos of everyday life and embark on a journey of self-discovery with "Mindful Moments," a beautifully designed guided journal that invites you to cultivate mindfulness and embrace the power of reflection.

In this fast-paced world, it's crucial to find moments of calm and clarity amidst the noise. With "Mindful Moments," you'll discover an oasis of tranquility where you can pause, reflect, and reconnect with yourself on a daily basis. This low-content journal is intentionally designed to provide you with a blank canvas for your thoughts, feelings, and aspirations.

Each page of "Mindful Moments" offers gentle prompts and inspiring quotes to guide your reflections. Whether you're seeking inner peace, personal growth, or simply a way to unwind, this journal is the perfect companion on your mindfulness journey. Unleash your creativity as you respond to thought-provoking questions, capture fleeting moments of gratitude, or express your dreams and aspirations.

Featuring a minimalist design with exquisite illustrations, "Mindful Moments" is a feast for the eyes and a soothing balm for the soul. The high-quality, eco-friendly paper ensures a smooth writing experience with every stroke of your pen, allowing your thoughts to flow effortlessly onto the page.

Discover the transformative power of daily reflection and unlock a deeper understanding of yourself. "Mindful Moments" is suitable for both beginners and seasoned practitioners of mindfulness, making it an ideal gift for anyone seeking a moment of respite and self-discovery in their busy lives.

Join thousands of readers who have already embarked on their mindfulness journey with "Mindful Moments." Let this journal be your trusted companion as you embark on a path towards greater self-awareness, contentment, and personal growth.

Take the first step towards a more mindful life and order your copy of "Mindful Moments" today. Embrace the stillness within and unlock the magic of reflection.
Pricing strategies for your low-content book
To price low-content paperback books for optimum profits and maximum sales via print-on-demand, you can use the Printing Cost & Royalty Calculator provided by Amazon Kindle Direct Publishing.
This tool allows you to estimate your printing cost, minimum list price, and royalties.
To maximize profits, you should aim for a minimum list price that is higher than your printing cost, but still competitive with similar books in your niche.  Low-content books typically sell for $4-$12, with more sophisticated books priced higher within this range
Just note that the cost of printing depends on the marketplace where your book is ordered from, page count, ink type, and trim size.
Your average royalty for paperback books is about 60%. 
To estimate how much you can make at different price points within given markets, use the calculator above. 
Pricing too high may deter potential buyers, and pricing too low may not provide enough profit margin. Ultimately, it's important to do market research and experiment with different pricing strategies to find the sweet spot for your low-content paperback books.
Here are the results when I entered the details above in the calculator:
What to do when your book isn't selling?
If you're having trouble selling your low-content book on Amazon, there are a few things you can try.
One suggestion is to optimize your book's listing, including the title, description, and keywords, to improve its visibility to potential buyers.
You can also consider promoting your book through social media or other marketing channels to increase its exposure.
If you haven't done it already, research successful low-content booksellers on Amazon to see what strategies they use. 
My final advice is to just publish more low-content books, experimenting with different interior book types, new and more appealing book covers, and never shying away from exploring fresh creative ideas. Every book you publish is a learning experience. Analyze sales data, understand what works and what doesn't, and let that knowledge fuel your next creative endeavor.
Amazon low-content books FAQs
Can you make money on Amazon low-content books?
Yes, you can make money on Amazon low-content books such as puzzles, coloring pages, and other activity books.
They are relatively easy to create, and unlike novels and other long-form books, they don't take you months to get to publishing.
However, there's stiff competition, and it can take you up to a year of iteration before you can earn a decent income from this side hustle.
Is KDP low content profitable?
Yes, KDP (Kindle Direct Publishing) low-content books can be profitable. Many authors have found success in creating and selling low-content books on Amazon KDP.
However, the profitability of your low-content book will depend on several factors, such as the quality of your content, the size of your target audience, your marketing strategy, and the competition in your niche.
It's important to do thorough research and create high-quality books that offer value to your readers to increase your chances of success, as well as experiment with different pricing strategies and marketing techniques to find what works best for your book and audience.
Why is my low-content book not selling?
There could be several reasons why your low-content book is not selling. Here are some common reasons:
a) Poor quality: If your book is poorly designed, has low-quality images or text, or lacks value for the reader, it may not sell well.
b) Not enough promotion: If you're not promoting your book enough, it may not be reaching your target audience. Consider using social media, email marketing, Amazon advertising, and other promotional channels to reach potential buyers.
c) Lack of visibility: If your book is not showing up in relevant search results on Amazon, it may not be visible to potential buyers. Make sure your book's title, subtitle, and keywords are optimized for search engines.
d) Incorrect pricing: If your book is priced too high, it may not be competitive with other books in your niche. Consider adjusting the price to see if it affects sales.
e) Not targeting the right audience: Consider narrowing your niche or targeting a specific audience to increase sales.
f) Stiff competition: If there are many other books in your niche that are similar to yours, it may be harder to stand out and attract buyers. Consider adding unique features or designs to differentiate your book from others in the same niche.
g) Lack of reviews: If your book does not have any reviews, it may not be seen as credible or trustworthy by potential buyers. Encourage readers to leave reviews of your book on Amazon and other platforms.
How many low-content books can I publish on Amazon KDP?
There is no limit to the number of low-content books that you can publish on Amazon KDP. You can create and publish as many books as you want, as long as they meet Amazon's content guidelines and do not violate any copyright laws.
However, it's important to focus on quality over quantity and to ensure that your books offer value to your readers and are relevant to your niche.
Do I need a copyright page for my low content book?
While a copyright page is not mandatory for your low content book, it is recommended.
A copyright page can help protect your intellectual property rights and identify you as the owner of the work. It can also discourage infringement and provide information about the book's publication and copyright status.
If you choose to include a copyright page, you can use a template or create your own. Be sure to include the copyright symbol (©), the year of publication, and your name or the name of your publishing company.
You may want to consult with a legal professional to ensure that your copyright page meets all legal requirements.
Conclusion
Selling low-content books on Amazon KDP can be a lucrative venture that allows you to tap into a growing market of eager customers. By following the steps outlined in this article, you can set yourself up for success and establish a thriving business in no time.
Remember, it's all about finding the right niche, conducting thorough market research, and creating eye-catching designs that captivate your audience.
Be sure to use our link to try out Book Bolt, as this tool makes it effortless to create stunning low-content book designs without any technical expertise.
For graphics, I recommend using Canva or sourcing premium ones from Creative Fabrica. This platform offers a vast collection of fonts, illustrations, patterns, and more. With Creative Fabrica, you can easily source the assets you need to make your low-content books truly stand out from the crowd.