Are you passionate about travel and eager to share your experiences with the world? Starting a travel blog is a fantastic way to turn your wanderlust into a profitable venture.
In this article, we'll walk you through the essential steps on how to start a travel blog and make money from it. From picking the right niche and domain name to creating engaging content and monetizing your blog, we'll cover it all.
So grab your backpack, put on your travel hat, and let's embark on this exciting journey together!
What is a travel blog?
At its core, a travel blog is an online platform where travel enthusiasts can share their adventures, stories, and experiences with others. It's like a virtual travel journal that allows you to document your trips, share your insights, and provide valuable information to fellow travelers.
Travel blogs typically include vivid travelogues, personal anecdotes, practical tips, and captivating visuals such as photos and videos. They can cover a wide range of travel-related topics, from backpacking adventures to luxury travel, solo trips to family travel, budget travel to luxury destinations, and everything in between.
A well-written travel blog has the power to inspire and inform readers while creating a community of like-minded travel lovers.
How to start a travel blog (Steps to follow)
Now that you know what a travel blog is, let's dive straight into how you can create one. Below is a step-by-step guide on how to create your first travel blog.
Choose a micro-niche
The first step in creating a travel blog is to decide on your travel blog niche. What kind of travel do you want to write about? Will you be focusing on budget travel, luxury travel, solo travel, family travel, adventure travel, or a specific region or country? 
Having a clear niche will help you attract a specific audience and create content that resonates with them.
Choose a domain name and hosting
Next, you'll need to choose a domain name for your travel blog. Your domain name is your website's address on the internet, so it should be memorable, easy to spell, and reflect your niche. You can purchase a domain name from a domain registrar such as Namecheap.
Once you have your domain name, you'll need to choose a hosting provider to host your website. A hosting provider will store your website's files and make it accessible on the internet I recommend using Bluehost for your hosting needs because, in addition to affordable packages, it offers up to 99.9% uptime.
Install WordPress
WordPress is a free content management system that powers over 40% of all websites on the internet, including travel blogs. Bluehost has a one-click WordPress installer that will allow you to start using WordPress immediately after you sign up.
Once you've installed WordPress, you can customize your website's design, create pages and blog posts, and install plugins to add functionality.
Choose a theme
Your website's theme is the design template that determines how your website looks and feels. There are many free and paid WordPress themes available that are specifically designed for travel blogs.
However, I recommend using a page builder like  Elementor, which will give you more control over your travel blog's theme.
You can get the Essential Plan of Elementor Pro for $59 a year to access features like pro elements, dynamic filters, website parts templates, a custom theme creator, and a landing page builder.
Install plugins
Plugins are small software programs that add specific features and functionality to your website.
Some essential plugins for travel blogs include Rank Math, which helps optimize your blog posts for search engines, and Jetpack, which provides security and backup features. 
You can also install plugins to add social media sharing buttons, create contact forms, or improve your website's speed and performance.
Create your first blog post
Now that your website is up and running, it's time to start creating content for your travel website. Your first blog post should introduce yourself and your blog's niche to your audience. 
Share your story and why you're passionate about travel, and provide a glimpse into what readers can expect from your blog.
Create valuable content
The key to a successful travel blog is creating valuable content that resonates with your audience.
This means writing in-depth travel guides, sharing personal stories and experiences, providing practical tips and recommendations, and using captivating visuals such as photos and videos.
Aim to publish new content regularly, whether it's once a week or once a month. You can also use a plugin like Strive Calendar to schedule your posts. This allows you to have several posts ready in case you're not available on the day you're supposed to upload.
Outsource your travel blog content
Outsourcing content for your travel blog can be a game-changer in terms of saving time, diversifying perspectives, and providing fresh content to your readers.
To outsource content, you can hire freelance writers, photographers, or videographers from freelance platforms like Upwork and Fiverr. 
You can also collaborate with guest bloggers or influencers to provide unique content for your blog.
Promote your blog
Once you've created valuable content or outsourced it from professionals, it's time to promote your blog to attract readers.
You can promote your blog on social media platforms such as Instagram, Twitter, and Facebook, as well as travel forums and communities.
You can also guest post on other travel blogs or collaborate with other bloggers to cross-promote each other's content.
How to make money from your travel blog
There are several ways to make money from your travel blog, and here are some popular strategies:
Affiliate Marketing: Partner with travel-related companies and earn a commission for every sale made through your unique affiliate link. For example, you can promote travel gear, accommodation bookings, or travel insurance on your blog and earn a commission for each purchase made through your referral link.
Sponsored Content: Collaborate with brands and create sponsored content, such as sponsored blog posts, social media posts, or videos, where you promote their products or services in exchange for a fee. Make sure to disclose sponsored content to maintain transparency with your audience.
Display Advertising: Sign up for ad networks, such as Google AdSense and Mediavine, and display ads on your blog. You earn revenue based on the number of ad impressions or clicks generated on your blog.
Digital Products: Create and sell digital products, such as e-books, online courses, or travel itineraries, that provide value to your audience and generate revenue.
Freelance Services: Utilize your travel blog as a portfolio and offer freelance services, such as travel writing, photography, or social media management, to earn money from clients in the travel industry.
Crowdfunding: Utilize platforms like Patreon or Kickstarter to allow your audience to financially support your travel blog and gain access to exclusive content or perks in return.
Donations: Offer the option for your audience to donate to your travel blog to support your content and generate additional income.
Examples of travel blogs to inspire you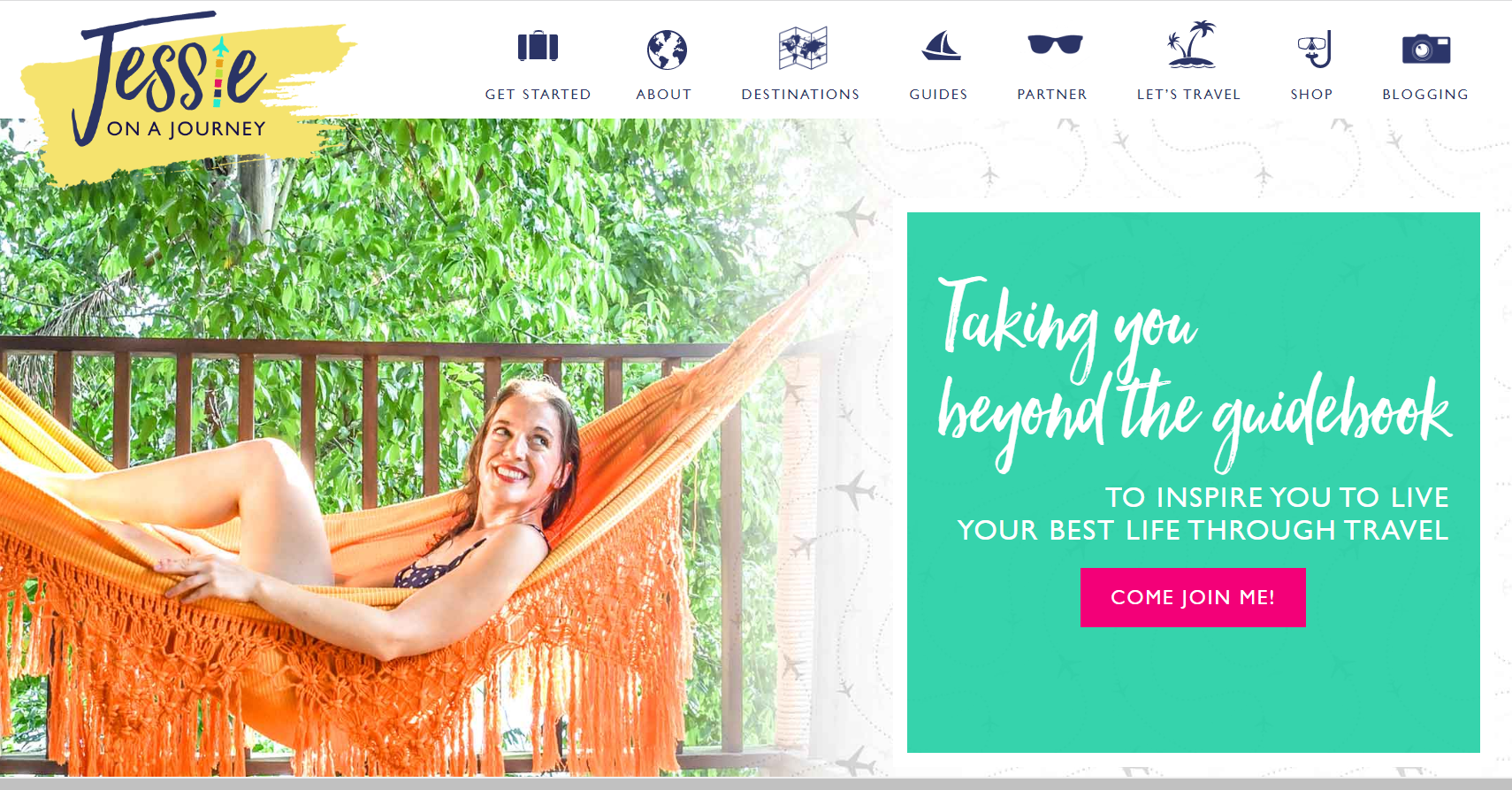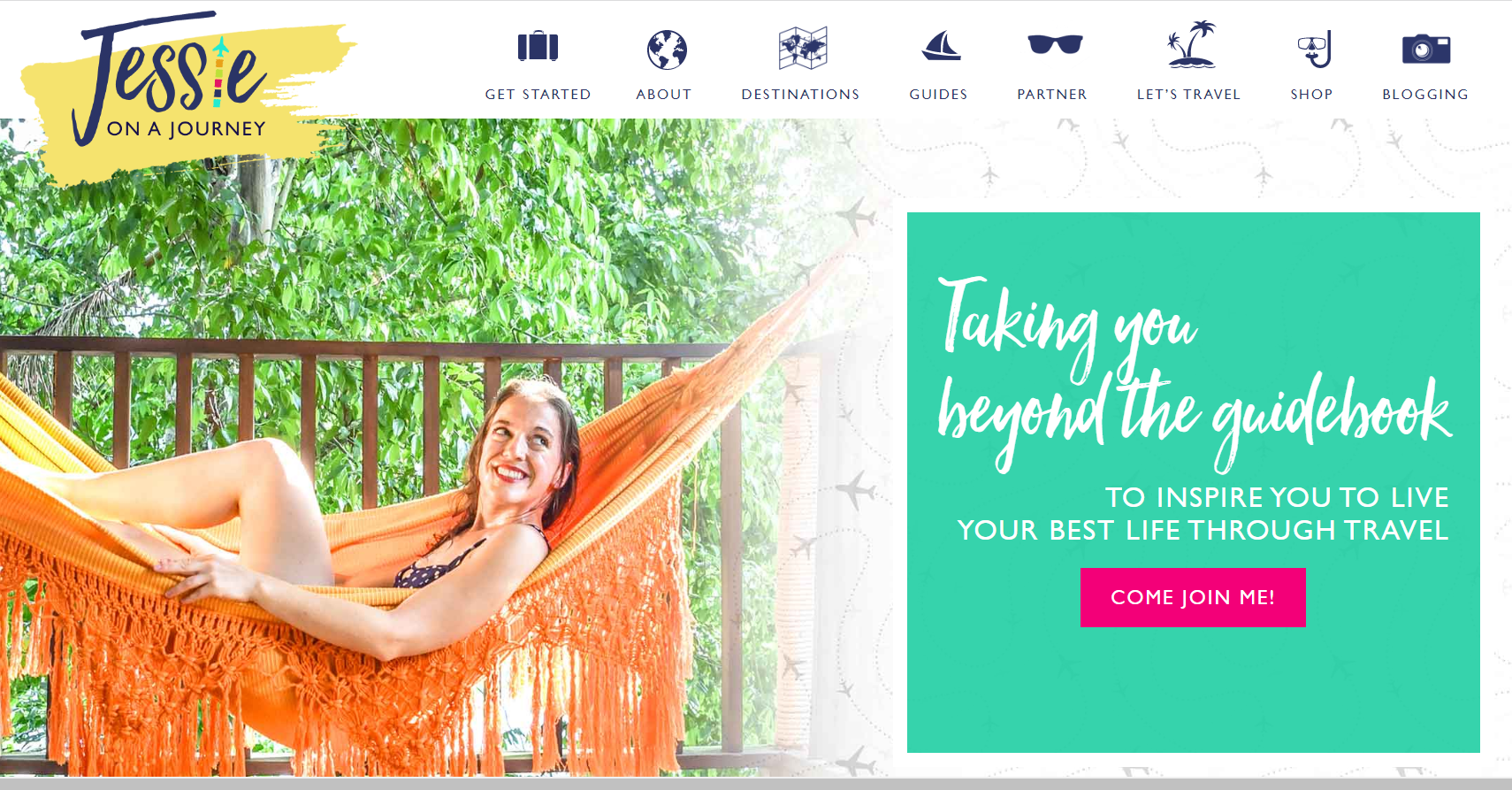 Now that you know how to create a travel blog, it's time to get some inspiration from successful travel blogs. Below are 3 of the most popular travel blogs, analyze their themes and content to get ideas for your own blog.
Jessie on a Journey: Jessie is a young solo traveler who documents her experiences on her trips around the world. She gives travel guides and rates travel destinations.
Expert Vagabond: This blog is owned by Mart Karsten, an accomplished travel photographer. Apart from first-rate travel advice, the site is full of captivating pictures and tips on how to become a freelance photographer.
Along Dusty Roads: This blog is owned by a British couple: Andrew and Emily. It focuses on scenic destinations for couples with tips, budgets, and everything in between.
Should you start a travel blog?
By following the steps outlined in this guide, you can create a travel blog that reflects your unique perspective and passion for travel.
Whether you're a seasoned traveler or just embarking on your first adventure, starting a travel blog can be a fulfilling endeavor that allows you to share your stories, inspire others, and create a platform that you can be proud of.