Starting a Virtual assistant business is a great way to make some extra money on the side. This is because you can leverage the skills you already have to help other businesses to get more work done.
Quick things to note:
Virtual assistant services include data entry, customer service, bookkeeping, website maintenance, social media scheduling, etc.
Becoming a virtual assistant doesn't require any unique skills
The most popular platforms for virtual assistant services are Upwork and Fiverr
You can use social media as well as SEO keywords to market your VA services
The average virtual assistant salary is $25/hour
What is Virtual Assistance?
Virtual assistance is an online-based service where you do simple tasks (providing assistance) for clients remotely. Virtual Assistants are in high demand as they cost significantly less than hiring a full-time employee (FTEs), and there are no geographical limitations.
Thus, businesses looking to save money and cut costs hire virtual assistants to help handle some daunting tasks that make up a huge part of their day-to-day business activities.
As a VA, you offer your services as a freelancer on a contractual basis. In other words, you are your own boss, running your own virtual assistant business.
The work you provide as a VA can include responding to emails, scheduling appointments, managing social media interactions, and making travel arrangements for the client, amongst others.
Is Virtual Assistant Right for You?
First, you'll need to make sure that this is the right career for you. If it's not – then there's always something that best suits you. In fact, I have got 52 other online business ideas that you can try.
You may be cut out as a virtual assistant if:
you have on-demand skills that you can bundle out to clients
love learning and experimenting with technology
you are flexible and able to adapt quickly
you have a thick-skin and can withstand tough times, and clients
you commit or can commit to getting things done
you have what it takes to become a business owner without direct supervision.
Since any online work comes with solitude and limits the explorative child in you, you want to ensure that you are not giving away too much to be a VA. If you thrive under supervision and love open working spaces with co-workers, then you might want to keep that full-time job a little longer.
Challenges of a Virtual Assistant
Virtual assistance is not for everyone- it needs patience to deal with clients from different countries or cultures.
Communicating with clients on the phone might not be something you are comfortable with at first, but it starts coming naturally once you are past 2 or 3 clients.
But the downside is that it can be hard, too, for virtual assistants with no prior experience at all. Sometimes, clients want someone who has already done something related to their industry, and virtual assistants with the appropriate experience can be difficult to find.
The rapidly changing business world also means that you have to keep up, as new technology is always entering the market. Without the ability to adjust, adapt and cope, being a VA can be tricky.
Why Are Virtual Assistants on Demand?
Coming in as a VA comes with a number of advantages to your clients. To market your services and price them accordingly, you need to know what these benefits are.
For instance,
VAs sort out the boring aspects of businesses, thus leaving clients with more time to focus on the tasks that directly impact the bottom line, and hence business growth.
Businesses that outsource most of their work considerably cut down their operational costs such as purchasing office equipment, maintenance costs office spaces, paying additional taxes, or recruiting and training costs
VAs help clients achieve faster deployments of their products and services. For instance, clients offering online courses can quickly outsource video editing, transcription and coursework, and course sheet design. This way, they can start selling their courses in 3 months, instead of six. For most businesses, 90 days difference is translated into thousands of dollars.
Unlike full-time employees, VAs do not have any benefits (health insurance, paid vacations), which means less salary expenditure.
Who's Hiring Virtual Assistants?
Knowing whom you want to work for is as important as knowing the skills you want to offer. Some of the clientele hiring Vas include:
Web design agency owners
Authors
Speakers and coaches
Consultants
Digital Agency owners
Event planners
Lawyers
Realtors
Artists
Photographers
Accountants
How to Start a Virtual Assistant Business: Step by Step
If you are convinced that you want to start a career in virtual assistance, then here are 12 detailed steps that should get you going in no time.
Step 1: Finetune Your Skills as a VA
Clients hire you because of your skillsets. Thus, before you become a virtual assistant, you need to ensure that you are well experienced with the services you're providing your clients with.
If you're not sure about the skillsets to adopt, start by analyzing your favorite tasks at work. Think back on past projects and what sort of things you loved doing most. Keep in mind that virtual assistant services span across various fields like VA training, customer service, writing, or translation. Focus on which type of help you are most suited for.
There are some great platforms where you can perfect your skills:
Skillshare: This is great place to find different classes in almost any topic for just $12.99 a month. This subscription gives you instant access to over 18000 courses on the platform. Find what you want to learn and get started.
Udemy: You can find great premium courses here that are sometimes heavily discounted. If you can think about it, you can find at Udemy.
LinkedIn learning: If you have a $29.99 premium subscription to LinkedIn, then you also have access to all the courses. This is great if yo are looking for more professional technical learning.
Step 2: Set up your virtual assistant business structure
When choosing the structure for your VA business, there's no one size fits all. Find the business structure that suits you best and go with it.
You can decide to:
Go all in as a freelance VA where you work with clients on a contractual basis
Work as a freelancer but register as a sole proprietorship to enjoy some benefits of registered businesses such as access to small business loans
Start an LLC where you specialize as a VA business for a specific market
The structure you choose will largely affect your VA business's direction in terms of pricing, packages, taxes, hiring, marketing channels, and client's onboarding processes.
Step 3: Decide Which Virtual Assistant Services You'll Offer Your Clients
It's not about just doing what every other company offers; instead, it's about offering something unique.
Here, you want to narrow it down to your unique skillsets. You may add others along the way as you learn to use different tools, but for now, stick to what you know best and leverage them as they form the basis of your Unique Selling Proposition (USP.)
For instance, you may find that you are good at:
Content writing
Microsoft Excel
Research and analysis
Transcription services
Social media management
Bookkeeping
WordPress maintenance etc.
Recording audios
Recording videos
Writing captions for photos
Think as broad as you can. You want to have as many items on this list as possible. These are the things you enjoy doing, so chances are there's someone else who could actually use your help.
If you get stuck, you can explore 100 plus other skills you can offer as a virtual assistant.
Step 4: Packaging Your Skills
If you did the exercise above, you should have at least 15 skills you are most proficient with. The next step is to decide what kind of Virtual Assistant you want to become.
Go through your list of skills determining which ones best go through together.
There are many options, but the main ones are:
Types of Virtual Assistants
Some virtual assistants offer a wide range of services, while others can only provide one service or serve a particular clientele. Some common types are:
Photographer assistant
Marketing assistant:
Real estate assistant
Social media assistant
Administrative assistant
Executive assistant
Web content assistant
Customer service representative
Transcription Assistant
Podcast Assistant
Graphics Design Assistant
Personal shopper and personal organizer.
Personal business assistance.
If you can, try to specialize based on these three criteria:
The skills that you can provide: Content writing, social media marketing, WordPress management
The type of tool you're most skilled with: LearnDash, Salesforce, ConvertKit, Teachable, Canva, etc.
The clientele that you can best support: Personal Finance, Cryptocurrency, Real Estate, Banking, SaaS, B2Bs
Combining two or three criteria above, you can have better-specialized services, for instance:
Maintaining WordPress websites for Real Estate businesses,
Social Media Marketing for Real Estate companies,
Content writing for personal finance,
Maintaining LearnDash learning platforms,
Podcasting services for self-help brands
Step 5: Decide if you want to work as a full-time virtual assistant or as a part-time VA
If you have enough flexibility in your schedule, it might be worth considering working remotely full time so that there's no barrier between what you do and how much money is coming into your bank account–similar to freelancing on sites like Upwork or Fiverr.
For others looking for something with more scheduling consistency (working about 20 hours per week), being a part-time VA may appeal better.
Step 6: Pricing Your Offers
Since you now know what your offerings include, it shouldn't be hard determining the right pricing that will help you work at your optimal while constantly bringing in new clients.
You can charge by the hour, job or task – whichever suits. For pricing your services, there are three online service pricing models to choose from: hourly rates, packages and project-based pricing.
Sample your industry data and competition to determine a range where reasonable rates should fall to avoid overcharging or undervaluing your work. The right pricing should be designed to bring you the right clients while sidelining the 'hoppers.
Step 7: Set up a website and build your brand!
Your website is like the backbone of your VA business. Most of your prospects will land here before deciding to take you up on your services. To create a really impactful VA website, you need to understand what clients are looking for:
Testimonials from clients in their niches detailing the experience working with you.
Case studies of your past works
Examples of your past works
your service packages and pricing
Your process, tools and collaborative measures
To get started, buy affordable web hosting from Bluehost and Install WordPress with one click. Next, choose a premium WordPress theme that makes it easy to build your website to your liking.
You may also need a theme builder like Elementor that gives you many intuitive widgets for your landing pages.
Use photos that showcase your skills: graphics, mockups, etc.
Also, add all the website's core pages, such as About us, Contact us, and Privacy policy pages.
Step 8: Write Exceptional Copy for Your Service Pages
Don't wing this. Many clients will decide whether to hire you or not, depending on how experienced and skilled they think you are. This is largely influenced by how you word your copy, especially since most VA tasks involve content writing.
Your copy should tell a holistic story of what your VA business is all about, what it stands for, its promise and the story behind its backing.
-Take your time with this step because it's the most important one; make sure you set up everything correctly
Step 9: Develop Your Online Presence
To grow your VA business, you need social media. You'll find that majority of your clients will meet you over Facebook groups or Instagram. But first, you need to position yourself accordingly so that your prospects can spot you.
One way to do that is by creating custom promotional social media graphics that show your face, what you do and how clients can contact you. Let this branding follow you across your interactions. Brand the images or screenshots that your share online.
You also want to position yourself as an authority. Answer questions in groups with clarity, make sure that your posts are impactful and once in a while, find a way to tell people what you do without coming out as purely promotional. For instance, sharing wins, testimonials or case studies.
Extend your online presence beyond social media, blog regularly, write a LinkedIn or Medium article, guest post on relevant websites, start a VA community/forum… Think 5 years ahead as you're in for the long haul. Statistics show that if you think of this as just a quick way to make money, you never get there. (I mean, making just enough money)
Step 10: Set up your branding assets
By now, you have a few branding assets already set up, but you want to take a day or two to put everything in perspective. Having a whole picture will steer you in the right direction.
Typically, you want to ensure that you have the following created, designed, and accessible for retrieval anywhere anytime:
Branding colours.
Logo
Social media templates (for cover photos, social media posts and videos)
Clear high-quality profile photo
Email signature
Branded email address
Have these stored in the cloud so that you can access them from any device. You have different options here, but I recommend Google Drive, Microsoft OneDrive, Dropbox, Evernote etc.
Where to Find Virtual Assistant VA jobs for Beginners
Fiverr (popular for promotional tasks such as social media posts and graphic design work)
Flexjobs: If you want to avoid scams and poor listings, then subscribing to Flexjobs is your best shot. There are hundreds of jobs in different niches.
Upwork (for beginners, clients must pay a minimum of $500)
Fancy Hands: For short tasks that take around an hour to complete.
Vicky Virtual: Focuses primarily on phone tasks such as answering calls, booking appointments, and related basic admin tasks
99 Dollar Social: For social media and other promotional work.
LinkedIn Jobs: LinkedIn is still a great place to find good virtual assistant jobs!
Time Etc: Majorly for US-based virtual assistants. The company has been around since 2007 and claims to have served over 22000 firms
Zirtual: This is another US-based only VA website. You do not have to look for jobs as the company hires you to work for their clients directly
Virtual assistant forums- forums such as vanetworking.com and virtualassistantforums.com are perfect for virtual assistants looking to find clients and ask questions about how the industry works.
VA Social Club: a free resource where you can create your own profile and earn points by submitting tasks.
You're not limited to these sites, but they offer an idea of what's out there! (Note: When posting on any platform, always be sure to include keywords in your title or content so people searching for those terms will be able to locate you).
If you're not sure about your marketability on one site but do well on another – consider signing up with both. There is usually overlap between the categories listed on each platform, so it's worth exploring all options before committing 100% to just one. Successful VA's often have profiles set up across two or three platforms.
Virtual Assistant Training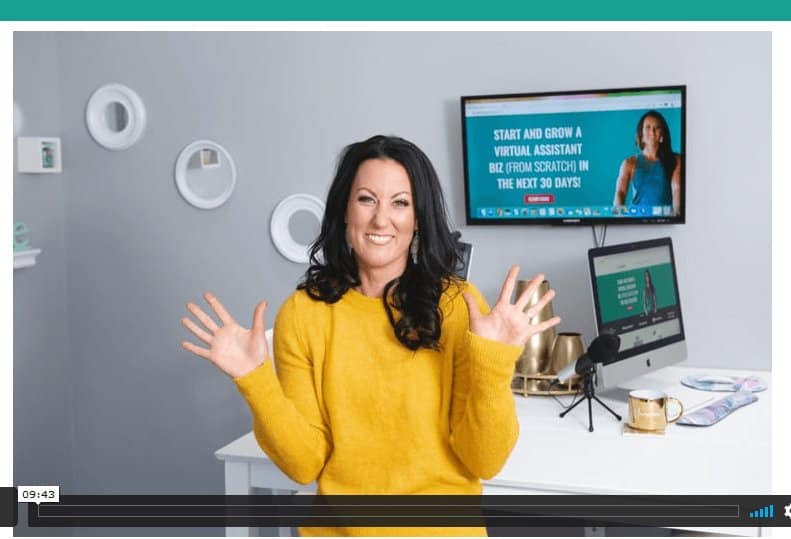 To be successful as a VA, you need to take some training. Though you might not need one to get started, you might want to take a VA course as your business grows. Your training should cover the following key areas:
Becoming a Virtual Assistant
Productivity hacks for VA
How to use certain tools and software that are common in the VA industry
How to land, onboard and retain high-value clients
There are many options to choose from, but I recommend enrolling in Gina's Virtual Assistant course.
Fully Booked Virtual Assistant Training
This certification program is filled with actionable lessons, videos and resources to help you get started right away. In the program, you'll learn:
How to lay the right foundation by identifying your target market, setting initial rates and positioning your brand
Establishing your online presence
Finding quality clients
The art of selling
Onboarding processes
Customer management for delightful service and repeat business
Business automation so as to be more productive
What you need to go full time as a VA.
Besides all these lessons, you will also have exclusive access to a vibrant VA community where you can find more insights from the people in the VA business.
If you are not ready to get the program right away, you can still benefit by downloading Gina's extensive list of 275+ Virtual Assistant Services or watch this insightful webinar.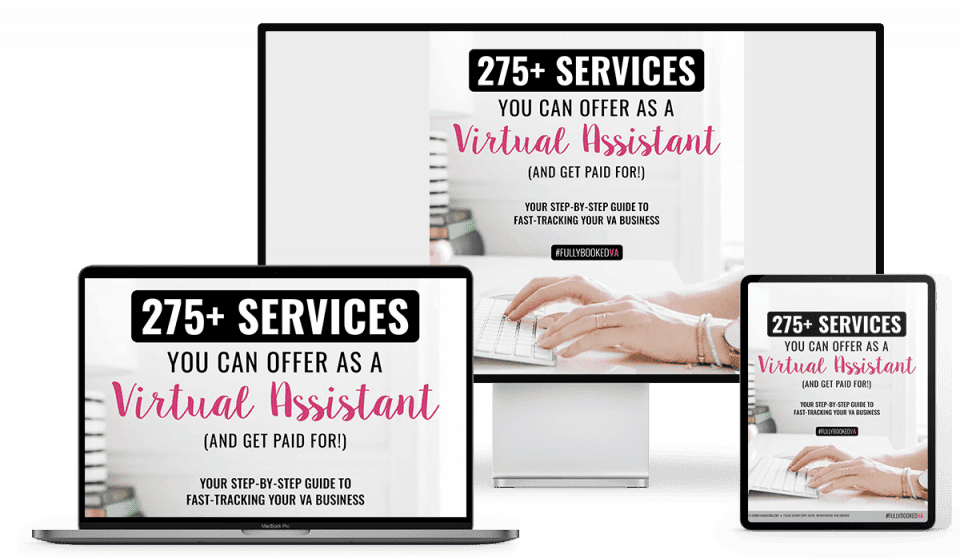 Alternatively, you can sign up and check out VA classes on Skillshare for 14 days for free. This should be enough to get you started.
You may also want to take a few courses to improve the specific skills you would offer to a client or help you be more productive. On Udemy, you can find extensive classes for just $10 on almost any field. Typically, you want to consider Excel courses, Specific CRM courses (e.g., Salesforce, Pipeline), Productivity hacks for freelancers, freelancing, transcription etc.
Conclusion
Starting a virtual assistant business can be an excellent way to capitalize on your diverse skillsets and make more money than you would as a freelancer. The technology is simple, the competition minimal, and the available markets are vast – so what's stopping you?
Virtual assistants are in high demand because they provide the personal touch without taking up office space or requiring employees on the payroll. There are many ways to grow this type of business and make it successful for yourself financially and professionally. Are you considering becoming a virtual assistant? What techniques have worked for you in landing clients?