It is the desire of every blogger to write a blog post that engages their readers in the best way possible.
We always want to write the best content there is. To do so, we need to understand the best ingredients of great content.
We naturally possess this unexplained desire to see our readers immediately connect with our posts.
We want them to have a feeling that, 'these folks behind the screens' are real people having a deeply immersing one-on-one conversation with them over a coffee table, on the matter at hand.
But do you have to be a literary genius to engage your readers in your posts? Not really. Just connect. How?
Arm yourself with these ten ingredients of great content (and a bonus point) and you would be on the right track to earning your readers' trust and loyalty.
1. Great Content! Junk Begets Junk…
Poorly written blog posts will never generate leads, earn traffic, sell or earn loyalty.
The internet is saturated with tonnes of useless posts already. To fish from the internet sphere, you need to spice things up with content that is hard to come by. Great Posts is one of the ingredients of great content which should never miss in your recipe
Readers will always pick and enjoy a great post that serves their needs. Whether to get informed, ridiculed, entertained or inspired.. They want to be involved with every post that they lay their hands on. Therefore, by understanding and empathizing with your readers, you'll inevitably develop a following for your blog.
If you provide very useful information like folks at The CopyBlogger, then your readers will stay on your site longer, as well as visit often. Great contents often trigger your visitors to click those "Share This Buttons." This way, your rankings will go up.
2. Great headlines and subheadings.
There is something magical with brief, catchy and well-thought-out  magnetic titles.
Use appealing headlines in all your blog posts. Include power words as well as figures in your titles.
Instead of "Ways to Improve Your Website Ranking" think of, "Eleven Powerful and Proven Ways to Improve Your Website Rankings."
The latter tends to get more clicks because of its weight or what I like referring to it as, 'magnetic power'
Once you have captured a lazy reader's attention, don't let them scroll their eyes and stop reading. Instead, bring in subtitles.
Subtitles bring out structured and purposeful outlines, making it easy to scan through the content.
3. Write a Blog Post With a Clear Purpose
We write to communicate a particular point (s).
When your article has a point, it gives readers something memorable to latch onto. They are more compelled to share it, comment on it, and engage with it.
Learn to write a blog post that accomplishes a particular objective and mission. Are you seeking to inform, entertain, educate, or inspire?
The 'Purpose' is the subject matter of your blog posts. If a reader reads through your entire article and fails to figure out what it was all about, then you would have failed as a messenger.
Keep it simple. You don't want to scare your readers with big vocabularies and figures. Be sensitive, responsive, respectful, non-judgmental and fun. Do not over think.
Stick to brevity and simplicity. It always pays.
4. Originality is the Key Secret to Great Contents
Originality is arguably one of the most important ingredients of great content any expert blogger will advise you to sort of 'acquire.'
Think outside the box when writing a blog post. You have to 'capture' your readers' minds with something unique, crafted with lots of creativity.
Carry out a thorough research on a particular niche and publish the results. That work is new, it's yours and is totally original. Researched work is killer content which gets more links and shares. The work is more credible and detailed.
You might also like: Simple Tips to Write an eBook That Achieves its Purpose
If you are doing your research online, and not using surveys, then the key secret to avoid plagiarism is to use multiple sources, pick the main points and then write in your words from the scratch. Both Google and your users are madly in love with great and unique content. Offer them!
Never plagiarize someone's else work. In fact, do not even duplicate your own work. This is what a friend of mine terms it as 'Self-plagiarism.' Google and other search engines are getting clever every day, and you need to cope up with the pace. Search engines detests duplicate contents, you should too.
5. Find Your Personal Voice and Use it.
Blogging is a personal adventure. Don't do things the way everyone else is doing.
In writing, use your voice. Shakespeare wrote a sensational story about falling deeply in love with someone on 'the other side of the tracks.' He used his voice to engage the audience. Detached perspective when writing a blog post will disconnect your readers from your story.
While you will learn a lot from the expert bloggers like The Blog Tyrant, and Problogger, do not imitate their styles of writing. Stick to your own voice as what your readers value the most is your sincerity.
Your voice adds on to your business brand. So don't ruin it by doing it someone else's way.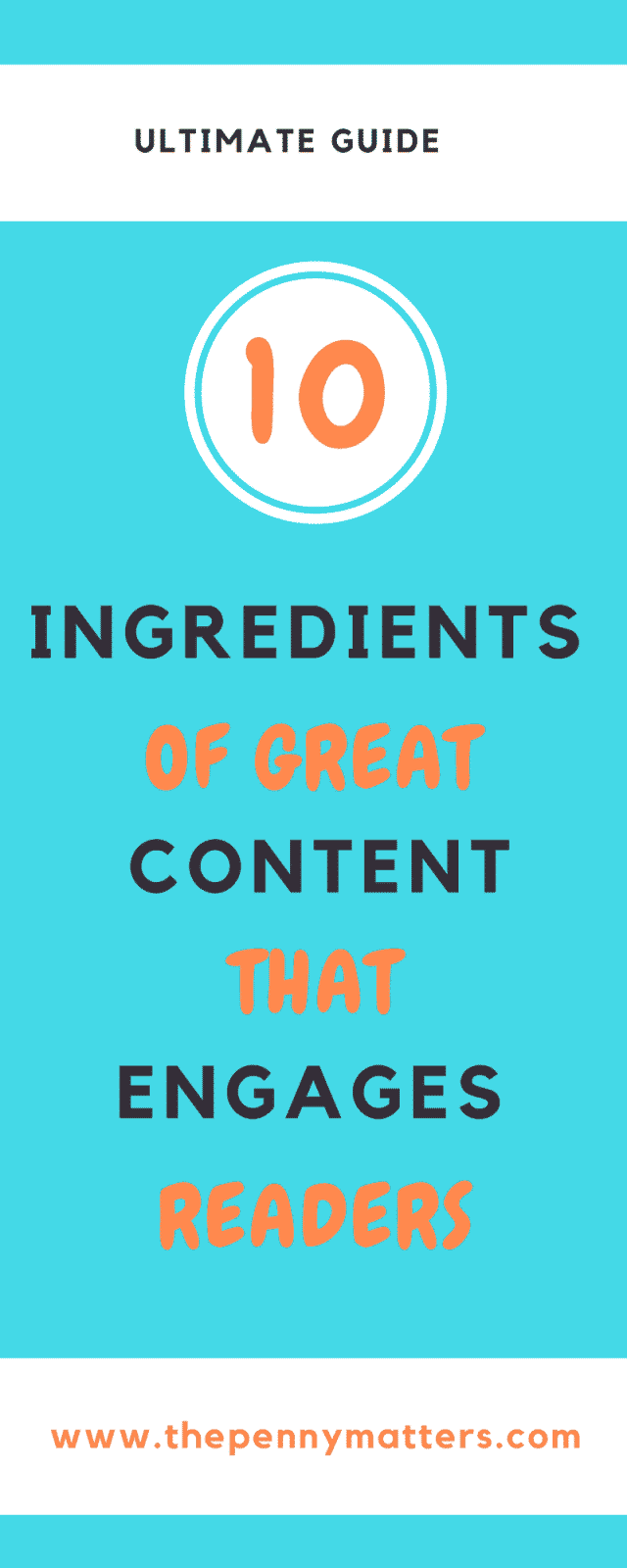 6. Emotional triggers.
Let your readers feel it. Let them share in the joys and sorrows of your great content. They will be enthusiastic to read more from you, and they will always remember the detailed descriptions that caught their eyes.
A Great content or Perfect Content is typically one which is relevant, unique and informative.
Think of a relevant story, whether funny or sad that matches your content. Using analogies to introduce a topic dear to your readers will keep them glued to their screens.
7. Stick to the truth.
No matter how good you are at telling lies that blind, the truth matters. Want to tell a story to color your content? Fine. Tell a true story.
Want to illustrate a point? Great. Share research that can be traced and substantiated. Want to state your opinion? All good. Just make sure you state that's what it is. While writing a blog post, the truth gives credibility.
The fun bit about blogging is that you do not have to know everything. So long as you don't stop learning, you will always have something to say or a genuine way to respond to readers feedback.
8. Don't let your attention wander.
Blabbing on and on while writing a blog post will make you lose transition and flow. Do not write a blog post with a million ideas in it, your readers will definitely get lost.
Also, don't be too monotonous, play with words here and there. Stay focused and hold your reader's gaze.
9. Share-ability: Ingredients of Great Content
People are prone to share. It's almost like, "Write a great blog post, and someone will share it."
Well, that's not always the case, but you hope that someone will.
Having your content shared might even be the ultimate indication of its greatness. Several people are likely to stumble upon a shared post, read it, find out that it is actually worth sharing, and they go right ahead to share.
So, make it simple for your readers to share.
Display share bars that are easy to find and use. Feed readers' suggestions and shortcuts for sharing your content.
There are several plug-ins that can help you do this:
Social Warfare
SumoMe Share
Image Sharer
Easy Social Share Buttons for Wordpress
WP Social Sharing
Shareaholic
10. Optimization of Your Content for Search Engines
Having been in the content creation for a while, I can confidentially say that SEO is one of the key ingredients of great content when it comes to digital marketing that yields results
While you may have a decent mailing list and an active approach to sharing your content via social media, the best way to find new readers over the long haul is to earn a spot on SERPs (Search Engines Results Pages.)
Learn to Optimize your blog posts for search engines. You have to understand Search Engine Optimization, apply on-page optimization tactics and most important ranking factors.
Mastering SEO (search engines optimization) takes time. You don't need to wreck yourself when you are not getting it though. Besides, there are lots of free information packaged as eBooks, blog posts from reputable sources that can really be of ultimate help.
To start with, ensure that you have some reputable SEO plug-ins  such as Word Press SEO by Yoast installed on your website
This is a must have plug-in for all bloggers. It's pretty simple to use. While writing a post, you can always check your SEO status after setting your focus keyword. You do not need to have everything right, but a Yoast rating of "Good" is worth working for.
In fact, if you have some bucks to spend, I recommend you purchase SEO for Wordpress eBook by Yoast.
Important Bonus Point:
11. Go for Long Content.
I can't emphasize this enough. Long content is continuously becoming very important in engaging your readers and even having them coming back for more.
With great long content, you are able to provide valuable information to your readers. All-in-one posts.
Simply structure your posts into sections and place a good table of contents at the beginning of the post. If you are a new blogger, aim for at least 1000 words.
Writing long contents triggers some sweat, and some folks are not willing. Seize the chance! If you grab this opportunity, then you are more likely to stand out.
Most people are looking for the strategy, tactic or strategy but there isn't one. Go for the painful path, as it is the only one that is truly rewarding.
Conclusion:
Writing great content is something within your reach. If you want to write a blog post that will attract a huge traffic, you have to start using the above ingredients. They will prove worthwhile in the long run.
Which ingredients of great content that you personally use?
I am interested! Let me know in the comments section. #Cheers!
Read Next: 
Liked this post? Please pin it so you can refer to it later