Wondering how to build an email list from scratch even if you are a total beginner? Guess what, every email list, whether 10,000 or 200, 000 subscribers list was built from scratch. That's right. You can start today and grow your list for free following the tips in this article.
But first,
How Does Building Your List From Scratch Looks Like?
In its simplest form, list building process consists of 5 critical stages
The marketer creates a compelling free resource/lead magnet that will be traded for the readers' email addresses
The resource opt-in form is made available on the website by displaying opt-in forms
The reader sees the resource's opt-in form and enters their email address
The reader is added to a mailing list through the email service provider integration
The resource download/ access link is then sent to the reader via email
That's exactly how to build an email list from scratch should look like. Darn easy… No fancy tips, right? But before you set out to build your list, you need to understand your typical reader so that you can create offers that interest them.
How to Build an Email List from Scratch for Beginners
Building an email list from scratch is an organic way of list building. It entails finding ways and means of bringing relevant traffic to your website and converting them into loyal subscribers through tactical and useful incentives. By entering their email addresses to receive your freebies, they consent to receive content-based and promotional emails from you as long as they always have an option to opt-out.
Since email marketing is permission-based, it's an ethical method of getting your products to the right people without being annoying. However, building an email list from scratch requires skills, patience and commitment especially during the earlier stages.
Building an email list from scratch comprises of 9 critical steps:
1: Signup with an email service provider of your choice.
To start building your list, you need an email service provider. There are several providers you can choose from. You want to end up with an email platform that works for you. Some of the things you will need to consider when selecting an email service include the following:
Your main goal: email promotions, driving traffic, making sales, inviting people to events. While any provider can handle all of these objectives, you don't want to end up with an intensive and expensive service when your main goal is just using email to drive traffic back to your website
Automations. Go for a service that makes automation as easy as possible
The provider should be able to allow you to segment your list through various options including subscribers self-segmentation
Your budget. You can always move to another provider once your business has picked up and hence the need for more features. Start with something that works under your current budget
Deliverability rate. For this, go for reputable email providers such as Convertkit is made specifically for content creators and utilizes simple email text only templates that enhances deliverability of your emails. Mailerlite is also a great and cheaper alternative to Convertkit that allows you to use it for free for up to 1000 subscribers.
2: Define your target audience and establish where they are
This is something you've probably done already. But if not, look around.
Your content focuses on one particular person. Your list-building strategies should therefore focus on this particular someone. Call it your ideal audience. Take time to understand her from as many perspectives as possible. This will you in successfully segmenting your list
The following questions can help you craft the perfect audience profile to help focus your content marketing strategies:
Who is she and what is she up to?
What does she dread the most and why?
What's her views about work, business and family?
What fun facts do you know about her?
What's one thing that she truly cares about in your industry?
What's her major hurdle that she hopes it could be solved in your industry?
3: Attract them to your website with great blog posts content
Your readers do not come to your website to subscribe. They come because they are following a great content' trail that promises them a snackable solution. To attract your ideal audience, spend time crafting the right content, and distributing them through appropriate channels so that you can reach them where they are.
4: Identify their major pain point and create a working solution for them
Now that you've known your audience, it's time to craft a great incentive. The typical workaround is to identify your audience's major problem, craft a solution and package that solution in a digestible simple form such as an industry report, eBook, template or checklist.
5: Design Your Lead Magnet.
Package the solution as a digital product in a particular format such as a video, PDF report, cheat sheet etc. This is what is usually referred to as a lead magnet, or more casually, a freebie.
To get people to trust you with their contact information, you need to give them something of value
Lead Magnet Ideas to Inspire You
A free report on the major trends in your industry
An eBook that explains major concept and how to go about it
A video tutorial that solves a particular problem
A webinar replay
An effective guide based on what worked for you
A free course relevant to your blog topics
Authoritative whitepapers
Audio files
Templates such as Canva templates
Working swipe files such as course launch email templates that worked for your new course launch
And some other creative ideas from your crazy creative mind
6: Embed sign up forms on your website.
Beautifully display 3D covers of these products on your website with a button to download for free.
Convertkit and Mailerlite allows you to design embeddable signup forms so that you do not need another expensive newsletter/lead generation plugin
If using lead generation plugins such as Thrive Leads, then integrate your signup forms you're your email marketing software using
7: Automate your lead magnet delivery.
Configure your integrations to ensure that solution is auto-delivered to the subscribers' inbox once they signup
The easiest way to do this is to upload your lead magnet to your website and copy your media URL and include this link in the email that is sent to your subscribers upon subscribing. This is their direct download link. Nobody loves waiting.
8: Setup your welcome series emails.
Onboarding is a critical process that you should always ensure that your new subscribers successfully go through. If set up correctly and creatively, then the welcome series can help your subscribers self-segment themselves so that they can start receiving only those emails that truly interest them.  From your email service provider account go to automation or email series and start new automation and name it Welcome Series.
There you have it!
8 ways on how to build an email list from scratch even if you're a total beginner. Find more blogging tools and resources on our resource page
How to build an email list fast?
Email list building takes time. The fastest way to grow your list is through Pay Per Click advertising platforms such as Google Adwords, Facebook Ads and Pinterest Ads.
The goal here is to send as many people to your landing page as possible. Since you've taken time to optimize your landing page, and your visitors are targeted, you should be able to reach 20% or so conversion rate. With enough budget, you can reach your target subscribers at no time.
How to Build an Email List from Scratch: Should You Buy an Email List?
Don't. Email marketing is permission based. If someone has never granted you permission to email them, you should never add them to your email list, even if they are close family members.
Buying and selling email lists are unethical as it bridges the rights of individuals. According to Hubspot, buying an email list is actually a bad idea.
Ethical marketers should always be guided by this question:
"Would I be comfortable with this technique if I was on the receiving end of the bargain?"
If the answer is no, then the technique is unethical.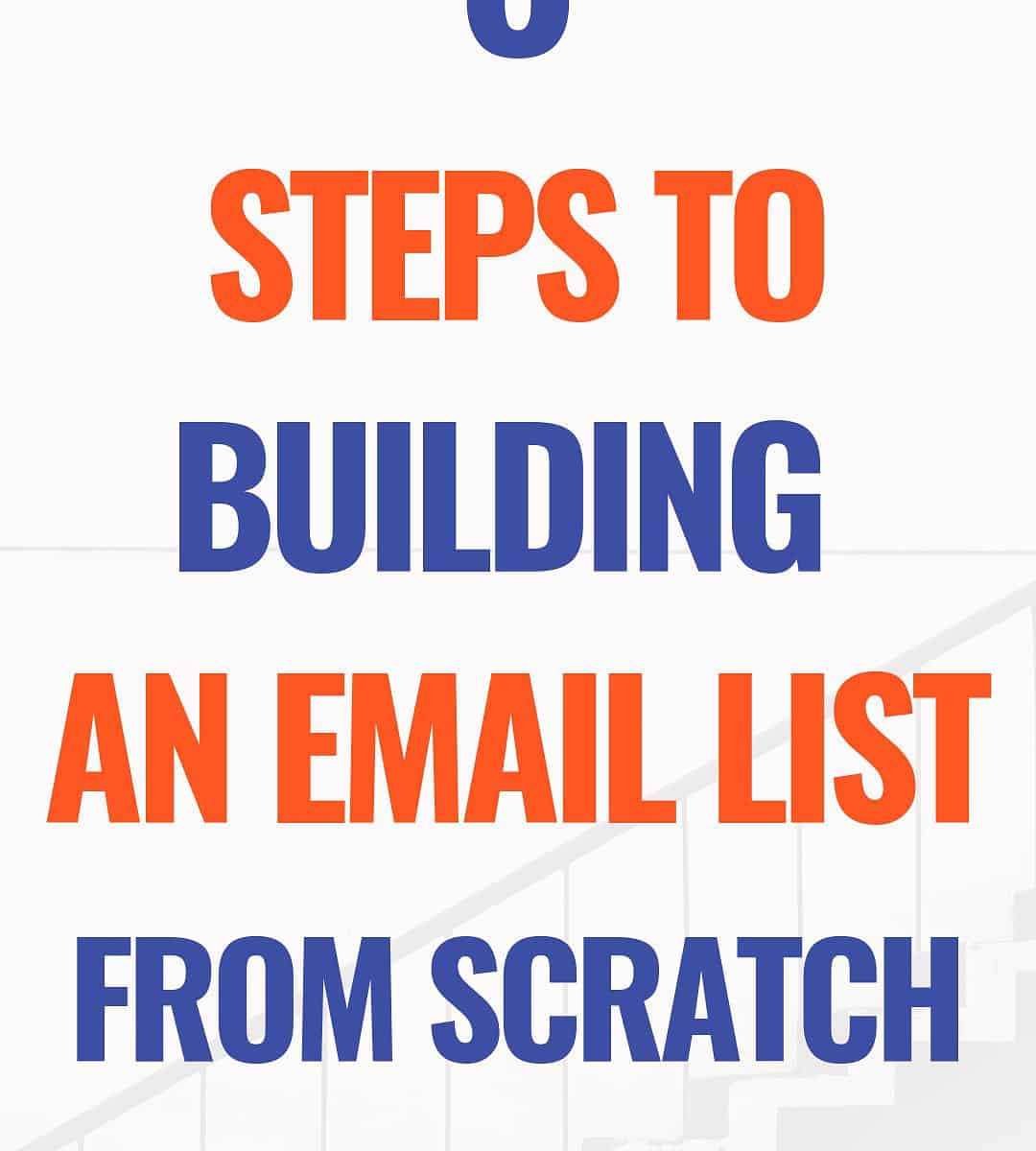 Another reason why buying an email list should not be an option for you is that you will never find a healthy list to purchase. Most of the email addresses in the purchased lists will result in bounces which has a greater impact in your deliverability of your emails. Those who end up receiving your emails and have never heard from you will not hesitate from marking your emails as spam. This will affect your sending reputation to a larger extent.
So buying an email list is something you should never consider. Instead, focus on building your email list from scratch using the proven list building strategies that are discussed in this post.
Your Turn: How to Build an Email List from Scratch
Are you currently building your email list from scratch? Great! I would love to know which list building ideas are working for you. Drop a comment below, or hang around to read even more incredible content popular on the blog