You want to build your own empire. To do that, you need a whole village.
Online, a village is called an email list, and its size is determined by the number of email addresses in it. The doors to your village are called signup forms
The size of your list is determined by the number of email addresses that you have in it.
But what are email addresses?
Your approach to email marketing will take a complete U-turn when you start seeing email addresses for what they are; real people behind their screens spread throughout the world.
How do people get to your list? How does one become a member of your village?
There are several things that bring people to a village. In the literal sense, it is the productivity of the land, availability, access to social amenities, safety, liberty to leave as and when they want to, etc.
For someone to join your email list, they need to be assured of things of a similar kind:
Value to be attained
Important and relevant alerts
Safety- from spam
No difficulty in joining
Free to leave when and as they wish
If your list-building strategies can communicate all the above clearly, then it's done right.
Why Email Marketing?
It's an effective low-cost way of delivering your brand and marketing message to your current subscribers and customers. However, your email marketing strategy is only as effective as the greatness of your list. If your link building strategy was a sham then your list is likely to be scant on information, redundant and off-track
What is a high-quality email list?
A high-quality email list is a list comprising of email addresses of people representing your target audience. These are people who will benefit from your blog, product, and services. You want to market your products to people who actually care about them, and are likely to purchase from you hence list building a high-quality email list is crucial.
47 List Building Strategies: How to Build an Email List Fast for Beginners and Advanced Learners
Since you've now set everything ready, it's time we start promoting your lead magnets. There are several list building strategies that will help you to grow your list faster and we have discussed a number of them in this post.
1: Create Category Based Op-tin Offers
If your blog structure is well defined, then chances are you have already segmented your readers into three or four major categories. For instance, while we have over 15 categories in this blog, we have only four main categories: Online Business, Make Money, Marketing Skills, Productivity and Tools & Tech.
The rest are subcategories for these main categories. We could then create 5 different opt-in offers for these different reader profiles and increase conversions (P.S: We actually implementing this)
To display this, you could make use of Thrive Clever Widgets and set the five different widgets to display for the different categories.
Click here to learn more about Thrive Clever Widgets
2: Adopt Minimalism Website Design
Your website should serve three purposes at most:
Guide your readers to:
Download your lead magnet
Read Your blog posts
Connect with you on social media
Therefore, you should remove any clutter content that does not help your site to achieve the objectives above as they are likely to dwindle your email list building strategies
3: Create a Squeeze page for your lead magnet.
This is a dedicated landing page for your freebie. You should briefly discuss what your readers will get if they download your freebie. Include share buttons so that people can share them with their friends on various social media platforms.
4: Grow Your List with Facebook Groups
Harness the power of Facebook groups to generate quality traffic to your blog. Facebook groups are powerful since members are already interested in a particular topic. Therefore, you need to join groups under your particular niche and be of great help to other members.
Let them know that you are currently working on a lead magnet that will help them accomplish 1, 2, 3… and notify them you launch it. It's always effective to build anticipation from the word go.
Once you have your freebie and a dedicated landing page, share it with the members in all the relevant groups you are in. Briefly explain what they will get for free, and of course that (you are afraid that this freebie may not be free forever).
Create the urge of urgency.
5: Harness the Power of Pinterest
Pinterest is a great way to get targeted subscribers. The key elements of a successful pin are:
Great Call to Action
Great Headline
Great Design
If you have a scheduler, schedule your pin to go out to various boards on a daily basis. Also, add a pinnable image on your landing page and ask readers to share the freebie on Pinterest, or rather, pin it for future reference.
Click here to start scheduling your great pins with Tailwind
6: Embed Opt-in forms and Images on your website
Your readers should never look for your opt-in forms. They should be clear from the word go. Design great opt-in forms using your mailing platform or plugins such as Mailmunch, and embed them on your website.
At The Penny Matters, we use Mailerlite because it is super easy, affordable and enables us to automate most of the processes.
Some of the places to display your opt-in forms include:
Homepage



Pop-ups
Footer
About Us page
Sidebar
At the end of every post
Within every blog post
7. Create a Free Online Tool or Resource
A one-page checklist does its magic, but you bet it's not as effective as a free tool that people can actually use to solve their day to day problems. Some of the most effective business tools that expert bloggers have created for lead generation include SEO analyzers, visual content such as infographics, website speed analyzers, website downtime checkers, business names generators, mockup generators etc.
While tools require a substantial investment of time, money, and other resources, they are evergreen lead generation tools that will serve your business for decades to come. A good tool is one that solves the problem of your readers and is therefore relevant to your niche
8: Add engagement features to your YouTube Videos.
Adding annotations at the end of your videos will help you guide your viewers on what to do next. Since you to leverage your viewers for list building, you want to send them to a free resource that's relevant to your video content. To do this, simply add CTA to an end screen
From your video manager page, click on the EDIT button for the particular video you wish to add the annotations. A drop-down menu appears. Click on the Edit Screen & Annotations. This will open up a popup with four different elements that you can add:
Video/Playlist: This allows you to promote a related video or a playlist
Subscribe element: Asks viewers to subscribe to your channel
Channel: Helps you to promote another YouTube Channel
Link: Helps you link to an external link to one of your approved websites. This is the element you want to add to the end of your videos that will link to your freebie landing page



9: Create Content Upgrades
Content upgrades help you turn each and every blog post into an email list building tool. Content upgrades are highly-specific content focused offers in exchange for email addresses. Content upgrade email opt-ins convert consistently higher than generic opt-ins since they meet the needs of the current reader of your content.
A content upgrade is created specifically for a single blog post. Thus it's specific, relevant and useful. Just like other lead magnets, content upgrades can be delivered in various formats and forms.
Remember the bonus content you are offering to your readers for taking an extra step should be actionable and useful. Good content upgrades are checklists, action plans, and workbooks.
10: Do a Strategic Guest Posting.
What if you can leverage someone else's audience to grow your email list? A great guest posting strategy can swoop your email list off the ground.
To build your list with guest posts, you need to take time to intelligently select websites to target, generate RELEVANT content ideas and start pitching.
A good guest post idea is one that targets a very specific group of people. This means content idea that only suits a particular niche. And since you are hoping to build your list, your content idea should complement what your lead magnet is about. The two, lead magnet on your website and the content idea for your blog posts should all be housed under the same niche/topic.
Taking the time to learn how to pitch your guest post is very critical. The tips that we share in our cold emailing guide are very critical.
Once you've landed your awesome guest posting opportunity, write something better than your normal posts, and then make it five times even better. If your guest post is awesome enough, the website owner will be excited to promote it further, hence more eyeballs on your post and consequentially more visits to your squeeze page. Use our content writing guide to deliver awesomeness to your readers and guest-posting partners
Also, ensure you mention your free resource at the end of your article. Making it even exclusive for that site's visitors can boost click-throughs.
11. Talk about your lead magnet as you would if you were a published author.
This works if you've put your heart and soul into your freebie. If it's good enough, you'll find it easier telling everyone how your free resource can benefit them. Some of the ways you can do this include:
Telling your friends and family members if they are interested in what you do
Including a link on your business card e.g. bneur.com/book
Including a link on all your other printables, brochures, flyers, etc.
Talking about it in forums and Facebook groups.
Mentioning it while answering quizzes on Quora
Mention it when doing radio, and TV interviews
Mention it on your podcasts and YouTube videos
12. Design a highly converting squeeze page for each of your lead magnets.
While it's good to have popups here and there as well as embed forms below your posts, having a page dedicated to seducing your readers to joining your list is important and way more effective. These pages usually convert way higher than your other forms.
A good squeeze page employs minimalist web design, tells a story, identifies a problem and suggests a proven solution that can be accessed by entering their email addresses. If you have other freebies as well, you need to create separate squeeze pages for each of them.
Squeeze pages should have short URLs for easy sharing. For instance, if you have a free lead market on 89 Ways to Get More Traffic, a simple URL like bneur.com/traffic should do. Short URLs, especially one-word extensions are effective for sharing on audio interviews as people can easily remember and access your website
13. Craft Powerful Headlines for Your Freebies.
A simple signup form is all it takes to convince someone to join your list. This embedded feature is composed of nothing more than a headline, a visual, description and the form itself which usually comprises of First Name, email address, and a Submit button.
The main selling point is thus your headline. Here lies your selling proposition. Every word that goes into your headline is critical. It's the make or break of your list building strategies.
Revisiting the resource suggested above, 89 Ways to Get More Traffic in 2019, we can tell this is a compelling selling point for bloggers looking to grow their blog traffic. The figure 89, proves a sense of length and usefulness, while the year 2019, brings the sense of relevancy. We can make it better by introducing another power word such as Proven, Working, Genuine, etc.
What about the following?
89 Proven Ways to Grow Your Blog in 2019. Learn How I Got 341,677 unique visits last month.
14. Manual Signup-Sheets at Events
Attend an event in your area that is relevant to your industry. You might need to have four or five ambassadors to help you in your brand awareness strategy. Most events have exhibitions, so you might need to book a tent. With a good event and a great networking strategy that is properly implemented, you will be able to have at least 500 contacts at the end of the day. These actually qualify as leads as they took time to listen to what your business is all about before consenting to receive notifications, hence the possibility of a higher conversion rate.
You can also organize monthly or semi-annual events in your area. This way you will be able to earn money from tickets as well as have a pool of potential customers in your attendance list. Events also help boost your local brand and enhance your credibility in your industry.
15. Grant access to your Pinterest Board
Pinterest Group Boards are great opt-in offers that you can use to help build you with your list building strategy
A great way to go about this is to build a great group board on a particular niche, a niche that is narrow but broad enough to accommodate the readers of your blog. On this website, we run Online Business Ideas, a group that suits everyone from freelancers, designers, coaches to online entrepreneurs.
The next step is to create a dedicated landing page about your board, rules to be followed if any and the types of pins to be pinned. Then you embed a signup/join now button that prompts the reader to enter their email addresses and a link of their Pinterest accounts. By submitting their info to join your board, they consent to receive info from your blog with unsubscribe options. This is a disclaimer you need to include on the landing page or the signup form.
You will then need to manually add them to your board as it deems fit. You may want to tag people who sign up through this landing page or form with an appropriate tag such as [Pinterest +name of the board], for easier segmentation. A good email service provider such as ConvertKit makes it easier to do so.
16. Grant People Access to Your Private Facebook Group.
This works like Pinterest Group Boards above. People want to be part of Facebook groups run by experts as they are usually well managed and jam-packed full of helpful content and sharing. So they wouldn't mind opting in to be added
17. Organize a Giveaway
Giveaways are great with quantity rather than quality. However, if done correctly, you can benefit from both the quantity as well as the quality.
The main success of a giveaway lies with the worthiness and relevancy of the prizes. Some of the prizes you can giveaway include your premium eBooks, premium courses, coupons and discounts, apparels, software, money, etc.
To run these giveaways successfully, you need to use a service like Kingsumo Giveaways which helps you track shares and award points accordingly.
18. Blog consistently.
This works in building your email list in two ways. First, the more you blog, the more visitors you attract, the credible your site gets, the more loyalty and trusts it earns and consequentially the higher conversions rates. Secondly, blogging consistently means you are always churning out better content that your readers won't want to miss, hence an incentive in itself so join your email list.
Have an editorial calendar and stick to it. Having blog posts written and planned out in advance is a great way to never lack behind. Most bloggers are always three or more months ahead of their content plans. You want to join the ride.
19. Leverage the power of testimonials in your op-tin pages and forms.
Think this way:
You just visited a website which you've never heard before. The site is about the topics you curious about and the first blog post you read wowed you. You want to learn more from this blogger but is she worthy of a space in your already populated and messy Gmail inbox? Well, she is not Seth Godin, so you don't have a direct answer to that. But then, somewhere on the website, you see a great testimonial about this blogger from Seth Godin and immediately you are convinced that the giveaway that this blogger is giving is actually worth it, and so you opt-in.
Well, you might not get a testimonial from Seth anytime soon, but a great testimonial from your subscriber is equally good. A great testimonial is honest and useful. It outlines a pain point and how the site or freebie helped the person achieve a particular result.
20. Share Your Freebie on Social Media.
Sales are made on social media because that's where people hang around on. If you publish a new book today, you would want everyone on Facebook to know. That's the excitement you should have with your new lead magnet.
Share your lead magnet on Facebook pages and groups as well as Pinterest. Create social media-specific graphics for your freebie using tools like Canva and PicMonkey. If you have your own established Facebook group, you may want to build anticipation beforehand, by telling members that you are working on your free 7 days course on how to go about Xyz, or a book on ABC, or a checklist for…. Then on the day of launching make the big announcement and you'll see increase in downloads.
21. Promote Your Lead magnet with Facebook Ads.
We all like to cut down our costs, but sometimes spending a little can mean tremendous results. Facebook ads are worth it in the long run. You want to start with a smaller budget and keep experimenting until you find Facebook ads strategy that works for you. For Facebook ads to work well, you need to have a captivating headline, a striking visual and a promising landing page that is short and to the point. You want also to target people that are interested in your topic
22. Optimize your About Us Page
This is one of your most visited pages on your website. Since someone is visiting your About page, it's safe to assume that they already like your brand and they are interested in knowing more about you, who you are and what you do. There are similarities that you share, otherwise, they wouldn't be bothered at all. Giving them a give away to opt-in at this very point is critical.
A great lead magnet fulfills this checklist
Melyssa does this with a subtle touch: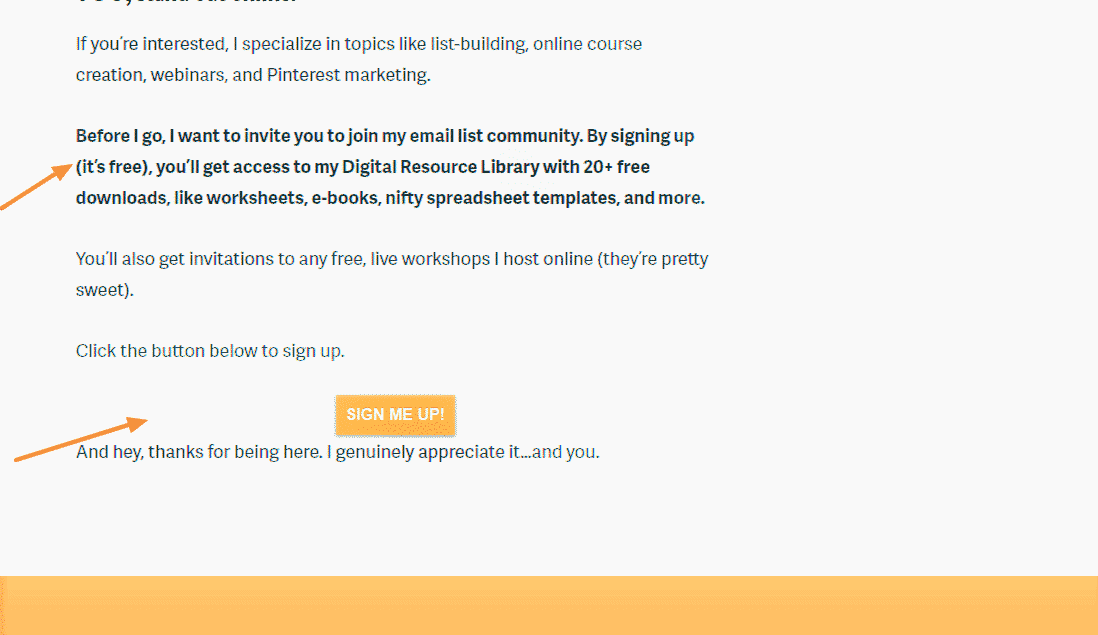 23. Leverage Your Competitors Best Conversion Tools
You have to stay relevant and productive. By using better tools, your competitors have a competitive hedge. The good news is, you can actually inspect which tools they are using with the Inspect Element.
If that sounds tech complicated for you, a tool like BuiltWith can come handy. You only need to insert the URL of the site you want to inspect and this program will list all the tools that the site is built with. You can then see which ones aid them in conversion and see if they are worth acquiring them for your website
Here is a complete list of list building tools that you can use to grow your email list gradually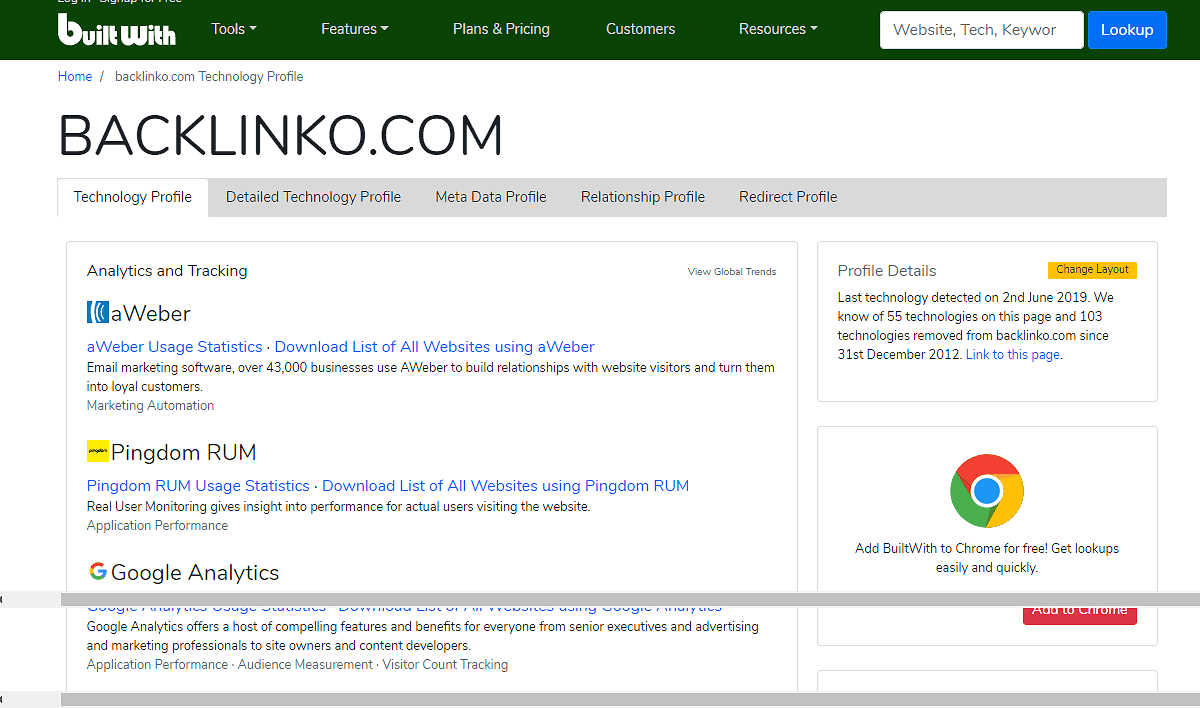 24. Have a Strategic Landing Page Funnel
The Idea behind Landing Page Funnel (LPF) is to ensure that your website visitors get to visit your most optimized pages (squeeze pages) for conversion. These are pages of your website that have freebies and have proven to convert at higher rates than other pages.
The easiest way to get eyeballs on your most converting page is by featuring it on your homepage and adding a button that links to it on your primary menu. This is one of the secrets that has helped Backlinko build a list of over 140,000 subscribers.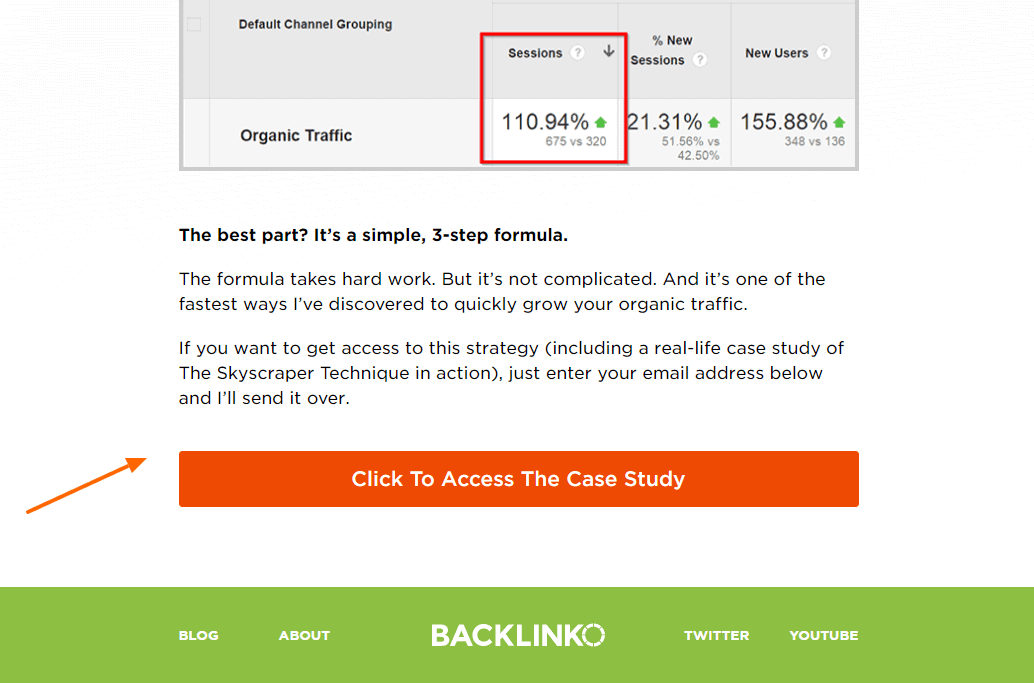 25. Optimize Your Confirmation Email
If you use double-opt-in (recommended), you will notice that you will have quite a number of email addresses in your unconfirmed section. Well, that happens because life happens. However, by optimizing your confirmation email you can reduce that number substantially.
You want to personalize your headline if possible. A headline like "Tasha, Welcome to Your 7 Days Blogging Course" will have higher open rates than, "Blogging 101"
Your confirmation button should be bold and centrally located, well above the fold. If your confirmation email is long, you can consider adding another confirmation link towards the end of your email.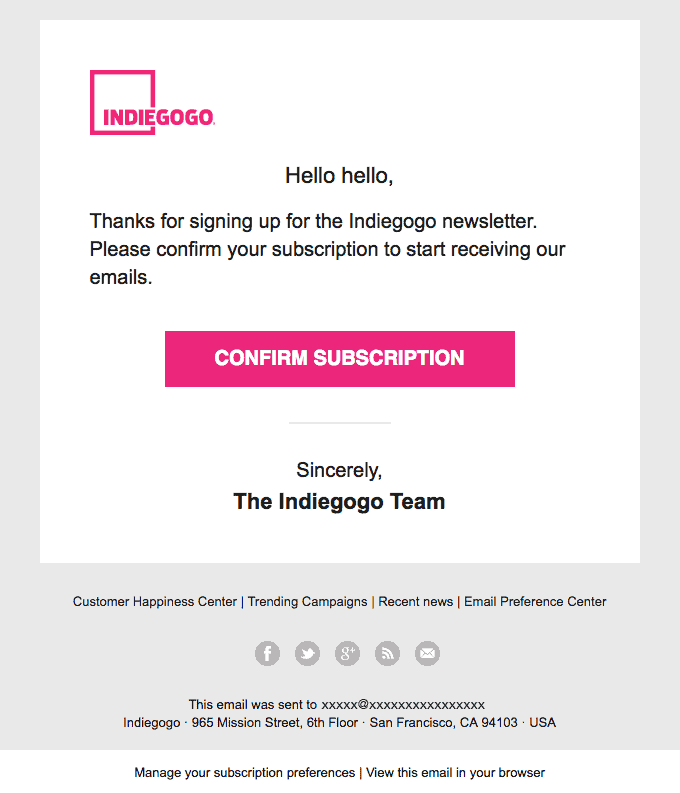 One strategy that works really well is making the download link of your freebie in your email act as a confirmation link. Your subscribers will see something like:
Hey Tasha,

Thanks so much for joining our Bneur community, where small ideas become big companies. As I promised, your free 37 List SEO checklist is ready for download.

Wanting to know me more? Don't worry, tomorrow I'll send you everything I did to turn my tiny idea into a blossoming online business and how you too can.

Talk soon,

Mysson
26. Design Your Website to Convert
Every creative need an empire to inspire. Email lists give you a way to directly communicate with your readers. Your fans. Your website's main goal should thus be to convert your readers into subscribers. A good web design does that. To achieve that, a few tweaks are necessary:
Have a prominent call to action on the homepage with a relevant highly converting op-tin
Strategically organize your primary navigation, adding a button that leads to your freebie
Placing a subscription form at the top of your sidebar, making it prominent
Making the overall design of your website friendly, mobile optimized and using readable font types and sizes.



27. Make Your Landing Pages Highly Converting.
It's one thing to create a squeeze page, and it's another making that page serves its purpose. Creating a highly converting landing page is an art, something that takes time to be mastered. It comprises both skillful design and copywriting prowess.
A highly converting landing page comprises of a primary headline, a tagline(subheading), a description, bulleted benefits of the freebie, a 3D representative visual of your lead magnet, form fields (first name and email address), a call to action (CTA) social proof (testimonials) and a headshot and short description about you.
28. Keep Your Forms Simple and Easy
You are dealing with the audience whose attention span has immensely reduced.
Your email opt-in forms should be very simple.
Only ask for the information that you really need, like name and email address.
The information you require will vary based on your marketing needs and the industry you're in. You might need to ask for phone addresses especially if you run local events
29. Leverage the Power of Social Proof.
The primary objective of email opt-in forms is to get as many of your readers as possible to subscribe to your list.
Social proof convinces them that they're in a good company. There are several ways that you can use social proof to build your brand authority and foster trust from your readers.
You can use social proof in your headline by highlighting the number of people already in your email list.
If your opt-in form is big enough, then you can attach a testimonial from a known guru in your industry.
30. Offer an Irresistible Offer
For someone to give you their email address in today's age, you need to prove to be of value to them.
Create a compelling lead magnet that is relevant and helpful, and visually present to them.There are different offers that you can design including a
No-fluff how-to guide
An ultimate report
An eBook
Video tutorials
Subscribers-only content library
Discounts etc.
31. Have a Maximum of 3 Email Opt-in Forms Per Page.
You want to ensure that your readers can see and access your opt-in forms wherever they are on your website. However, you don't want to do so at the expense of user experience. Two sign up forms is okay, three if necessary.
32. Make compelling Call-to-Actions buttons (CTA)
Your Call to action is a very important element in your sign-up form. It is what leads people into your list, and hence your overall marketing journey. Some of the things that you need to pay close attention to in your CTA buttons are:
Size: Medium button sizes and even larger are preferred by lead generation experts
Colour/background. Your button colour is important as it makes it stand out and hence higher viewability and more clicks
Position: Should you place it on the side of the form content, below form content? You want to position your button in a position where it won't require anyone filling the form to move their necks to find it.
Effects: button effects such as borders, background shades, hover backgrounds, etc. are crucial when it comes to conversion
33. Mind your Email Opt-in forms' button copy.
Your button copy needs to portray a sense of trust, urgency, and actionability. Instead of using generic "subscribe" text, use the following instead
"Discover"
Learn More
Download
Download Now
Instant Access
Get access
Start Building



Join Us
Get 12 Past Issues
Become a Legend
Get Special Offer
Get Started
Listen
Watch Tutorials
And much more. You want your form to clue the reader/ subscriber what happens next after subscribing (Providing their email addresses)
34. Communicate Expectations and Errors
If your reader makes a mistake, for instance, when entering their email addresses, then you need to provide clear error message for instance "Your email is missing @ sign) By providing clear error messages, you help your readers to fill your form faster. Remember the longer it takes for someone to fill a sign-up form, the higher are the risks of abandonment.
35. Make Your Forms Contextual and Conspicuous
Your opt-in boxes need to stand out so that they are easily spotted.
You don't want your forms to disappear into your content copy.
Good opt-in forms have backgrounds that contrast those of the content. Most forms will have a dark or light grey background, while others have an image overlay.
36. Split Long forms (Using Multi-Steps Opt-in Forms)
If you are a large company that relies on segmented lists and requires certain extra information apart from name and email, then you can still capture this information using multi-step opt-in forms.
The secret behind this is that once someone has already committed, they are more likely to go through the whole registration process.
The goal thus is to get your readers committing, after that you can ask for more information.
For example, you can display a two-step form. In step one, you only ask for a name and email address with a compelling "Get Started" button.
Upon filling in and clicking on the "Get Started" button, then they are shown step 2 that asks them of more information such as phone number and home address and choice of interests (using a drop-down button)
37. Always ask for Easy Fields First.
A form with lots of fields can be off-putting to your readers. To curb this, you want to ask for simple fields first and progress as you add more fields in order of complexities.
If using multi-step, have simple fields shown on page one, and more complex fields on the next page
38. Promote Your Sign-up form
You've created a stunning lead magnet and so you need to get it in front of as many eyeballs as possible.
Display them in strategic areas on your website such as sidebar, footer and button header
39. Make Email Opt-in Forms Mobile-Responsive
Half of the global web traffic comes from mobile phones and tablets. This means that of all the traffic that your website receives over time, half of that comes from mobile devices.
If your email sign-up forms aren't optimized for mobile then you would be missing nearly half of your prospective leads.
40. Do not use CAPTCHAs
We're in an era of spam but we shouldn't punish our readers for effects brought by robots (though typically created by humans)
The point is, CAPTCHAS (Completely Automated Public Turing test to tell Computers and Humans Apart) can be annoying to users and sometimes requiring them to enter them several times before getting them right.
This slows down the registration process and eventually, your potential leads end up walking away without opting in.
So what should you do instead? CAPTCHAs Alternatives
Implement the Honepot Technique that uses code to hide a fillable field on your form so that humans don't see it.
Thus, since it is invisible, you wouldn't expect a value return. You can then set an automation that marks forms content as Spam if the said field has a value. This is because, while the field is not visible to humans, it is still detected by spambots, and so they fill it. Bots fill all the fields in the form.
This is perhaps the best Captcha alternative since it happens at backend and hence users' workflow is not interrupted.
There are several other less intrusive CAPTCHA alternatives such as Match CAPTCHA
41. Tell Your Subscribers What Happens Next.
After opting into your list, don't wait until their inbox to start building trust.
Redirect them to a page that shows them what they should do next, or confirm that you have already sent them your freebie. By so doing, you will increase your email confirmation rates.
See how Quicksprout embraces simplicity when it comes to their confirmation page, in a way that the subscriber knows exactly what they should do, and what happens after doing that.
42. Know when to use Drop-downs and Multi-selects
Email segmentation is very important. While giving a guide on blogging, you might be tempted to believe that all those who download it actually want to learn about blogging, while in reality, they downloaded your freebie to only learn SEO, which is a chapter in your book.
By including a simple "I want to learn about…" Dropdown field, you can help your subscribers to self-segment themselves so that they can receive the right content.
In this case, your dropdown could contain options such as SEO, Content Creation, Digital Marketing, Making money blogging, etc.
You can use multi-select instead if you want to allow your subscribers to select more than one interest.
Stick to One Column if You Can



Multi-column forms have been known to convert poorly and decrease user experience. Only 13% of websites actually use multi-column forms. This thus says a lot.
Multi-column forms are subject to misinterpretation and slows down the form filling process as one struggles to move their eyes left and right as well as the cursor.
Email Opt-in forms are not usually long, so displaying them as one column shouldn't be an issue.
Inject Brand Personality into Your Email Opt-in Forms
By injecting your brand personality into your sign up forms, you foster trust, credibility, and trust. You can do this in several ways:
Brand voice: write your sign up form copy in your brand voice. If you love humour, then incorporate that tactfully in your headline and description copy
Using Company Figures: Show a face of yourself/ CEO that regularly shows up on your website. Since this face is well known, it will inject personality to the registration process
Add team photos/brand graphics etc.
45. Choose the right Email Opt-in Forms Type
Email opt-in forms come in different types. You want to choose the right sign up form for different pages of your website.
Types of Email Opt-in forms
On-click pop-up forms are good since they are not intrusive. They are only triggered when someone clicks on a signup button link. Plus, popups generally do not interrupt the user's reading experience as they can easily close and continue from where they were, unlike links that load the signup page.
Ribbon form types are less intrusive yet very effective. It's more like a notification bar that appears on top of the header and you can enable close button so that readers have the option to close. Ribbon forms can either show fields or a button that directs the user to the offer page or even trigger a popup
Timed popups are not as annoying as many people think. They work. You only want to show popup form once per user per day. Do not be aggressive when it comes to popups, you'll annoy your readers, something you should strive not to intentionally do so.
Screen filler is a type of popup that covers the entire screen and hence ensuring that the readers fully see it. You may want to A/B test this type of sign up form against the normal Lightbox pop-up to find out which is more effective for your website.



In-line opt-in forms work well with content. You can choose to show in-line email opt-in forms in the just at the end of the content, before content or inside the content usually through shortcodes or using the Ad Inserter plugin
Slide-In Popups are types of pop-up opt-in forms that show up as one scroll down the web page. They slide in from the sides and only cover a smaller area unlike lightboxes.
Exit-intent popups only show up when the user shows clues that they are about to leave the website. They are good at capturing users who have been passively exploring your website. What works well with exit-intent sign up forms are exclusive offers, discounts, etc.
46. Comply With EU GDPR Standards
If you think about GDPR, there are probably many rules to it, but it all boils down to one thing: permission-based.
To comply with GDPR, you need to ask your potential subscribers to consent to receive your content via their email address
You need to integrate your forms with an email marketing platform that is GDPR compliant. ConvertKit makes it easy for you to do things such as data processing agreement and data forgetting processing
47. Test and Optimize
Implementing email opt-in forms' best practices can't be complete without this critical practice.
After you've been running sign-up forms for some time, you want o dig in, scrutinize data, and see what is working for your audience and what isn't.
Remember, if you torture data long enough, it will confess.
There are several tools that can help you A/B test some elements of your email opt-in forms.
If you are using Thrive leads, then make use of their A/B testing tool.
What are some of the elements of a sign-up form that you need to test?
Your headline copy
Your sign up form description
Image/lack of
Call to action copy
Conclusion.
Whoa! This is perhaps the longest blog post I've written in years. List building from scratch is quite a demanding task, but it's doable and you can do it.
Let me know what are your thoughts about these tips on how to build an email list, and if you have your favorite ways that I didn't mention here in the comments section below