I was recently trying to reach a certain company that offers email tracking for a particular partnership with The Penny Matters. However, I couldn't find any contact email address on their website.
"Relax man, simply use their contact form, why the hustle?"
I know right? Well, their contact form was only a support ticket for their paid customers!…. Awkward I know, but either way, I couldn't relay this message via a web form….
You see I wasn't reaching the 'next available agents' as with cold calling. I wanted to have the email delivered right to the inbox of the founder….And that's the difference.
7 Ways to Find Someone's Email Address for Free
As a solopreneur, blogger, or freelancer, you are always sending cold emails that help you land clients. Your outreach marketing efforts depend on sending the right emails to the right clients. Use these 7 ways to find anyone's email address online for free.
1…Search for the domain address using hunter.io
This is a pretty and perhaps the best email finder platform I have ever come across. You need to create an account with them first. Your free account allows 50 searches per month. You can filter email addresses as either Personal or Generic. You want to go for personal addresses such as
instead of a generic one like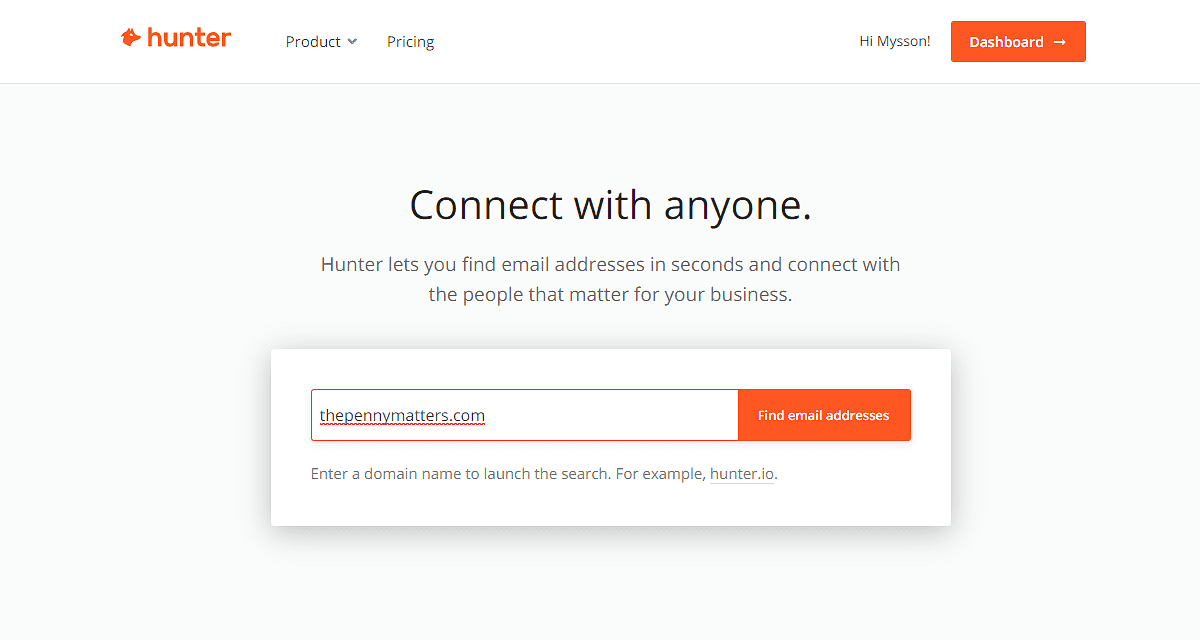 2: Use Google Search Operators.
The easiest though not always an effective way to find someone's email address is to use Uncle Google. Simply enter the name of the person with 'email' at the end. Some of the Google search operators you can use to find someone's email address are:
NAME email
NAME contact
"FIRSTNAME LASTNAME" email
"FIRSTNAME LASTNAME" contact
site:WEBSITE.com name email
3: Try Facebook "About"
When trying to find website owners' email addresses, the best place to look is their Facebook page's About section. Most reputable companies have their contact section filled up with phone numbers and email addresses.
While most companies will put their generic email addresses such as
,
, some companies use the email addresses of their social team eg.
4: Use Email Permutator
An Email Permutator is an online tool that returns all possible email addresses based on the contact's name and domain addresses.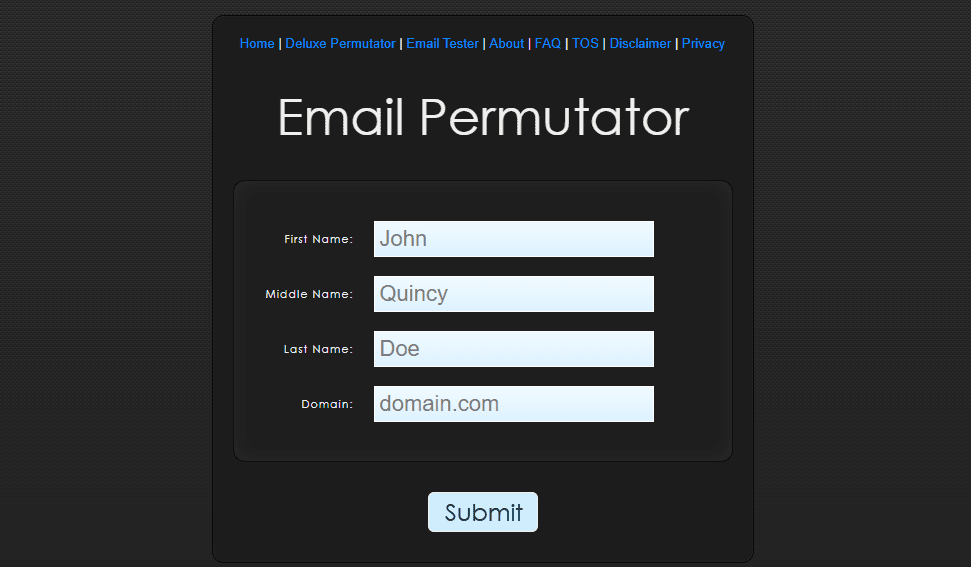 From there, you need to verify these addresses to see which one is actually valid.
5: Head Over to Their Website
If someone has a website, then that is where you need to head to. Once you are on their website, go to their About Us section and see if they have listed their staff there. Then you can use the permutator tool above to find possible addresses by using their names and the domain address.
Some bloggers and companies also list their email addresses on their contact us pages.
6: Find the Email Address with VoilaNobert
VoilaNobert is one of the best email-finding tools available today. You will need to enter their name and domain and the platform will return email addresses that are currently valid within seconds.
The disadvantage is that VoilaNobert only allows a few searches per day unless you opt for their Paid monthly plan
7: Subscribing to Prospect's Email List
Most companies and bloggers send a newsletter to their subscribers either daily or weekly. By subscribing to their list, you get to know how they write their emails so that you can refine your outreach with the right tone. It's also a good way to build rapport, the first step of warm emailing.
Once you've built a rapport with the editors, it will be easy to reach out to them and pitch your request or even ask for someone's email address in the company
How to Verify Email Addresses Before Adding Them as Contacts
After finding the email address you've been waiting for, you want to make sure that it is working. Test it with an email verification tool such as EmailListVerify which gives you 100 free credits to test up to 100 email addresses 
I verified mine without a problem, but when I tried verifying one that didn't exist, I got the error. This is so because this email address is no longer functional.