Ecommerce is a growing industry. Well, you know that already. Being one of the fast-growing industries, everyone is rushing into it. You are among them since you probably arrived here by searching for innovative eCommerce ideas to make money online.
Ecommerce is a growing domain and is projected to have an upward trend for the foreseeable future, thus attracting so many investors. It's the 21st century and traditional businesses are going digital. Almost every single business has a portfolio website, and these portfolios are slowly being turned into eCommerce platforms
However, cracking the eCommerce business requires more than an online storefront. You need the best business idea, that is not competitive and the necessary skills to scale it as soon as possible.
Your task thus is to carry out market research and find the best innovative eCommerce ideas that you can leverage. For example, you should know what are trending products nowadays and choose which product would bring you a big profit.
In this article, we explore some creative ideas for eCommerce businesses in 2020 and beyond.
Innovative Ecommerce Ideas
Now let's explore these eCommerce business ideas and examine how you can scale quickly to beat your competition.
1) Start an NFT Marketplace
NFTs are hot in 2022, and niche marketplaces for NFTs aren't dominated yet. To start an NFT marketplace, you need to do your research to find a profitable market to focus on. Once you have identified your niche, then focus on your unique selling proposition, and craft your messaging accordingly.
The next phase is developing the marketplace. You don't need to have tons of money or even know how to code to develop your marketplace. For as little as $5000, you can have this guy design and develop a fully functional NFT site where people can buy and sell NFTs, securely.
2) Start a Rental Marketplace
The next best thing to outsourcing is renting and/leasing. That's right. Individuals and businesses could do with a marketplace that allows them to rent items for special events and occasions instead of having to buy them. Just like people outsourcing tasks from Airtasker, you can start a marketplace where people can hire items that they need such as clothes for photoshoot suits for events.
You want to niche down to an idea that can get lots of traction in your area and does not involve a lot of risks. Regardless of the niche, you decide to focus on, you may want to insure every item that is listed. By consulting different insurance firms, you can find one that meets your needs.
How to Scale:
Spread the buzz through social media and encourage referrals. Invite people to rent their items so they can make money online on your marketplace. By offering a seamless user experience
Who's Doing This Right:
Rent My Dress is an innovative eCommerce business that allows people to rent dresses for a certain period of time. As a marketplace, anyone can list their dresses and "put them to work!"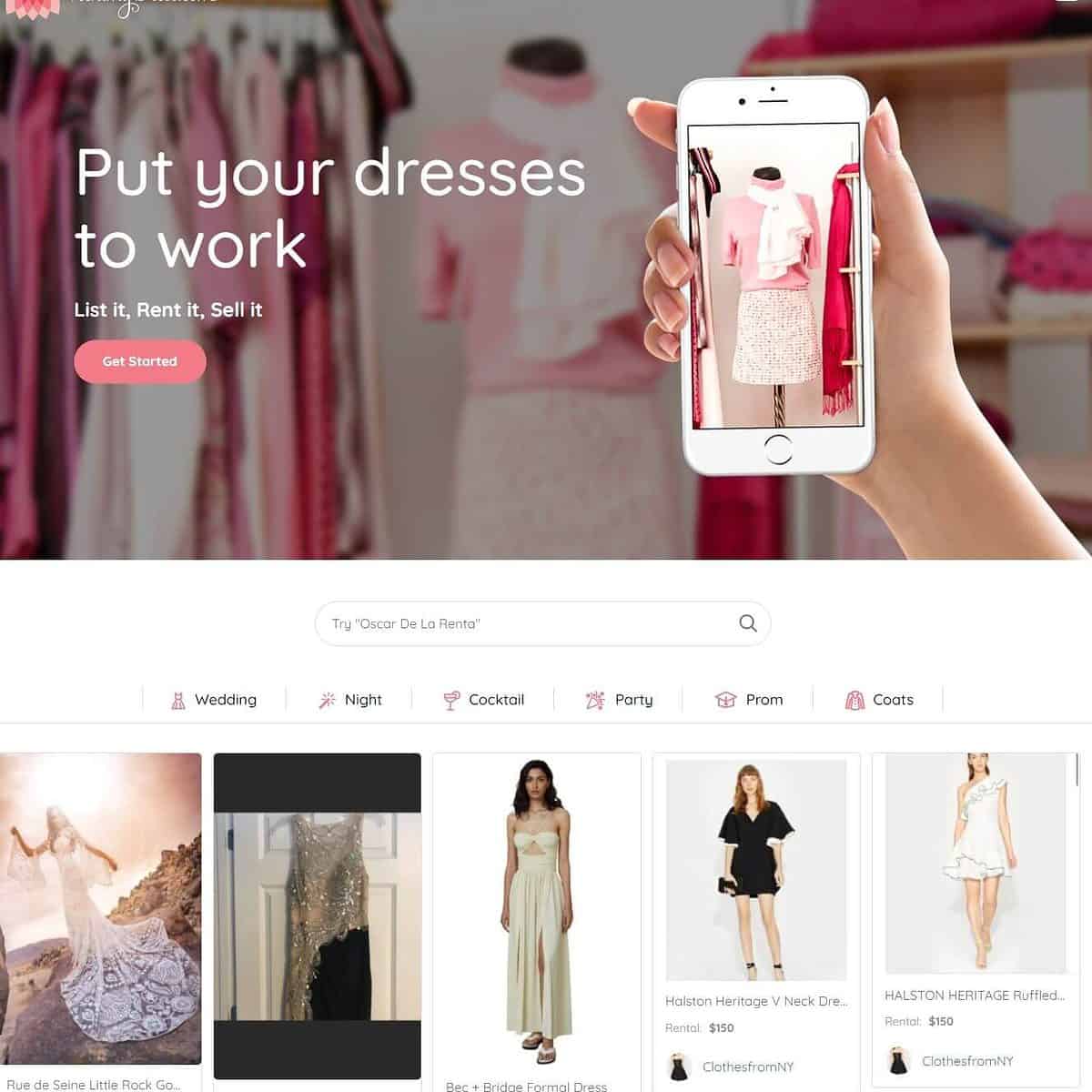 The marketplace targets users who are looking for elegant dresses and coats for:
Wedding
Parties
Cocktails
Night outs and Dinners
Prom etc.
This, in my opinion, is perhaps one of the most innovative eCommerce ideas in the e-tail business. If you are intrigued by rental marketplaces, then fashion renting could be one of the ideas to start. There are, however, several other rental business ideas that you can start.
3) E-commerce Service Provision
With sprouting eCommerce businesses, there is a rising need for better technology, hosting, and infrastructure for online stores. As an eCommerce service provider, your company will facilitate online transactions through these three aspects.
What does an eCommerce service provider do?
Handling warehouse management
Taking care of servers
Building maintaining and eCommerce websites
Developing apps to facilitate customers transactions
Dealing with IT operations
Order management and shipping
Marketing software
Building eCommerce websites for seamless online transactions.
So if you are tech-savvy, or have a team that is, then you can build a Client Relationship Manager CRM that is tailored for eCommerce
How to Scale: Develop the best tool for eCommerce and offer a Freemium Package or a Trial offer. In this case, the longer the trial the better. One way to go about this is to offer a long trial period like 60 days free trial, and use the trial period to onboard your client and help them move files if they are moving from another tool.
Train them and make them fall in love with the product. Have them set up processes in your tool and start using them to engage their prospects. This way, when the trial ends, they won't want all those processes to disappear, hence more likely to renew.
4) Online Learning Platform
Online Learning is a growing industry and is not slowing down anytime soon. And yes, there are already established companies in this industry. However, there are still opportunities for niched marketplaces. With detailed market research, you are likely to find some profitable industries that have not been exploited yet.
An example of a niched online platform is Codeacademy which focuses on Software development. Some of the niche industries to explore include:
AI,
Augmented Reality,
Virtual Reality,
Freelancing,
Marketing,
Graphics Design,
Agri-business,
Business,
Startups, etc.
While your target market will be much smaller, you can get away with charging premium pricing since your course instructors will be specialized individuals offering hands-on experience.
How to Scale an Online Learning Platform
Building an online marketplace that is niche-specific is only one battle won, the next is having the best instructors on your team. To attract the right instructors, you need to do a strategic brand positioning. Once this is done, then it's time to scale your marketplace. Digital marketing will help you do so. Invest in empowering your prospects, and reach them where they are.
5) Online Crowdinvesting Website
This is one of the Innovative eCommerce ideas that have not been exploited well enough. While there are crowdfunding websites like Indiegogo and Kickstarter, there are no known websites that allow investors to invest in projects before they hit the road.
Big ideas are everywhere if you take the time to empower the builders. An effective online investing website should allow direct communication between potential investors and the idea-bearing, signing of contracts, and central management of funds. The best ideas fit for this eCommerce business idea are those focusing on online services and digital products.
How to Scale an Online Investing Platform:
The best strategy is to have a good number of investors in place and an effective idea presentation process that is convenient for both the investors and the builders. Get this right, and combine it with effective digital positioning, and you would be on the right path.
6) Niche Job Board.
Job boards are great eCommerce ideas, especially for eCommerce. There are already monopolies in this industry. Going niche will be instrumental so you know who you will be targeting. The best business model for niche job boards is charging for job boarding. Since you have a database of target employees, the employers would be more than willing to pay so as to reach them.
A good example of an effective job board is the Probloggers Job board for freelancers charging $70 per listing lasting for 30 days.
How to Scale a Niche Job Board.
Scaling a niche job board will be easier with an effective blogging strategy and list building. Churn out useful content on your industry, do guest posting to promote your job board, and include affiliate marketing where you think that it will be effective. This way you will build quality backlinks to your website, improve your search rankings and get employers to start listing with you.
In Conclusion
You've learned some of the most innovative eCommerce ideas that have not been exploited yet. By acting promptly and using the power of content marketing, then you should start positioning yourself and marking your place in the industry.