Can I confess?
When I was a full-time employee, money management was pretty easy. I had enough money to make it through the month and deemed myself okay.
I was; saving, paying off bank facilities on time, contributing to family finances, saving for retirement, paying my auto insurance, and having decent medical insurance for my family.
But once I made the switch to freelancing, I realized my financial management skills weren't that good after all.
Less predictable income, no HR automated tasks, and increasing responsibility on my shoulders forced me to wisen up quickly.
The truth is that many freelancers aren't saving enough for the future. Over 40% of self-employed people don't save for retirement. The top reasons are either lack of or unpredictable income.
The freelance economy is exciting, but a freelancer's financial matters are more complicated than we think.
Here's the thing.
Employees have their deductions through the payroll system. They never see the money. The savings occur on auto-pilot. The income is predictable.
Conversely, your freelancer's income comes directly to you and is yours to spend how you please. The situation is worrisome because the prospects of your future are murky.
Besides, your income can vary from month to month or even year to year. So planning for regular deductions can be tough to put in place.
To meet your daily financial obligations and accumulate wealth for the future, you need to be self-disciplined and careful in planning.
Fortunately, there are personal finance tips that can help you find a path to financial stability.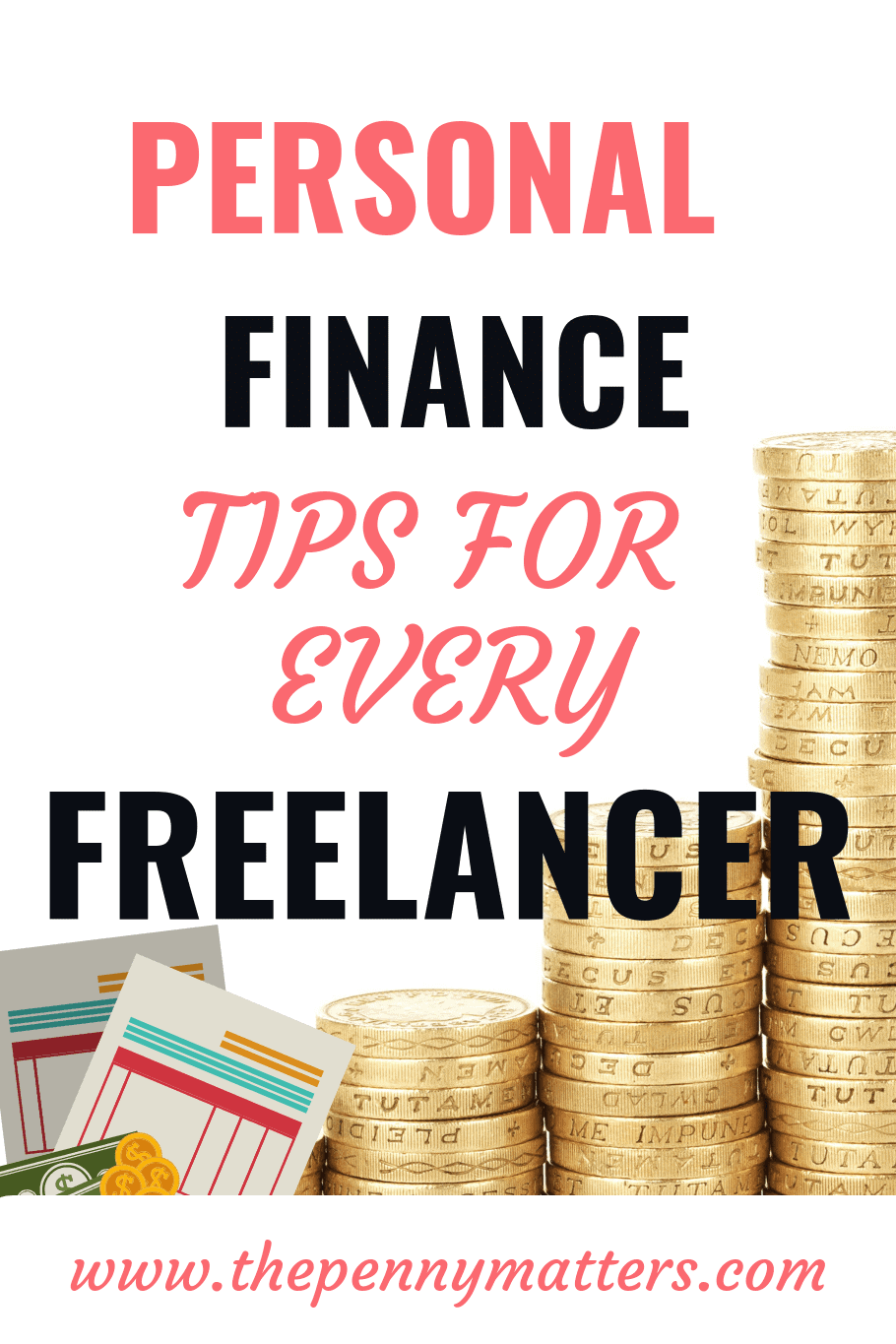 Let's have a look.
1) Increase your earning power
The majority of freelancers hardly make enough money to save anything.
To change this, invest in courses, tools, seminars, and even advertising your services. However, ensure you invest wisely with a specific goal in mind.
For example, learn to write better blogs or copies, so you command high fees. Learn to write cold emails to land you high-value clients, and so on.
The goal should be to invest in something that will directly increase your income.
2) Build income-generating assets
Income-generating assets will increase your future income potential.
Avoid focusing all the energy on your active income sources, such as seeking more clients.
Instead, master a new skill such as SEO, digital marketing, or self-publishing.
Do all these with the goal of earning more money in the long run in the form of passive income.
In this case, I don't mean assets such as brick-and-mortar businesses, stock, or real estate (I'm not ruling them out either), but I mean assets such as eCourses, eBooks, or Apps you create for sale.
Affiliate marketing is also another brilliant option.
You may not realize immediate income, but once you earn a good reputation as a freelancer, then people will begin to take an interest in your assets.
That's when that eBook, eCourse, or app becomes your secondary source of income.
3) Remember to take care of yourself
Freelancers are more like solopreneurs.
Your health and reputation are invaluable. Otherwise, your business cannot function.
Insurance is essential, and you know that too.
It all depends on your priorities and needs.
Health Insurance – It is the most important. Healthcare can cost a fortune, that's why a good cover is essential. You will need a medical cover of any kind in one way or another.
Without medical insurance, even the most straightforward procedures can cost an arm and a leg.
Disability Insurance– Every year we hear statistics of people involved in accidents or illnesses that render their work impossible for a sustained period.
Your savings might sustain your family in the short term, but if you're disabled for months or years, the disability insurance will support you during the recovery period.
So, invest and spend responsibly while you are healthy.
Life Insurance – It is easy to convince yourself that life insurance is an unnecessary expense especially when you're in your twenties or single without children.
But, if you have dependents, then life insurance is worth considering at whatever age.
Bottom Line
Freelance is filled with perks.
You have the freedom to choose your clients.
You can work where and when you want.
However, it can be tough to grasp the new financial aspects of your career.
Follow these three personal finance tips outlined above. You will keep your financial life in order- allowing you to continue doing the work you love.
How do you manage your finances?
Please share in the comments section below.