You'd love Pinterest. I can vouch for that since every blogger does. There are several guides on Pinterest traffic and for a good reason. Being a visual search engine is becoming a great way that content marketers use to drive massive traffic to their blogs.
In a world where people are becoming more visual-oriented, Sites like Instagram, Youtube, and Pinterest have a promising future.
Generating traffic to your blog is a huge task. Most legitimate ways to grow your blog take years to master. Search engine optimization requires domain age and quality backlinks which can take years to build.
Pinterest traffic, on the other hand, can be mastered in 6 months or less. You don't even need to have tons of followers either. With the right strategy and a bit of patience, you would be getting awesome reliable traffic to your website
How to Use Pinterest for Blog Traffic
In this blog post, we'll dive into some of the ultimate Pinterest traffic tips to help you grow both your account and website visits.
1) Create a Pinterest Business Account.
If you already have a personal account, you can convert it to a business account. There are lots of benefits that come with this simple change. You are able to link and validate and verify your site so that all pins from your website will carry your Pinterest brand.
However, the most important feature of Pinterest Business is access to analytics. This way you are able to monitor the performance of your pins so that you can tweak them accordingly to enhance your Pinterest traffic
2) Clean Up Your Account
If you opened an account without digging deep first, chances are you created useless boards and pinned pins randomly. You want to go ahead and delete all the pins that do not fall under your niche or are generally low performing.
Also, delete all horizontal pins unless they are doing exceedingly well. Delete all-non-performing boards that you created but are outside your niches, and do not represent your brand.
3) Optimize Your Account
Use a high-quality profile image and add a captivating bio that shows what you do and why. Stand out by use of the right diction
Create new boards based on what you are you are missing out. A minimum of 15 boards is recommended. Boards help you organize your ideas properly and target the appropriate audience since each board is audience-specific.
4) Optimize your website for Pinterest traffic
This means that you should add high-quality pinnable images to your posts and place your share buttons strategically. You can also ask your readers to pin the posts for future reference. The layout of your website is also very crucial.
Use the Social Snap plugin. This pro version allows you to set a Pinterest-specific image for each post together with the title and description. When a reader clicks on the pin button, only the set image is pinned. This is crucial so that you do not give your readers a hard time deciding which image among several options to pin.
You also don't want your visitors to pin horizontal non-related images that could be on your sidebar or below the content section
5) Create a Pin-Worthy Image
A pinnable image is of the right size and quality. You need to create vertical images. Pinterest recommends 736 by 1102 pixels. If you are using Canva, then their Pinterest templates are of this size. You may need to make your images a little bit longer especially if you are creating an infographic.
A right-quality graphic uses high-quality images, vibrant colors, readable fonts, and the right font sizes. Embrace color psychology and color combinations. Yellow goes well with Green, and White and Black are good minimalist colors. Generally, warm colors such as red, orange, and pink are preferred to dull colors.
You may also need to keep branding and logo to a minimum.
6) SEO for Pinterest Traffic.
Pinterest, being a search engine by itself, functions by crawling of pins to find the keywords that its users are looking for. Thus you need to optimize your pins accordingly. Follow the simple steps below
How to Optimize Your Pins for Pinterest traffic SEO
Step 1: Research your keywords using appropriate tools such as keyword planner available to Adwords customers or keyword.io
Step 2: Use the main keyword in your pin title
Step 3: Use main and other keywords naturally in your pin descriptions.
Step 4: add keywords to your pin image file name. So, instead of Png, you want to rename your image with something along the line of 37-recipes-for-better-dieting.png
Step 5: Add the main keyword in your Pinterest-specific image alt tags on your website
Step 6: Optimize your meta description for keywords that get high search volumes on Pinterest
7) Engage on Pinterest
This is a very crucial step when it comes to Pinterest traffic domination and garnering Pinterest traffic. People need to feel your presence. You are not just an account. You are a person, with skills and abilities that can be shared with others on the platform.
There are ways you can boost your engagement on Pinterest, including:
Posting regularly, I recommend 10 -25 pins a day. Of these, 80% should be your own unique pins leading to your website, and the remaining 20% could be unique pins saved directly from other websites, not just repinning on Pinterest.
Tip: spread all these pins throughout the day. Do not add all the 60 pins within five minutes and wait for another day, as that would appear more of spamming than engaging.
Leaving comments on others pins. I normally, only, leave comments on popular pins and posts that I have read and found them quite engaging. Others will see your comments and click through to your profile. 10 comments a day are enough.
Replying to comments that others leave on your pins. It creates a great rapport
Following and engage with popular boards. You get great tips and tricks that others are sharing
8) Join Relevant Group boards
A Group Board is a board that has two or more contributors. You want to find popular group boards under your niche that are accepting contributors.
Normally, instructions on how to join a specific group board are shared in the group description, and usually, include following the creator of the board and emailing them to ask to be added to their boards.
Before you start applying to group boards, ensure that you have a great complete account that clearly states what your niche is and shows what niche you are in. Add some quality original pins, claim your website, etc.
9) Pin Only Your Content on Group Boards
Most group boards have rules that you stick to, including pinning only high-quality vertical pins from your website. You are also limited to pinning only 2 or 3 pins per day to a group board. Thus, you need to maximize these for your best-performing and relevant pins
10) Only pin high-quality repins to your personal board.
Don't get obsessed with the number of pins you pin to your account daily over the quality. Some of the pins look appealing, but they do not lead to the resources that they claim to. Some of the pins are stolen pins, so before you go ahead to repin, you want to double-check that the brand URL on the pin matches the one below the description (the destination URL)
I like clicking through to ensure that the content is actually worth repining.
How to identify high-quality pins
Pins whose links are actually working, not broken
The link is actually leading to the promised content
Pins that have high-resolution images
Curate pins from Tailwind tribes. These pins are usually high quality with optimized descriptions
11) Increase Followers with Milotree
You've seen that widget that slides in from the right when reading a blog post showing your pins from a Pinterest account and a prompt to follow the account. That is Milotree.
At first, I thought it was annoying and intrusive but it actually helps in growing your account and in a way boosts your Pinterest traffic.
12) Use Relevant Keywords in Your Boards
Your boards are an essential part of your overall Pinterest traffic strategy. By optimizing your boards accordingly, you can have them get found when people are searching for boards to follow or even to pin from.
Use main keywords in your board names e.g. Online Business Ideas, Blogging Tips, Pinterest traffic, etc.
Most newbies forget to fill out board descriptions, which is a huge mistake. Here you can cleverly weave in your best keywords into your board descriptions and still manage to make it a natural board explanation.
Here are the main Pinterest Keyword Tools you can use to brainstorm queries to use in your pin descriptions.
13) Claim Your Website
This is the first thing that you should do when creating your Pinterest account for blog traffic. Pinterest has a guided approach to how you can claim your website. It's a simple task that involves a piece of code to your website and verifying ownership.
This is important since pins from your website can then be attributed to your account and people can follow your account from these pins
14) Apply for Rich Pins
Rich pins are pins that add extra information that displays on Pinterest about what you are sharing. This extra information includes meta-description, your blog post title, product pricing, etc.
Rich Pins provide more context about an idea because they show extra information directly on a Pin. Pinterest currently offers four types of Rich Pins: app, product, recipe, and article
Rich pins make your pin titles bolder and thus stand out and compel more click-throughs.
To apply for rich pins, follow these guidelines
15) Pin at the Right Time
Think about it:
There are thousands of pins being churned out every minute on your niche. Your audience is online at different times, yet your goal is still to have those pins on as many eyeballs as possible.
Solution?
Pin when your audience is online. This way, you will get more repins and clickthroughs that will boost your pin and thus get shown more frequently to new users. Different niches have different optimal times to pin. You typically don't want to pin during normal working hours.
Scheduling apps like Tailwind have a smart way of telling the right time to pin based on your own audience
How can you get your pins to shine the brightest? What you want in your Pinterest marketing strategy is to have the most repins. You want as many people as possible to repin your material so that it's shown more frequently to new users.
You can also analyze your audience profile demographics from Pinterest analytics. You get to know who they are, where they are from, and what they are up to. You can then make informed decisions on your best pinning times, with insights from researched data.
16) Commit to Pinning Consistently
The only sure way to grow your Pinterest account is by pinning consistently. Pinterest loves, relies on, and drinks fresh content. If you have an I-think-today-I-will-pin strategy, then you'll not gonna cut it. You have to come up with a consistent pinning schedule that relies on your optimal pinning times.
Whether you are doing it manually or using a scheduling tool like Tailwind, you need to remain committed to the course. A consistent pining approach for at least six months will yield fruits.
17) Create at least one group board
A group board is like any other Pinterest board, except that you have more than one contributor. You can add contributors to your board to make it a group board.
By creating a group board, you get to attract other niche-specific pinners, build connections and slowly build your own empire
18) Have a board dedicated to your content alone
When people land on your account, the first thing they do is look for your own 'best of' board to follow and/or find more of your pins to share. We have a board, "BEST OF THE PENNY MATTERS" Here, we only post pins from our website and repin them to other groups.
19) Checkout high performing pins and replicate their strategy:
Assess how the pin titles are written, the wordings on the pin, and how the pin descriptions are written. Then go ahead and replicate these strategies on your own account.
20) Stop mass following
By mass following, you end up following low-quality irrelevant accounts that will confuse Pinterest algorithms on what exactly your account is about. Only follow targeted, relevant high-quality accounts.
21) Claim your other accounts
Pinterest gives you an option to claim and connect your Youtube, IG, and Etsy accounts. This is a great way to get more conclusive insights, more analytics, and increased monthly views as well as grow your followers
22) Write Compelling Blog Post Titles
Remember the main goal of your pin is blog traffic. Make your pin titles click-worthy by using emotional words (power words), numbers, etc.
23) Use a headshot profile
People follow and trust accounts with real people behind them. The best way to confirm that you are a real person is using your own headshot rather than your company logo.
How to Improve Your Pinner Quality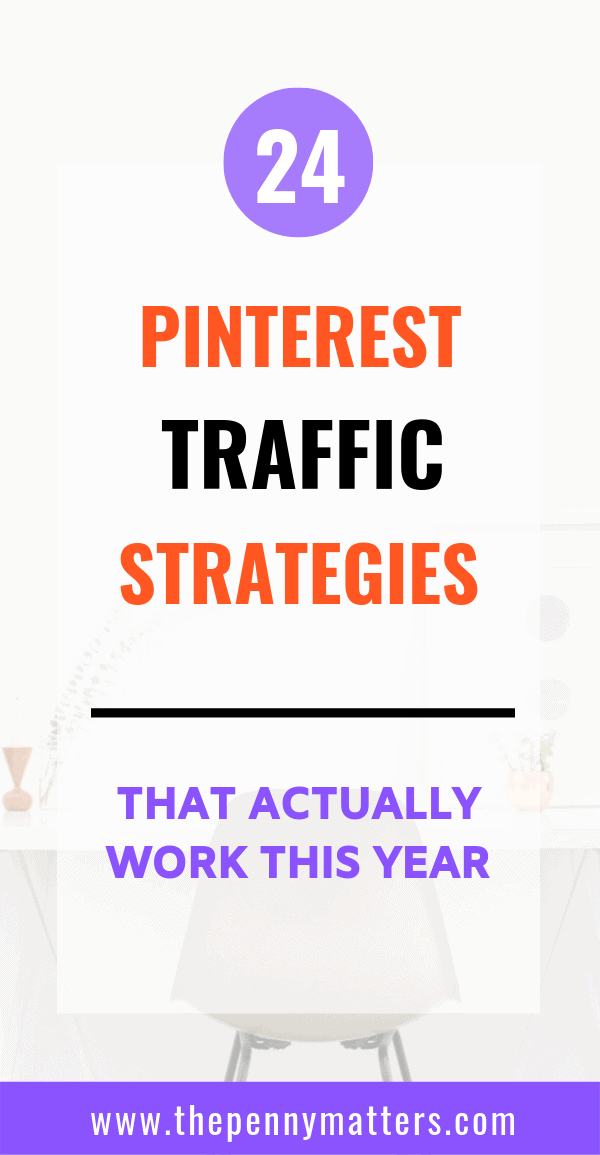 Google ranks sites based on their Domain Authority values. Pinterest's equivalent of DA is pinner quality, which is a rough estimation of the authority of the pinner as a content creator and curator
Everything that you do daily on Pinterest can work for or against your pinner quality ranking.
But how does Pinterest actually determine your pinner quality? By understanding it's algorithm, you will be in a better position to build an authoritative Pinterest account.
How well does your content get received every time you share it?
Are you active on Pinterest throughout the day?
Do you pin already popular content to your boards? You should.
Do you have engaged followers
Do you curate high-quality content
Does Pinterest trust you to churn out the most relevant content on a regular basis?