Whether you have a cautious approach to romance, or you're a hopeless romantic, starting a relationship niche blog is a great idea to share your tips and advice with people who are looking for love.
What is a Relationship Niche?
A relationship niche is a type of blog that focuses on all matters of dating, love, and other forms of relationships.
The relationship niche is a huge and profitable one. It's a topic that you can write about for years and still never run out of content ideas.
You'll be able to cover everything from:
Dating and relationship advice, relationship advice,
Marriage tips,
Friendships topics,
Family relationships,
Surviving a breakup,
Dating advice for women,
How to attract men (for women),
How to attract women (for men),
Workplace relationships, and even
Divorce topics if that's something you're interested in doing!
Relationships make up the vast majority of content online so it's important to get your foot in the door with a niche that has proven itself popular with readers.
What is a Dating Niche?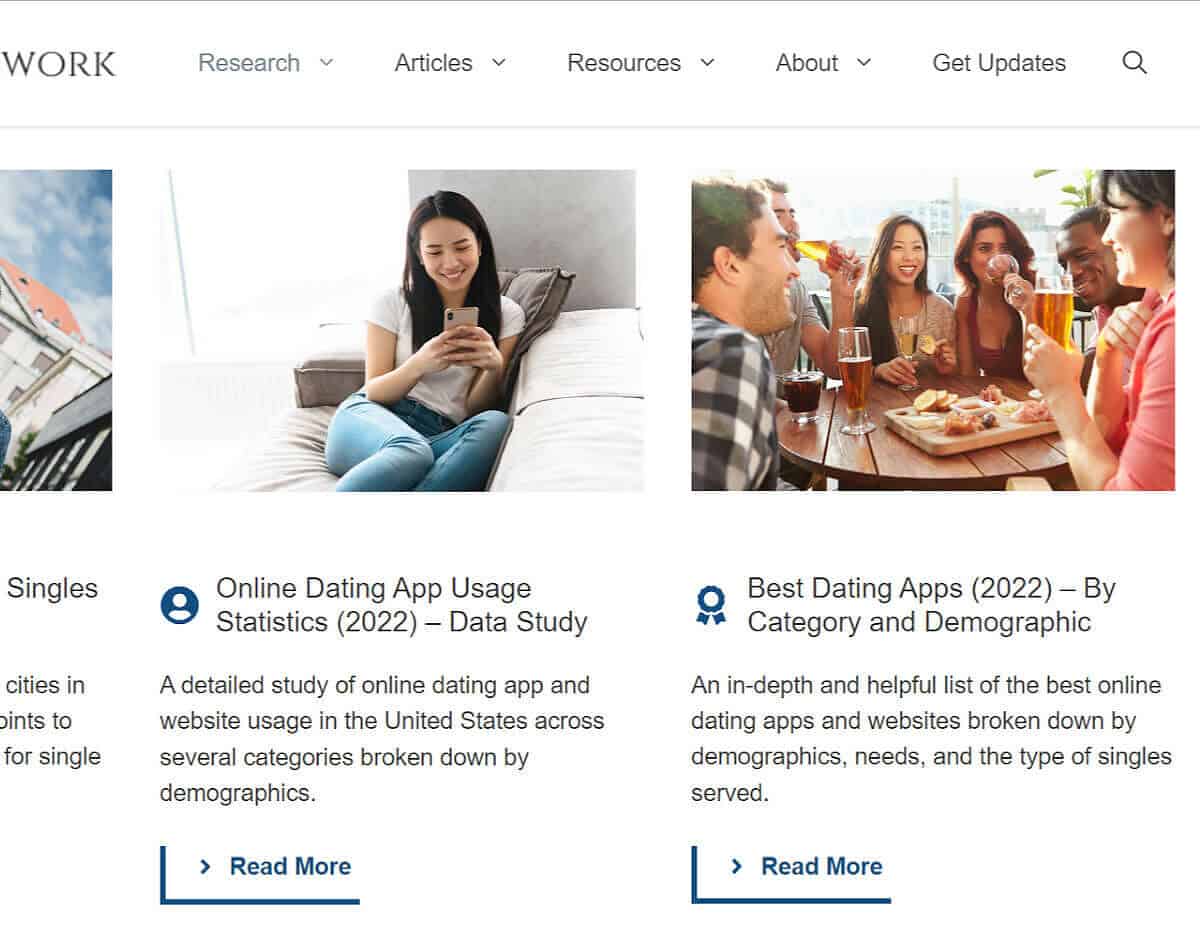 The dating niche is a popular relationship sub-niche that focuses on dating and courtship. It's hot, in-demand, and profitable.
The term "dating" can be interpreted in different ways depending on who you ask. For example, if someone asks what is the meaning of "dating"? They may hear answers like:
To meet socially with the aim of getting to know each other better
To have a romantic relationship with someone
Whichever the case, when you decide to start a dating blog, your topics would be targetting people who are already in a relationship, and looking for ways to be more fulfilled in love.
Relationship Niche Ideas
Let's discuss some of the best relationship sub-niches that you can cover on your blog:
1) Online Dating
Online dating is a great niche for blogging. It's big and profitable and there are a lot of people involved in the market. There are millions of people who use online dating sites and apps to meet their significant others or even just friends.
There are many people who have tried online dating but didn't find what they were looking for. They will be more than happy to share their experience with you through your blog if you ask them nicely!
2) Love and Romance
Love and Romance is a broad niche that covers all aspects of love, romance, and dating.
It's an emotional topic, so it can be difficult to write about it in a logical way. In fact, most blogs will find it difficult to do this unless they focus on one aspect of love or another (for example dating advice for men).
Since Love & Romance covers such a broad range of topics, you don't have to worry about narrowing down your audience too much (though it may still be worth doing so).
3) Social Media and Dating
Social media is an excellent way to connect with people. In fact, it's one of the best ways to meet new people and keep in touch with old friends.
Social media can also be a great way for you to find love with someone who's perfect for you!
You can use your blog to offer people relationship advice when it comes to connecting with people online.
Topics you can cover:
How social media is affecting your love life
How to protect your love from social media
How to interact with people you meet online
Tips for reclaiming your time and relationship
Is social media bad for relationships?
Social media relationship jealousy
4) Long-distance Relationships
Long-distance relationships are tough, but they don't have to be. After all, if two people truly love each other, they will always find a way to meet, and compromise where necessary.
If you're in one yourself or have been in one, you understand the challenges that come with them.
This is why people need help on how to maintain their long-distance relationships.
As a long-distance relationship blogger, you can help your readers to find satisfaction and contentment in their love lives.
Tips:
Write about things that are specific to long-distance relationships — things like:
How to keep in touch with each other,
How to keep your relationship going while living apart from each other,
How to deal with loneliness and other challenges that come up when you can't see your partner every day (and how to overcome them).
You can also discuss different ways that couples in long-distance relationships stay connected emotionally, physically, and on social media even though they're not physically together all of the time/
5) Christian Dating
Christian dating is a niche that's growing rapidly. More and more people have been turning to Christian dating sites because they want the religious aspect of a relationship, so it's a huge market for bloggers.
If you're looking for an idea for your blog, this could be it!
6) Catholic Dating
Catholic dating is a niche that's growing in popularity.
A number of Catholic dating sites are experiencing rapid growth. For example, popular Catholic dating sites like Catholic Singles and Catholic Match have continued to thrive despite competition from more mainstream dating apps like Tinder.
If you want to start a relationship blog focusing on catholic dating, then I recommend exploring Catholic singles blog to have a rough idea of what topics you can cover.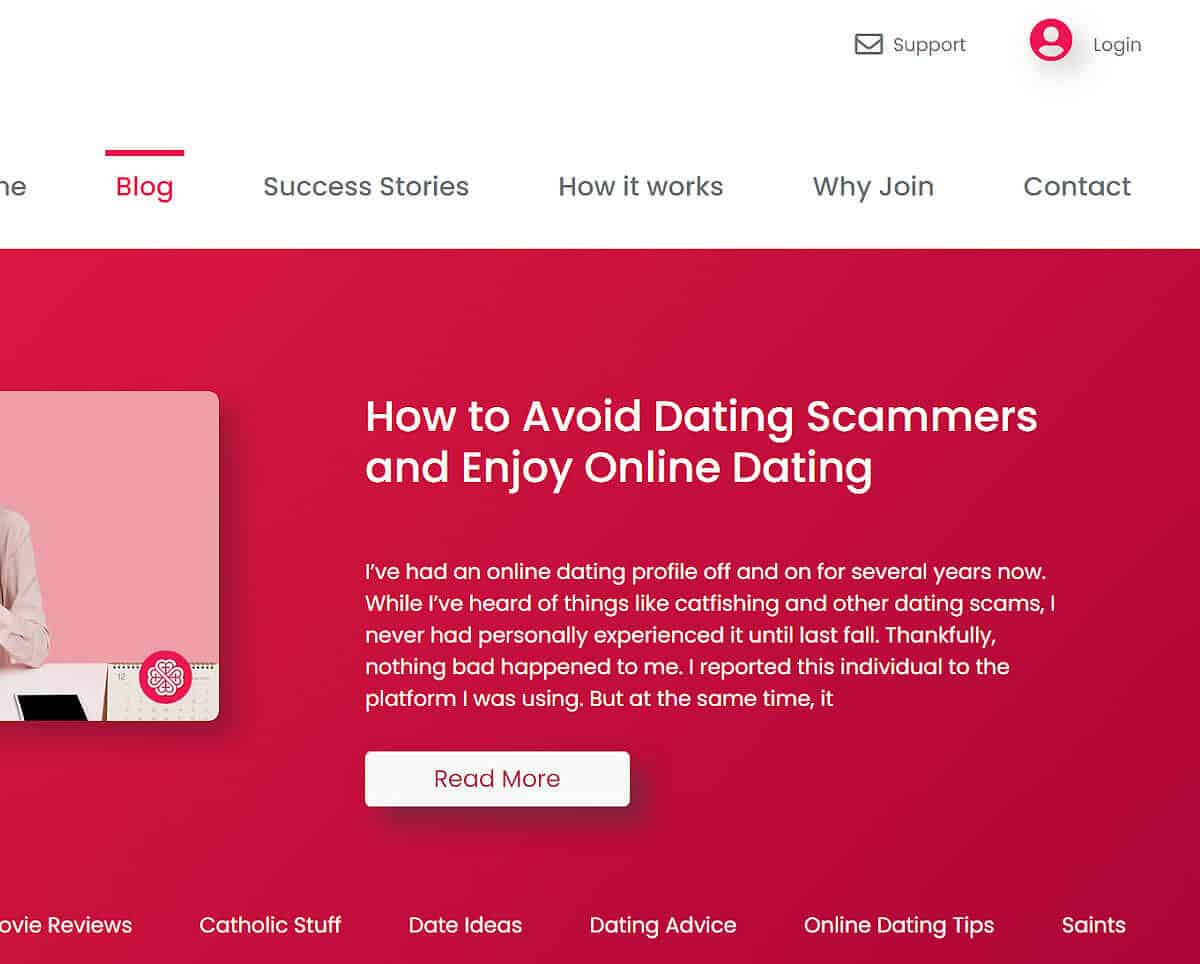 How to get started in this catholic dating sub-niche:
Write articles on how to date in your faith and what it's like when you're dating someone who has different beliefs than you do (and vice versa).
Interview Catholic singles on their experience with dating, how they met their partners, and what advice they would give other single Catholics who are looking for love.
Write ebooks on what Catholics should look for when they start dating or get married, and offer them as tripwires on your blog.
7) Dating Apps (Reviews/Comparisons)
If you're in your 20s and dating, chances are you've tried one or more of the following apps: Tinder, Bumble, Match, OkCupid, Plenty of Fish (POF), Coffee Meets Bagel (CMB), and Zoosk.
Each offers something different and has its own pros and cons. When you decide to start a blog around dating apps, your focus will be on reviewing these websites, writing listicles as well as offering tips when using them.
7) Senior Dating
Dating in general is a competitive space, but there are plenty of sub-niches you can go into and dominate much faster. One such sub-niche is dating for seniors.
Senior dating is an important niche because of the growing population of older adults who are single in later life. Use your blog to provide tips, advice, and product recommendations for people dating in their thirties, forties, fifties, and so forth.
8) Bi-racial Dating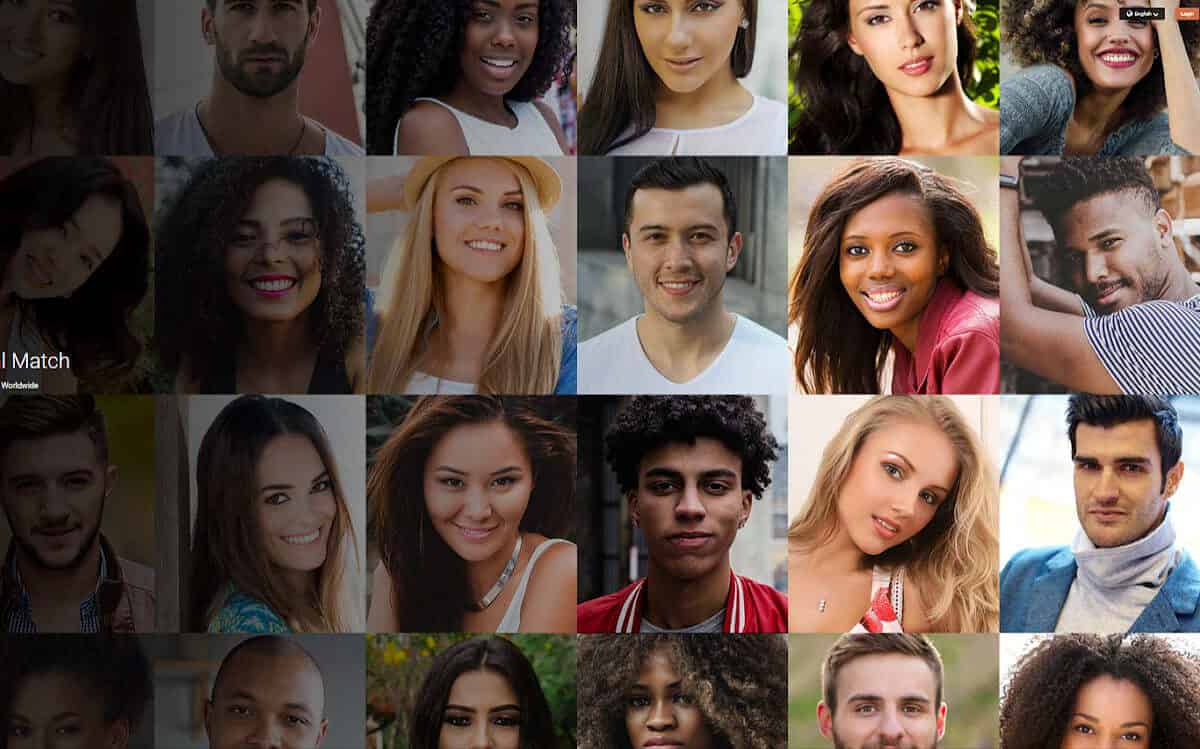 Bi-racial dating is a niche that is growing in popularity. More people are becoming more open to dating outside their race and ethnicity, which means there's an option to target this specific group of people.
There are dating platforms dedicated to interracial dating, like InterracialDatingCentral and Interracial Cupid.
You can cover these sites on your blog, offer tips on interracial dating as well as provide resources on the subject that your readers will find interesting, and helpful.
9) Women Dating (for Dating Men)
Your blog can focus on exclusively offering dating and relationship advice for women looking to date men.
Knowing that you're targetting a specific gender can help you better target your content, improve your ad campaigns, tailor your products, personalize your messaging and grow a super loyal audience.
With women dating, you can attract people who want to date someone in particular that they're interested in. This is great because it means that these users will be more likely to click on ads if they're matched with someone they find attractive.
Even though there are plenty of men who read about relationships, women dominate this space. So if you can write something helpful for female readers, your blog could be successful in this sub-niche.
10) Dating Advice for Men on Dating Women
You can also decide to flip the coin and focus your blog on a more niched segment in this industry, which is dating tips for men. Provide tips on how to date women, and since you are dealing with men, you can incorporate topics that appeal to them most, such as charisma, attracting women, confidence, and of course, the thrill of the chase… kidding! Or am I?
11) Single Life
Single life is a niche. It's also a growing, profitable and popular one, too. That's why it's so great for blogs!
The fact that you're single means that you've got a lot of options when it comes to things like dating, lifestyle habits, and interests in general. This presents a range of topics that you can write about.
12) Dating for Introverts
Introverts are often overlooked for their potential in dating.
People think that being an introvert means you're shy and socially awkward, but that's not the case! Introverts can be good at dating, relationships, and love, with the right persons.
If you choose to blog about this niche, then here are some blog topics to consider:
Here is a list of 21 Dating Niche Idea For Blogging:
Dating tips for an introvert
How to approach a guy as a shy lady
How to date an introvert as an extrovert
How to date an extrovert as an introvert;
Best online dating sites for introverts
5 things extroverted people should know about dating introverts
5 tips for an amazing first date as an introvert
13) Roleplaying
The roleplaying niche is a great place to start your career as a relationship blogger. It's a fun way to write about relationships, dating, and sex without being explicit.
The idea here is to create a blog that helps people to improve their dating lives through roleplaying. You can use your own experiences, or you can ask other people to share theirs.
Topics to cover include:
Roleplay ideas for couples
How to rekindle the spark in marriage
Common fantasies to explore
How to spice up your sex life
How to talk dirty with your partner
How to get out of a roleplay rut
The benefits of roleplaying in marriage T
Tips and tricks for creating a unique roleplay scenario
14) Trust Issues
Trust is such a fundamental part of any relationship. It's the glue that holds two people together, the foundation they build their lives on, and it can make or break a relationship.
But what happens when trust is broken? When it comes to trust issues in relationships, there are many ways that this can happen—from infidelity to abuse to other people—and each requires careful consideration from both parties involved.
The best way for you as a blogger or writer to approach this topic is by analyzing what causes trust issues and what can be done to resolve them.
Example topics:
How to reconnect with your partner after a fight or argument
How to rebuild trust after an affair or betrayal
How to get past your own issues with trust
How to prevent trust issues from happening in the first place
How to know if you can trust someone
Navigating trust issues in relationships
15) Recovering from a Break-up
People go through breakups all the time, and they want advice on how to get over them. You can write from your own personal experience or from experience gained from other people who have been through breakups as well.
You may also want to include articles about dating after getting over a breakup. Talk about how you can meet new people once you're feeling ready, or how to deal with those awkward first dates when someone is still fresh out of a relationship themselves.
Topics to cover could include:
How to get over someone who doesn't love you back?
How to deal with the emotional aspects of a breakup,
How to move on from the relationship,
How to find new love again,
How to stop comparing yourself to your ex (or any other bad habits that come after a breakup).
If you've been through a breakup yourself and want to help others get over their exes, this is an excellent option.
16) Abusive Relationships
Abusive relationships aren't always physical. Emotional abuse is a form of abuse that can be as damaging as physical abuse.
The thing with emotional abuse is that, because of its nuances, it's harder to detect and causes long-lasting damage to the victim.
There are many ways to help people who are being abused, even if they're not ready to get out of the relationship yet.
You can write about:
Ways to recognize an abusive relationship,
How you can help someone who is in an abusive relationship, or
How abusers manipulate their victims into staying with them by using guilt.
Dealing with physical abuse in relationships
17) Marriage and Family Niche
The marriage and family niche is a broad niche that can be used for many different topics. For example, you can write about family life, marriage advice for couples, or cover different types of marriages.
You can also use this niche in the context of raising your children or even pets.
People are interested in making marriages work, and bringing up socially strong children, so you will always have a substantial pool of audience who frequent your family blog.
18) LGBTQ+ Dating Niche
The LGBT+ dating niche is a growing niche in the online dating industry. As people identify as something other than heterosexual, it becomes increasingly important for them to find helpful content to help them with the same.
There are a few different ways to approach this niche:
You can focus on dating advice for LGBTQ+ singles, such as how to meet other singles, what questions to ask before meeting someone new, or how to avoid scams and fake profiles.
You can also create an online forum where people can ask questions about their relationships and receive feedback from others who have been through similar experiences.
19) Weddings
Weddings are a big business. One of the reasons for this is that people want to celebrate their love and commitment to each other in an amazing way, so they're willing to pay top dollar for it.
They don't just want a routine wedding ceremony—they want something special, unique, and memorable that will be talked about for years to come.
In addition to being a source of income for wedding planners, photographers, and venues alike (to name a few), weddings can also make great fodder for blog posts!
If this is something that piques your interest, then consider starting a wedding-themed blog where you share tips on proposals, and planning a wedding as well as provide product and venue recommendations.
20) Divorce Niche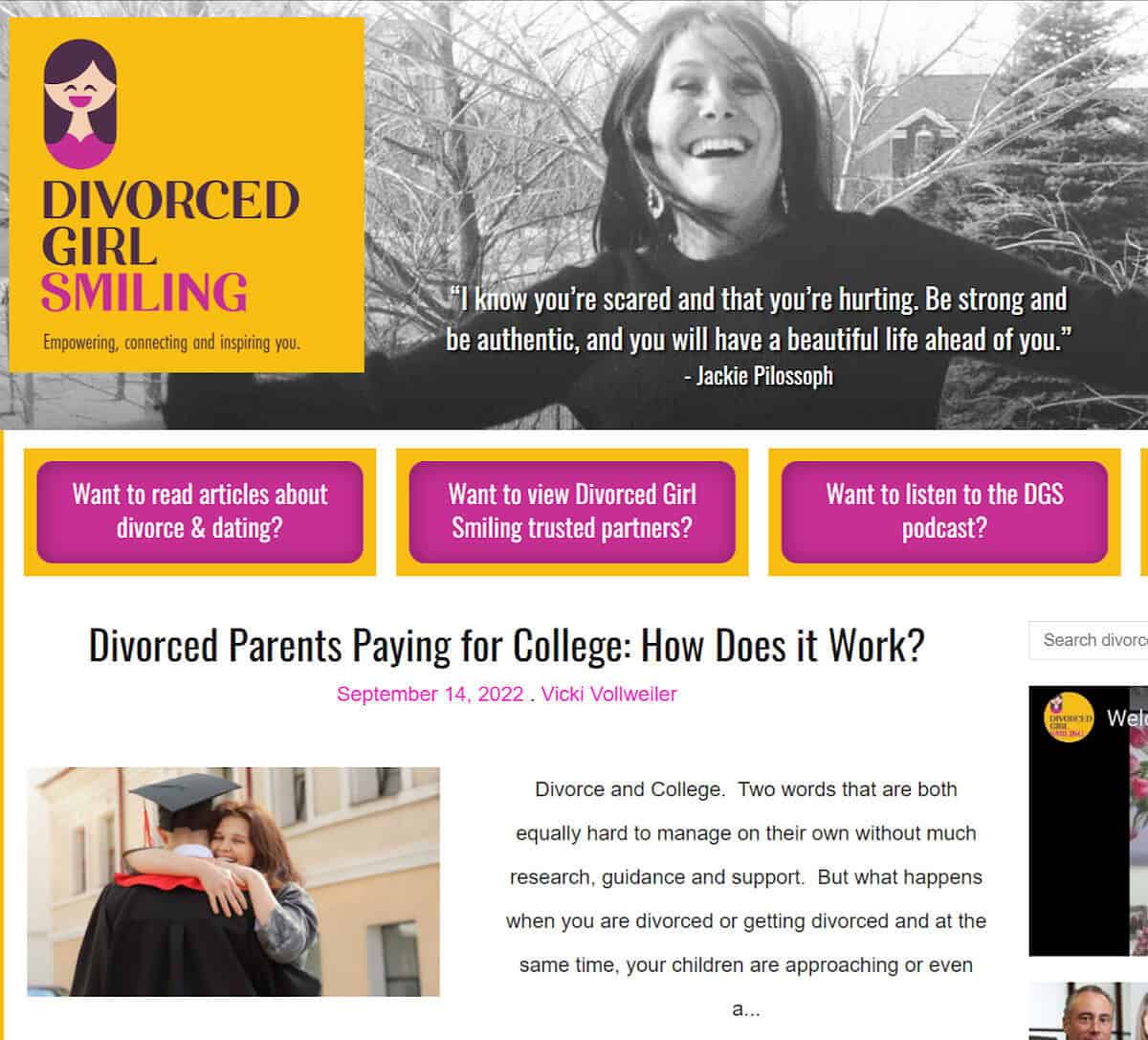 Divorce is no fun. It's a painful experience for anyone involved, and it can be especially traumatic for children as their parents go their separate ways. However, there are ways to cope with it and move forward in life.
This is where your blog comes in. You could offer tips on topics such as:
Life after divorce,
Divorce proceedings,
Finding love again after divorce
Making use of extra time after divorce
How to approach co-parenting, etc.
It helps if you have a background in therapy, are a certified professional coach, or have worked as a divorce attorney as your experience gives your blog the credibility it needs to grow to become a resource hub on all matters divorce.
You can explore some of the most popular divorce blogs such as DivorceMag and DivorcedGirlSmiling to identify topics that you can write about.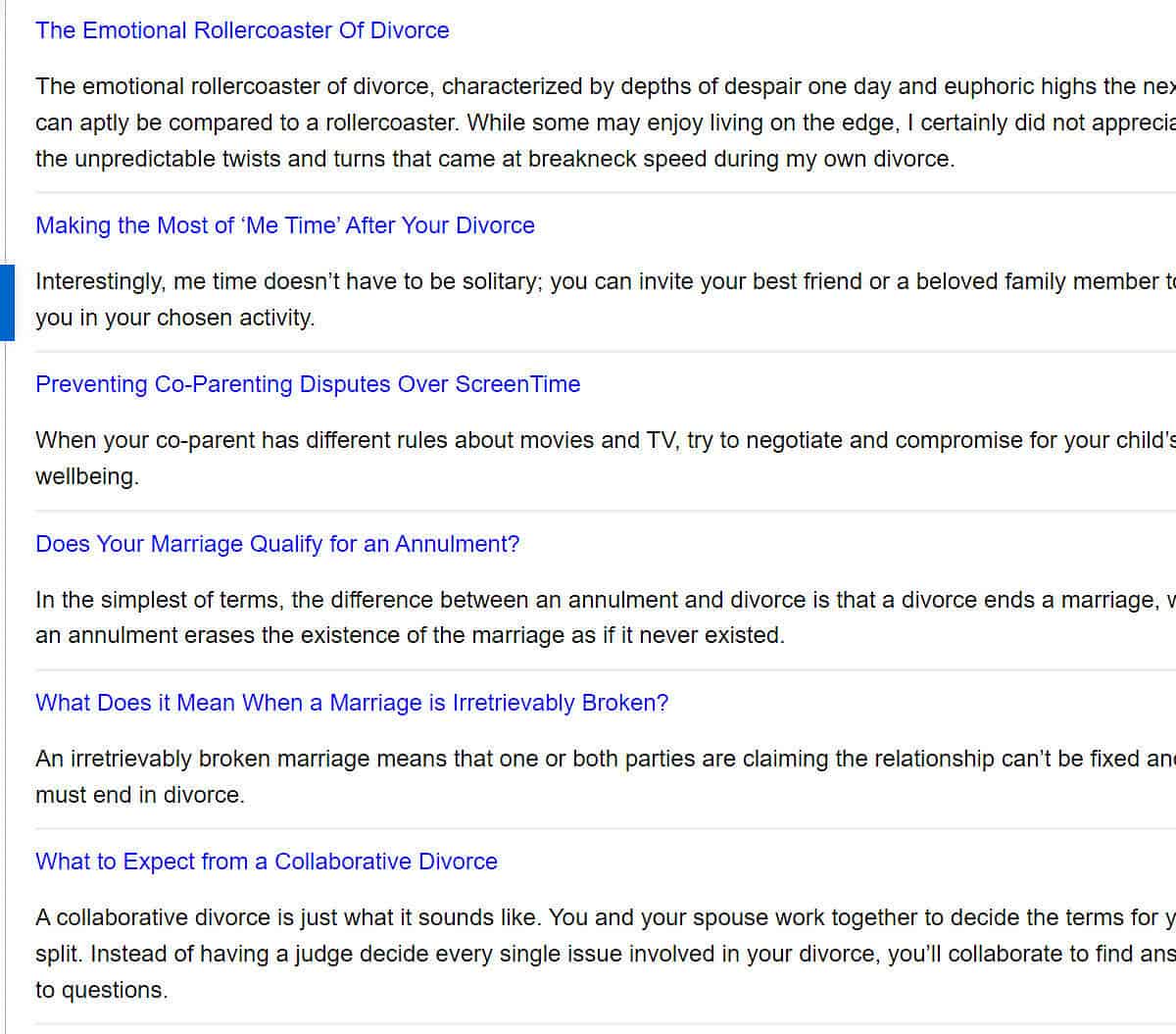 21) Self-love
Many people struggle with self-acceptance and appreciation, for all sorts of reasons. You can use your blog to help people fall in love with themselves, so they can have more fulfilled relationships with others.
22) Relationships Advice
If you've ever been in a relationship, you know that relationships are complex. They're not just about love and romance; they're about communication, trust, mutual understanding, and compromise.
They're also about learning to live with someone else's habits—their good ones as well as their annoying ones.
That's why relationships make for such an interesting niche for blogging: there's so much territory to cover!
You can write about how to find the right person for your life, what qualities make up a great partner or friend, and how to nurture those qualities in yourself or others. Or maybe you'd be more interested in talking about what happens when things go wrong—when one person finds out they've been lied to by their significant other; when two people are unable to agree on anything
23) Relationship Coaching
Relationship coaching is a service that helps people develop their relationship skills.
As the name suggests, this niche is all about helping couples and individuals have more fulfilled relationships with themselves, and their partners. Relationship coaches are equipped with knowledge gleaned from years of therapy, research, and personal experience in helping others to grow in their relationships.
You can start a professional blog that caters to relationship coaches, and share the scopes around this business idea, including becoming a relationship coach expert, finding clients, working with clients, etc.
Other Relationship Sub-Niches
Getting your ex back
Matchmaking
Dating after divorce
How to Make Money in the Relationship Niche
The truth is that relationships are a huge part of everyone's life, so it makes sense that people want to read about them.
But how do you make money with a blog about relationships? How do you monetize?
Here are some ideas:
a) Affiliate Marketing
Affiliate marketing is a way to make money by promoting other people's products and services. You are paid a fixed rate or percentage commission for every qualified referral you bring on.
Some products that you can promote within the relationship and dating space include:
Dating websites
Relationship online programs
Books on dating, marriage, and divorce
Romance tours
Wedding products, etc.
To get started, you can explore affiliate marketplaces to find programs that work well with your audience, or if you know some programs that you've taken before, you could look to see if they have an affiliate program.
Once you're approved, the company will give you a unique link (an "affiliate link") that points back to their product page on their website. When someone clicks on this link and makes a purchase, the sale is accredited to you and the resulting commissions accrued are allocated.
b) Publish Relationship eBooks
There are plenty of relationship ebooks on the market. So, if you're going to make money with this strategy, you must have a unique angle that other authors don't offer.
eBooks normally go for $17-$49, based on the value that you are offering, and the channels you are using to sell. For instance, if your focus is selling on Amazon, then you will have to price your books at $2.99- $9.99
On the other hand, selling on your website gives you the liberty to price a bit higher and even have access to your customers' details such as email addresses. You can then use email marketing to pitch other products to people who have bought from you before.
c) Coach People on Relationships
Many people feel lost when it comes to their relationships, whether they're looking for love or dealing with a breakup. If you have the expertise and experience needed to help someone navigate this part of their life, coaching might be a great way to make money.
The key is making sure that your coaching services are relevant and valuable to your target audience. You'll want to find a niche where there's demand for what you're offering—and make sure that the niche has enough money in it for you as well!
I've seen coaches make between $1000-$3,000 per client in the relationship niche—so if that sounds appealing, go ahead and give it a try!
d) Create and Sell Online Courses
Like in many blogging niches, online courses do really well, especially since most of the sales processes and delivery options can be automated. You only need to spend time creating the content, and then sell them over and over, bringing you a steady recurring income.
You can find out if you're qualified to teach by doing some research on different platforms and asking yourself:
Do I know about this subject? (You should be able to answer yes.)
Is the information helpful for others? (If not, what would be helpful?)
Is it easy to follow and understand?
Is it affordable compared with other options available on the market today?
If your answers are yes, then congratulations! You're ready to create an online course!
To deliver your courses, you will need a learning solution like Thinkific, which is free to get started, but if you prefer to host your courses on WordPress, you can get Learndash, a powerful Learning Management Solution plugin.
(Need help? Talk to us at Levatin.com)
e) Sponsored Posts
A sponsored post is when you (the blogger) publish an article or video on your blog that's sponsored by a company.
In these posts, you'll be asked to write about something specific or mention the company in some way. The company will pay you for doing this in exchange for promoting their product/service/brand.
Want to publish sponsored posts on The PennyMatters? We charge $175 per post, and you can find more details on our Sponsored Posts Page.
f) Display Advertising
This option isn't as easy or quick as affiliate marketing or selling your own programs, but it does work well when your relationship blog starts bringing up enough traffic.
You will need to join Google Adsense, and as your blog grows, you can explore other ad networks that pay considerably higher rates. One such is Ezoic, an ad network that uses AI to display ads that have the potential of earning higher.
Examples of Relationship Niche Blogs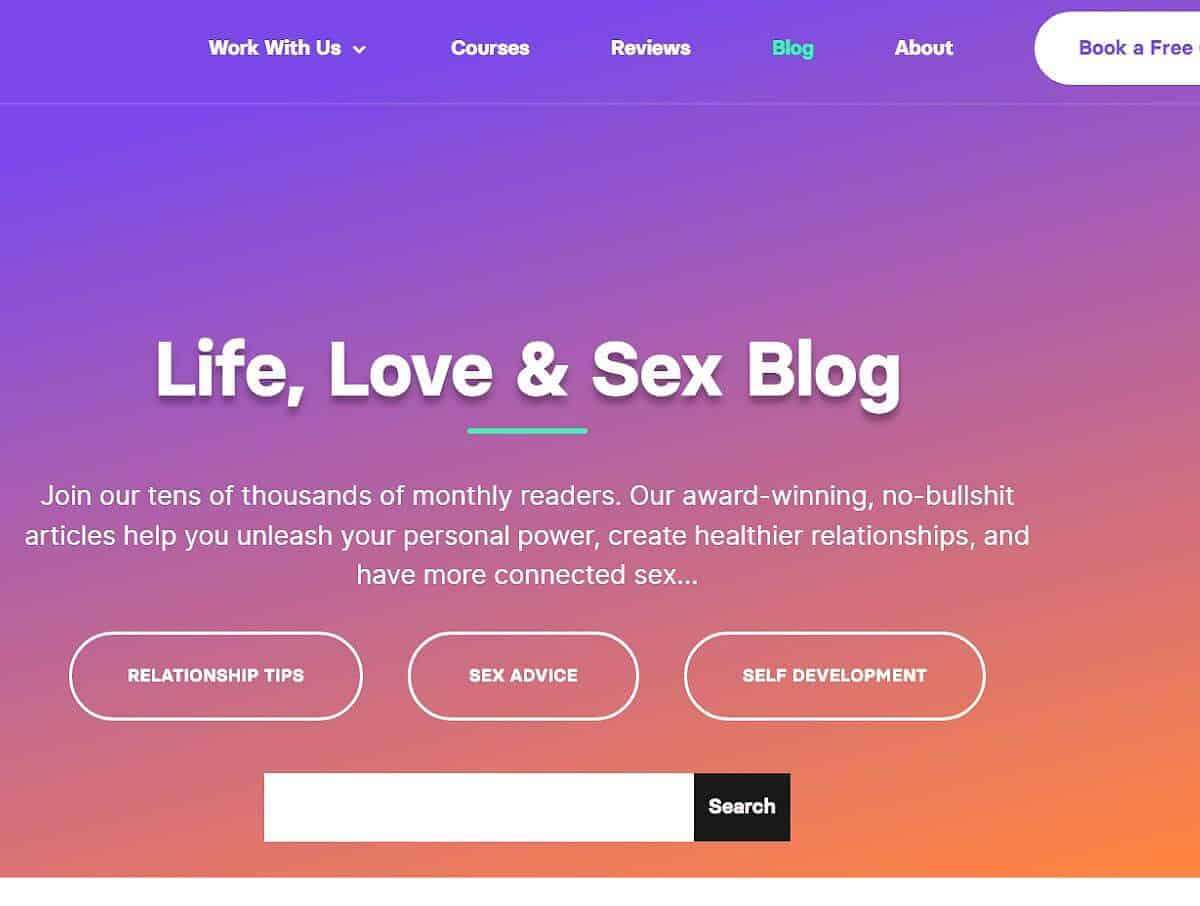 As you may have noticed, there are many different ways to approach relationship niche blogging. Some bloggers choose to focus on one dating niche, while others cover a variety of different topics related to relationships, marriage, and divorce.
Here are some examples of popular relationship niche blogs:
Profitable Keywords in the Relationship Niche (Dating Keywords)
Relationship coaches
Best dating sites
Marriage counseling
Boyfriend and girlfriend games
Best dating sites
How to ask a girl out on a date
Totally free online dating sites
Trust in relationships
Dating games for girls
Dating after divorce
Dating agency
Dating for seniors
Dating sites for over 50
Dating sites for professionals
Matchmaking NewYork city
Professional matchmaking
Writing in the Relationship Space
The dating blogs are full of general relationship advice that never work, but since these posts rank on page one, new bloggers find themselves just repeating the same points, as covered by popular and more authoritative counterparts.
Don't do that. In this space, you need to use your own voice and experiences as differentiating factors.
Here are a few tips that should guide your writings:
Always ensure that your advice is practical and useful, not just fluff;
Demonstrate topical expertise by borrowing from fields such as Psychology and counseling.
Address sensitive topics from a point of love, and care.
Be honest about your own experiences with dating, even if they're embarrassing. For example, if you've been to awkward dates, courtesy of the queens of match-making (aka friends, and cousins), or undergone tough break-ups, weave these experiences into your blog posts to make your readers relate and connect with you.
When you think about relationship blogging, it's really just you giving relationship advice to a friend.
Relationship Niche FAQs
Is Relationship a Profitable Niche?
The relationship niche is highly profitable for two reasons: It attracts a large number of readers, and digital products such as ebooks and online courses do well in this space. 
Wrapping Up
Now that you know all about the different types of blogs in this niche, it's up to you to decide which sub-niche is best for you.
I hope that these relationship niche ideas will help guide your decision so that when it comes time to start writing content, there aren't any doubts left hanging over your head about what topical ideas are right for your blog.