As a digital marketer, you must not ignore the power of copywriting.
Copywriting is the foundation of all persuasive marketing strategies and tools for online businesses.
You can write compelling copy with or without AI writing tools. However, if you want to write more words in less time, using such tools will be your best bet.
So, if you are looking for the best AI copywriting tools that can quickly generate content using artificial intelligence technology, read on.
What's an AI Copywriting Tool
An AI copywriting tool is an application that helps business owners to create quality content using technology powered by Artificial Intelligence. It analyzes market trends, website-surfing patterns, and blog posting preferences. From these findings, it creates unique and engaging copy for your marketing purposes.
One of the benefits of using AI tools is that they can help you avoid repetitive writing. You will be surprised by what these tools are capable of. From coming up with catchy headlines to devising highly relevant content for your clients and customers, the AI tools can create a unique yet effective copy on demand!
Examples of the Best AI Copywriting Tools
There are dozens of AI copywriting tools on the market right now. Many of them use similar technology and model training. However, not all of them are created equal, and some are better than others at generating high-converting copy for different use cases.
Here are the best AI Copywriting tools to consider:
1) Jarvis AI (Conversion AI)
Jarvis AI, formerly Conversion AI was designed to help marketers quickly generate highly converting copy based on proven copywriting frameworks, and its most popular templates are those powered by AIDA, PAS and Before-After-Bridge frameworks.
When you upgrade to the BossMode plan, you get to generate an unlimited number of words every month, unlock the Compose button so you can keep generating lines without needing to write some more content, as well as use text commands to instruct Jarvis to do precisely what you want.
Here is a detailed Jarvis AI Review to help you decide if it's worth acquiring it.
2) CopyAI
CopyAI is another innovative yet easy-to-use AI-powered copywriting tool. Whether you want to create digital ad copy, SEO blog posts, or social media content for your favorite platforms, this program can do it all in just seconds!
Unlike Jarvis, CopyAI doesn't have an intuitive way to write long-form content, so it's more suitable for short sales copy. That said, you can still use blog-specific templates below:
Blog Title for generating SEO Title ideas
Blog Outline for creating an outline of your post
Blog Intros,
Blog Conclusions and
Bullet Point to Blog Section templates to build up an entire blog post
Start 7 Day Trial (No Credit Card Required)
Note: Currently, if you use my affiliate link to sign up for the 7-day trial and upgrade within four days of your trial, you get access to CopyAI unlimited at 40% off for an entire year.
3) Copysmith AI
Copysmith is an innovative copywriting software that turns your words into winning copy in minutes by creating high-quality content from scratch. It uses Artificial Intelligence to do all the grunt work, freeing you from hours of research and analysis.
As an online marketer, you'll find Copysmith's capabilities useful. You can use Copysmith to generate different kinds of content, including:
Sales Copy
Web Content Blog
Social Media Copy
Search Engine Optimized (SEO) Blog Posts
Copysmith uses artificial intelligence to produce multi-purpose content for a wide variety of channels and use cases. Their AI has been trained on thousands of articles, podcasts and videos so it can understand how humans write naturally, which makes their output engaging and easy to read.
4) Writersonic AI
Writersonic is similar to CopyAI and Copsmith. It uses artificial intelligence to generate completely unique, targeted copy using GPT-3 technology.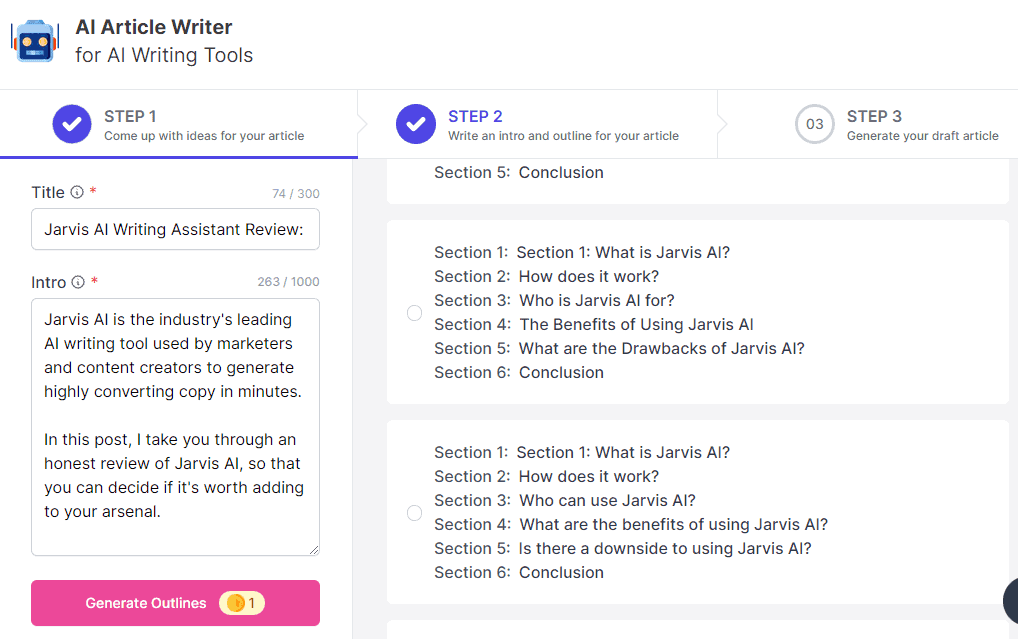 With Writersonic, you can generate great marketing copy and complete SEO-optimized articles that can help you rank on Google. Its Interface is also super intuitive. When writing blog posts, simply choose the AI Article Writer tool. This opens up a three-step wizard that will help you to:
Step 1: Generate SEO Optimized Titles
Step 2: Come up with an article outline
Step 3: Create full-blown articles based on the subheadings in your article outline.
All these without endless loading. It's like navigating through a series of web pages with ajax loading, only that with each step, you come closer from nothing to almost having an article that is ready for publication.
Starting from $15 only, Writersonic is one of the most affordable AI writing assistants on the market today.
5) Closerscopy
Closerscopy is a more detailed AI copywriting tool with over 50 templates based on proven copywriting frameworks such as AIDA and PAS. This tool mainly writes short copy and long sales page copy, but you can also use it to create long-form blog posts.
Unlike all the other AI writing tools, Closerscopy doesn't offer a trial, meaning you need to commit first. However, they offer a 30-day refund guarantee if you find that it's not suitable for you.
Conclusion
AI writers are a great way to produce multiple pieces of copy in a shorter space of time. By using these tools, your writing workload should dramatically decrease while still maintaining an engaging voice for your readers.
Again, here are some of the best AI writing Assistants:
If you need any assistance, feel free to drop us a comment below and Mysson will get back to you. If you just need to know what AI content generator to choose when you are not on a budget, then it's Jarvis AI. For more budget-friendly alternatives, then I recommend CopyAI and Writersonic. These two are great for sales copywriting.