Want to learn how to rewrite an article without plagiarizing? There are many scenarios where rewriting articles makes sense, and having a handy tool like Copymatic AI Rewriter comes in handy.
For example, here are a few reasons to rewrite an article:
You want different copy variants for use in different sections of your website. For example, service pages, city pages, location pages etc.
You want to make several similar pages without sounding repetitive. By rewriting your content, you make them unique, thus avoiding the use of duplicate content on your website.
It helps you brainstorm different angles on how to communicate the same messaging so as to choose a better one.
Now, rewriting content on your own can be quite tedious, even more so than writing from scratch. This is because you are stopping at every word or sentence to think of a new way to rephrase it. Rewriting is quite a skill to master.
Luckily, with the advent of technology, you no longer have to do it manually, as article rewriting and rewording tools have come to your rescue. And I am not talking about the old spinners that solely replaced your words with synonyms that completely distorted the original meaning of your content.
These rewriting tools are smarter and use advanced algorithms to analyze the context of the words before rewriting your content.
One such tool is Copymatic ai Rewriter tool, and in this article, I'll take you through the steps on how to rewrite an article without plagiarizing using it.
How to rewrite an article without plagiarizing using AI
To rewrite an article, we're going to use Copymatic, an AI writing tool that is super easy to use and is quite affordable. I'm choosing this tool instead of all the other AI writers because of its built-in superpower Article rewriter wizard.
To use the text rewriter tool, log in to your Copymatic account, and look for the AI Rewriter amongst the writing tools. Then, simply click on it to start the process.
In the next pane, you'll need to add the following:
The title of your article
The content that you want to rewrite (In the content section, you can post the article URL or copy-paste the content)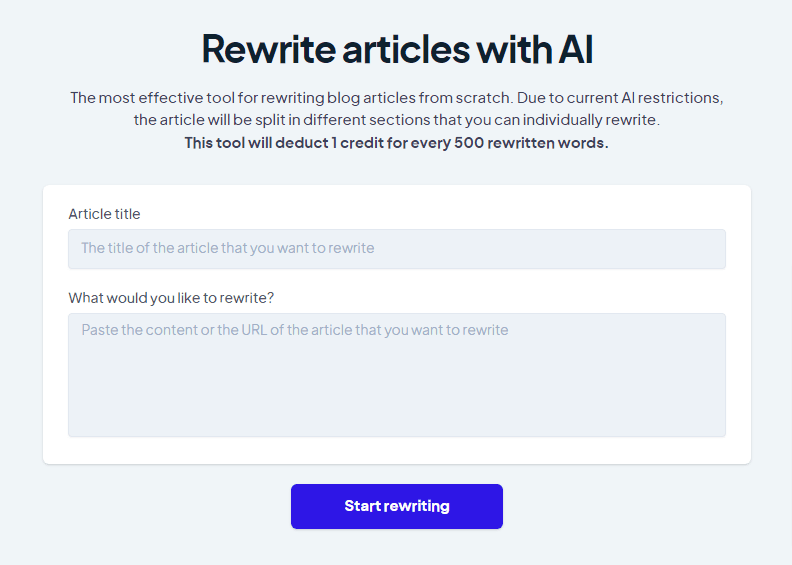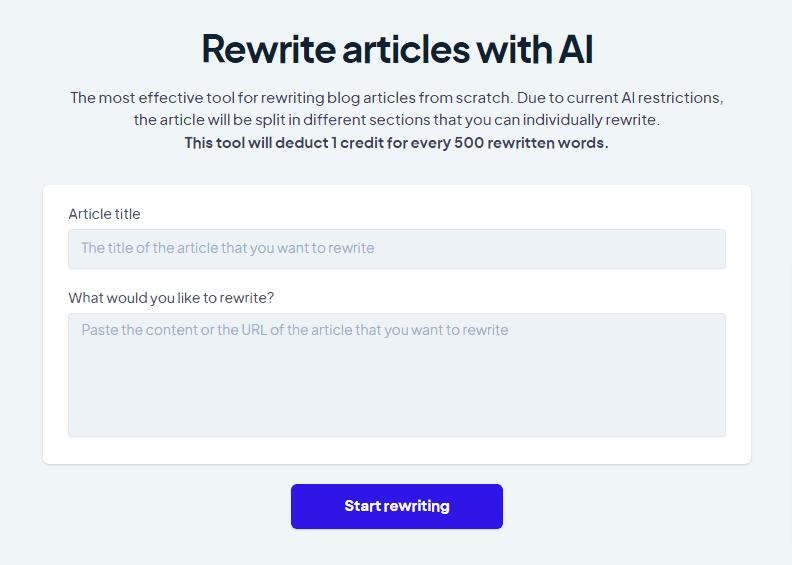 Sometimes the AI doesn't pull up the article from the URL as expected; in this case, head over to the post page, copy the article content and paste it into the AI rewriter tool.
How does an AI rewriter tool work?
Here is a quick video tutorial to understand how to rewrite articles without plagiarizing using Copymatic
To show you how powerful this rewriting tool really is, I'll go ahead and play along: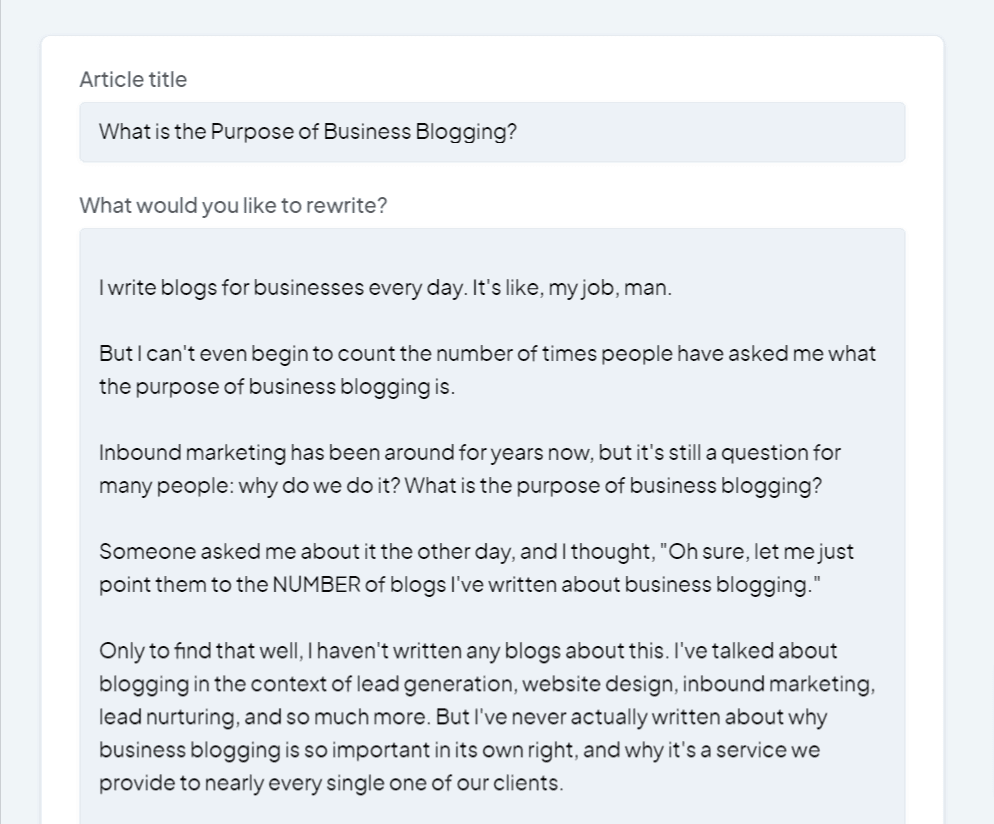 After entering the details above, click on the Start rewriting button to get started.
This is a section of the result I got when I rewrote this: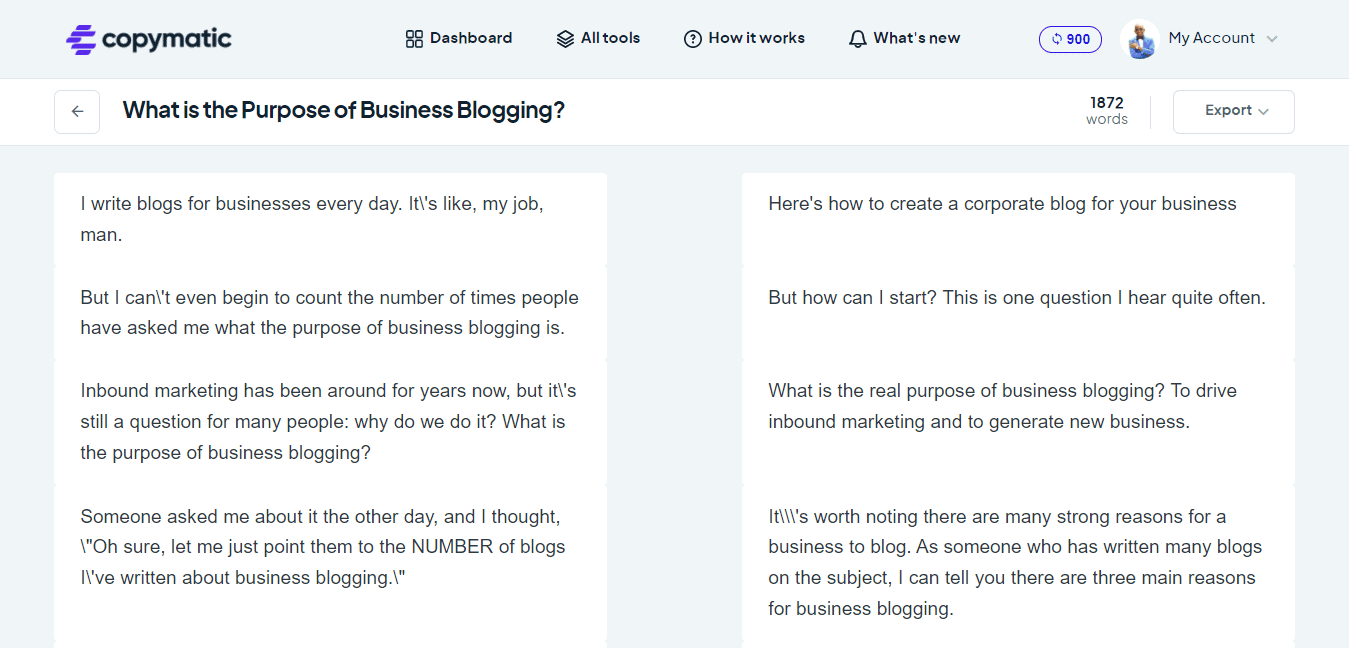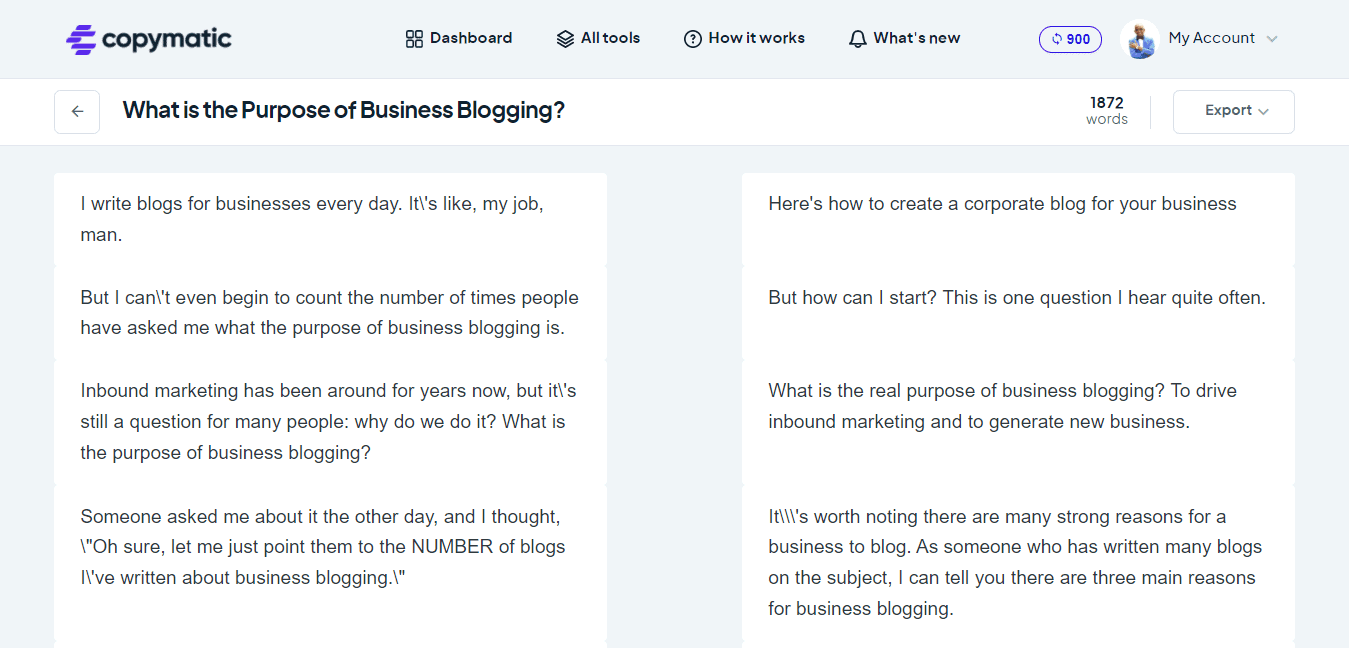 To show you how powerful this tool is, let's compare the results I got without rewriting the article sentence by sentence:
| | |
| --- | --- |
| Input text | Output text (Rewritten content) |
| I write blogs for businesses every day. It's like, my job, man. | Here's how to create a corporate blog for your business |
| But I can't even begin to count the number of times people have asked me what the purpose of business blogging is. | But how can I start? This is one question I hear quite often. |
| Inbound marketing has been around for years now, but it\'s still a question for many people: why do we do it? What is the purpose of business blogging? | What is the real purpose of business blogging? To drive inbound marketing and to generate new business. |
| The purpose of business blogging is to get you, and your company in front of the right leads. In the words of our fearless leader here at Evenbound: | Business blogging is a powerful marketing tactic that can help generate customers. Getting in front of customers through your blogs generates traffic and brand reputation. Blogs offer a lower-maintenance alternative to ads, with the same level of information dissemination. In the words of our fearless leader here at Evenbound: |
Powerful, right? Instead of just replacing the main keywords with synonyms, the AI rewriter analyzes the context and generates new contextual copy that follows the flow of the article.
Modifying AI rewritten content
What is different with the Copymatic AI rewriter tool from all other paraphrasing tools and spinners is its intuitive wizard. The editor makes you reword or, rather, rewrite the generated copy, paragraph by paragraph. The general one-click rewritten copy is often good enough, but you might want to rewrite only some sections.
If you read my Copymatic review article where I show you the intuitive article writer wizard, you might be familiar with this interface.
After clicking on the Start rewriting button, you're taken to the editor, where you will be able to compare rewritten copy against the original. To modify a section, simply hover over the paragraph, and a Rewrite button will appear in the middle of the interface, allowing you to rewrite only the said paragraph.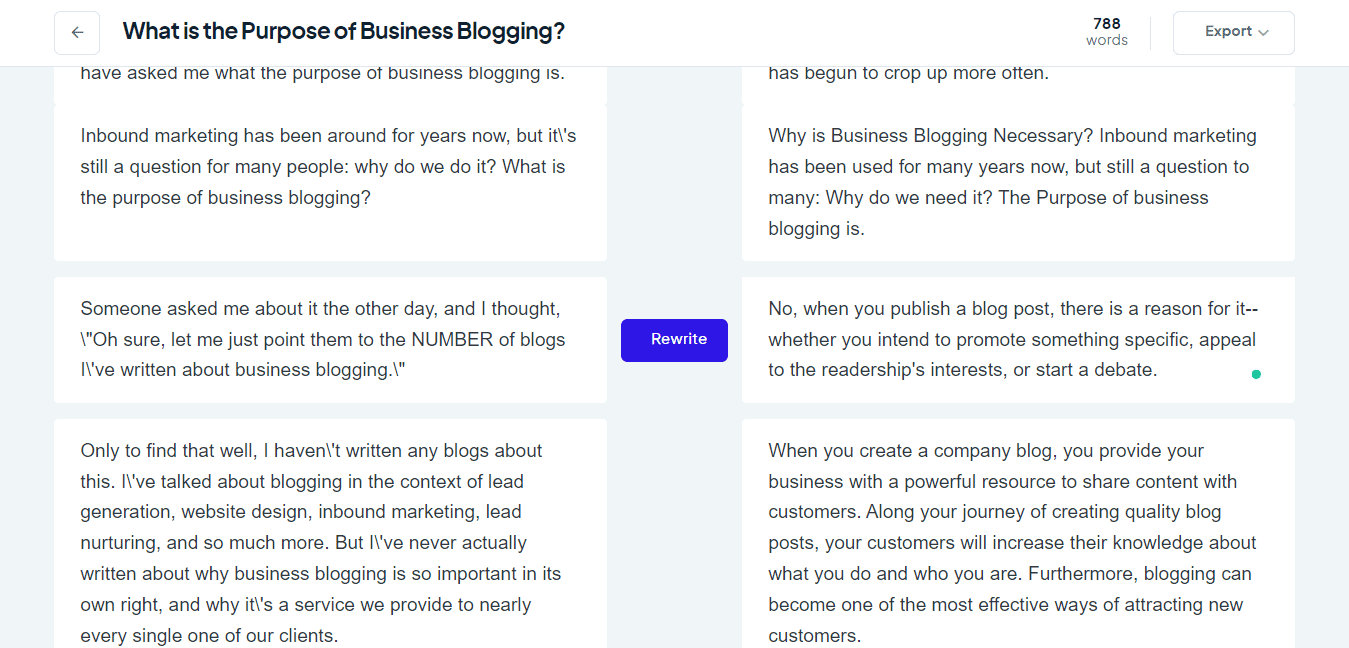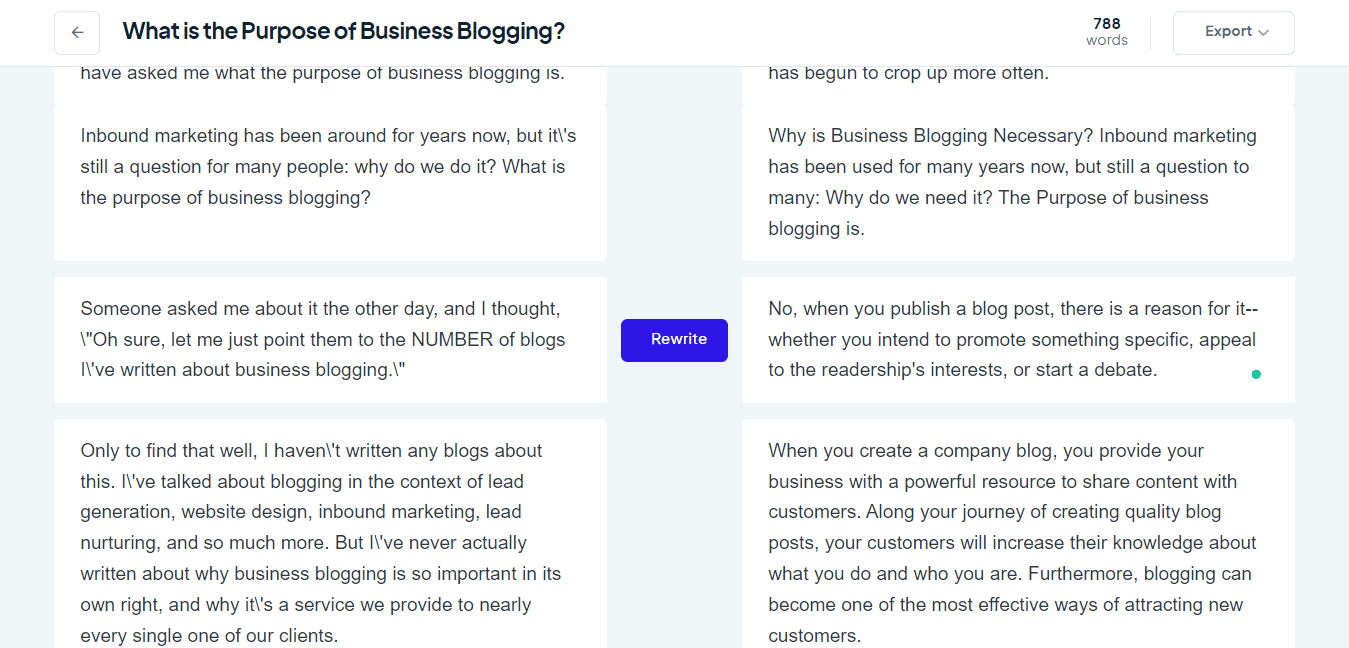 Exporting your rewritten content
Unlike the AI writer tool, Copymatic AI text rewriter doesn't save the history of your rewritten content. So make sure that once you are done rewriting the content, save it outside the tool.
To do that, simply hover on the Export button on the right of the editor pane. A drop-down appears. Click on the Copy content to copy the entire generated copy.
The next thing you want to do is open a new Google Doc, paste your content and start modifying accordingly to fit your use needs.
Wrapping up
That's how to rewrite an article without plagiarizing in minutes using a powerful AI rewriter like Copymatic.
Ready to start rewriting your articles?