For some, tech is the music to their souls. If this is you, then tech blogging could be your thing.
Tech is the industry that requires you to have a vast amount of knowledge in the specified sector if you want to write compelling and highly relevant content.
To avoid burnout, choose a super niche that you are knowledgeable about and that is less competitive
Starting a Tech Niche Blog:
What is a tech niche?
A tech niche is a subset of technology that is focused on a specific aspect or sub-section of the general tech industry. For example, within the web development space, sub-niches could include front-end development, back-end development, or even specific languages such as CSS, HTML, PHP, Javascript, Python, etc.
As a new tech blogger, you need to choose a tech niche that is less saturated, and is now enough so that you don't spread yourself too thin.
By publishing content continuously on a specific topic, you will be sending signals to Google that you are an expert in this topic, and increasing the chances of your current and future content ranking higher for the relevant search queries.
What is a tech blog?
Based on the definition of a tech niche, we can say that a tech blog is a small, specialized website that publishes blog posts regularly (definition of a blog) on a specific sub-niche within the technology space.
Most tech niche websites publish product reviews, comparison posts, and step-by-step tutorials with lots of pictures and screenshots.
Technology Niche Ideas
For your inspiration, here's an extensive list of over 100 tech niche ideas that are great for affiliate marketing:
Smartwatches
Drones
Best Android Phones
Android Hacks
IOS
Mac
Windows
Excel
Google sheets
Cloud computing



CRM
Software development
Mobile apps development
Online Programming
Python
PHP
CSS
Coding
Coding Languages
Virtual reality
Machine learning
Artificial intelligence
Robotics
Augmented Reality
AR Products
Credit card processing
ATMs
Tech gadgets
Computers
Linux
Smart homes



Business automation
Integrated marketing
Software integrations
WordPress Development
Ethernet cables
Google Glass (Wearable hands-free device for hands-on work)
Android apps
Alarm clocks
Best gaming laptops
CSS Tutorials
eReaders
Game console
Java Tutorials
Internet of Things (IOT)



iPhone Apps
Smart glasses
Smart TVs and Speakers
Smartphones
Powerpoint tutorials
Powerbanks reviews
Spyware
Microsoft Office tutorials
Wearable tech
Laser Printers
3D printers
C++ Tutorials
Coding made easy
Coding for women
Coding for kids
Tech industry news



Tech conferences
Advertising
Cybersecurity
Webcams
Recording video tutorials
Video recording tools
Livestreaming hacks
Livestreaming software
Advanced analytics
Google analytics training
Data Science
Cryptocurrency
Adtech
Edtech
Health tech
Software engineering
Manufacturing
Manufacturing plans
Video games
Data Intelligence



Amazon web services
Remote access
News tech
Tech reviews (laptop, software, phones)
Antivirus reviews blog
Nokia
Techno
Samsung
iPhone news
Cydia
VPNs
Air Purifiers
Home automation
Video editing hardware
Canceling software subscriptions
Deleting accounts / Deactivating accounts
Uninstalling apps
Alternative tech
Software alternatives
Google Drive and storage
Ethical hacking
Areas of Specialization in Tech Blogging
a) Industry
You can start a tech blog that focuses on products and solutions specific to a given industry, such as healthcare, personal finance, green living, education, agriculture, etc.
b) Specific Product
Another route you might take is to identify a product or product type and build a tech blog around it.
For instance, you could start a blog that offers reviews, comparison posts, and tutorials on products such as 3D printers, coffee makers, sewing machines, or even digital products such as Shopify, WordPress and Google products, etc.
c) Solution
Now instead of picking a product or even an industry, you could approach the technology niche from a point of solving a given challenge.
For instance, you could start a tech blog that offers tips on combatting the challenges of working from home.
On this blog, you will tackle topics such as:
Zoom tutorials



How to stay productive while working from home
Best apps for working from home
Managing a remote team, etc.
Best products for your home office
How to set up a home office that inspires you to 'get to work.'
Types of Tech Blogs
As a tech blogger, you can niche down further to the three types of tech blogs that do well with affiliate marketing:
News tech blog
Tutorial tech blog
Reviews tech blog



a) News Tech Blog
News tech blogs are typically published in the form of a website that covers the latest developments in a given sub-niche within the tech space.
Unlike other types of blogs, news websites are updated several times a day and need to be constantly monitored so that you can publish important news as it happens.
News tech blogs are also a good way to keep up with what's happening right now in technology, which is essential if you want to stay competitive in your niche.
b) Reviews Tech Blogs
Review posts are a great way to build trust with your audience. They can be positive or negative, and they can be about physical products, services, or software.
You can also review old products that you have used for a long time as well as new products that are currently available on the market.
Review Tech Blogs are blogs that review a certain product or service. Reviews of this type often include product or service specifications along with an overall rating based on its performance in key areas such as durability and ease of use.
Reviews articles are the best type of content for promoting affiliate offers on your blog
c) Tutorial Tech Blogs
Tutorial blogs are very popular. They're constructed as a step-by-step guide to completing a task, such as installing an app or troubleshooting an issue.
They can be written in a variety of styles, but they're typically conversational and focused on the reader's experience.
Tutorial blogs aren't limited to software tutorials—they can also be used for teaching how to use different gadgets such as coffee machines, 3D printers, etc.
Writing in the Tech Niche
When it comes to writing in the tech niche, you need to focus on the value, rather than storytelling.
Here are a few tips on writing quality tech articles:
Know your audience. Give them the content that they need, in a way that is enjoyable and informative.
Avoid fluff and focus on providing step-by-step instructions, or "how to" information.



Publish snackable content that readers can easily digest and use.
Improve your content with visuals such as screenshots and illustrations.
You can create graphics for your blog using tools like Canva, which has templates designed for different use cases. The tool will also help you find appropriate premium photos from a variety of sources.
For topical research, use a tool like Semrush. This powerful keyword research tool gives you all the tools you need to research, filter, and aggregate the best keywords that you can easily rank for with the right content strategy.
You can also use these tools to find opportunities for improving your SEO strategy by analyzing competitor sites.
How to Monetize a Tech Blog
Making money from a tech blog is not easy. It takes time, hard work, and sometimes a little bit of luck. But it's possible! Below are some of the popular ways to make money in the tech space:
a) Display advertising
Display advertising is the most common way to monetize a tech blog since these blogs see lots of traffic and most keywords targeted have high cost-per-click rates. It's also the easiest.
When we say "display advertising," we're talking about ads that are shown at the top of your website, in between your posts, or at the bottom of your pages. These ads can take many forms — text-only banners, images with clickable links, videos (with or without sound), and interactive games or quizzes.
Display advertising can be done through Google Adsense, Media.net, and other premium ad network services such as Ezoic and Mediavine.
While the Display ads strategy is the easiest blog monetization model, it's often less effective than other methods because ads interrupt reader experience and can harm brand perception if not implemented correctly.
b) Affiliate marketing
Affiliate marketing is another best way to monetize a tech blog. This is so because most of the content on tech blogs are product reviews and tutorials. These types are known to be highly converting for affiliate offers.
You'll need to find the right affiliate programs, apply to join, and once approved, you can start creating review and tutorial posts to promote them.
It's important to choose an affiliate program based on its product quality and relevancy rather than how much revenue it generates per sale. Choose only those companies whose products are worth promoting; avoid low-quality offers and any products in the Your Money or Your Life space where possible.
c) Digital Products
You can sell a variety of things on your blog, including ebooks and online courses.
This is an obvious way to monetize, but it's important to make sure that you're providing high-quality content before moving forward with this option because you will be competing against many other tech blogs that are also selling their own courses.
You may even want to consider partnering with other bloggers and creating joint ventures so that you both benefit from each other's audiences or resources.
d) Freelance projects
If you have the right skills, freelance projects can be a great way to make money on your blog. There are many different types of freelance work available:
Copywriting – writing copy for websites, landing pages, and other marketing materials
Ghostwriting – writing books or other long-form content that's credited to someone else
Technical SEO – optimizing websites for search engines (a must-have if you want anyone to find your tech blog)



Technical writing: Get paid to write articles for other tech bloggers, brands, and companies.
e) Consultancy
The fifth way you can monetize your tech blog is by charging for consultancy services.
You can also charge for coaching if this is something that interests you and what your audience wants from you. For example, if someone needs help with SEO and content marketing but doesn't have the time to go through all the different steps involved in doing so, then offering coaching might be an option worth exploring as well!
f) Paid content/product reviews
Paid reviews are a great way to monetize your tech blog. Here's how it works:
Brands pitch your sponsored post ideas. Once you decide to work with a brand to review their products, you get access to their interface, if the product is digital, or a sample is sent to you if a product is physical. You then take time to go through the product and write a comprehensive review or step-by-step tutorial.
For sponsored reviews, you can charge anywhere from $1000 to $10,000 depending on how popular your site is, and the total following you have on social media.
Examples of Tech Blogs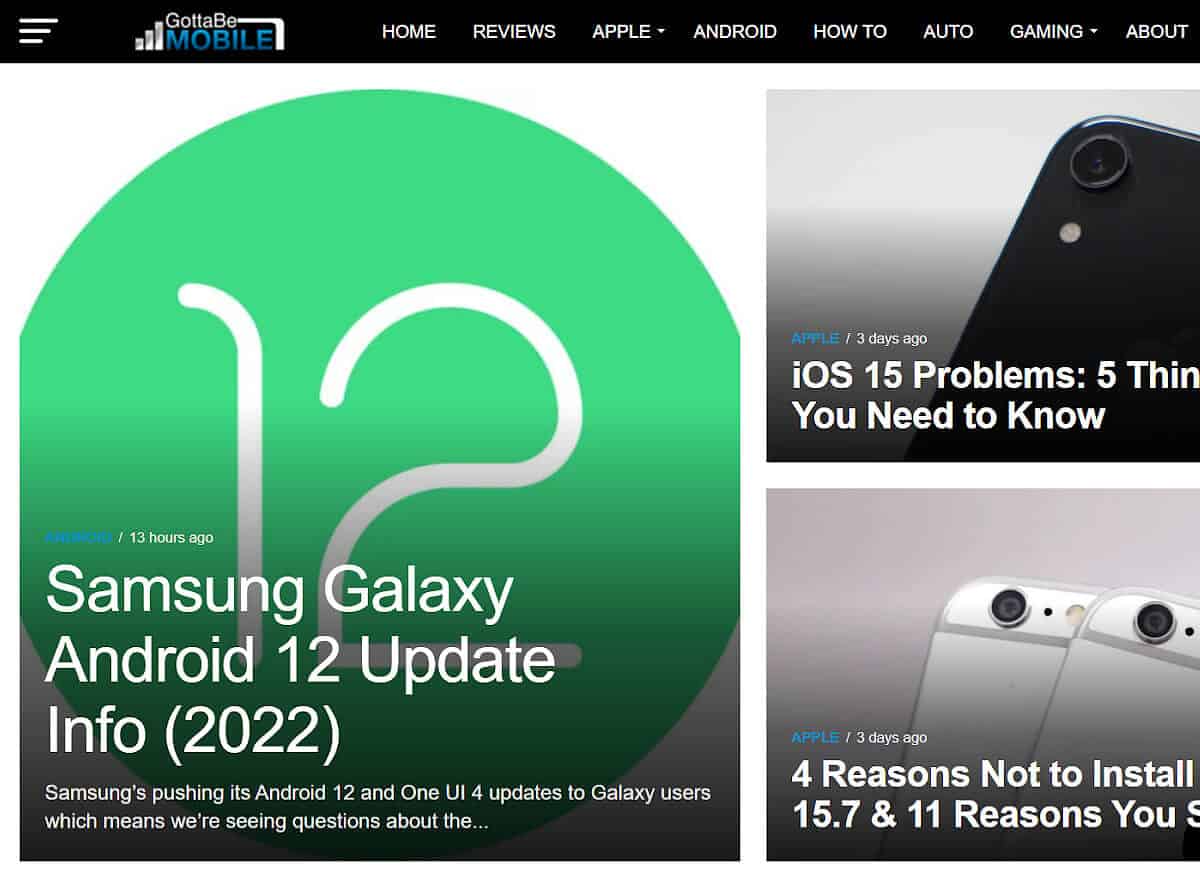 Since you now have an idea of what sub-niche is right for you, let's explore some of the best niche tech blogs that seem to be doing something right.
Gotta Be Mobile: This is a tech blog that focuses on content around mobile tech, including brand updates, release dates, Android and iPhone news, etc.
Tech Niche FAQs
Do tech blogs make money?

Yes. Tech blogs make money in a variety of ways. Some tech blogs are run by companies that sell products and services, and they use their blogs to promote the product. Other tech blogs make money by running display ads through networks such as Google Adsense, Ezoic, and Mediavine. Tech bloggers also make money through affiliate links—they get paid if someone clicks on the link and buys something.

What is technology blogging?

Technology blogging is the act of writing and publishing content about technology, software, and hardware

Do I need to be a technology expert?

No! You don't have to be a technology expert to blog about tech and tech products. In fact, most people who read blogs are looking for honest opinions from people who are passionate about the subject matter they're writing about rather than technical knowledge or jargon-heavy content that only serves as an advertisement for a particular product or service.

What is a blog?

A blog is an online journal that you can update whenever you feel like it. You can write about anything, but most blogs are used to share information and opinion about a certain topic. Blogs are typically organized chronologically and include links back to other posts, so they're easy to navigate.

What's the point of technology blogging?

Technology blogging is a great way to share your knowledge with people who want to learn about the latest trends, products, and advancements in the world of technology. It also helps you stay up-to-date with the latest developments in your industry or field, so you can be a better employee or business owner.
Popular Tech Keywords
When creating content for your tech blog, it is important to target keywords with low competition. These are underserved topics.
To identify these keywords, use a tool like Semrush as it gives you valuable metrics and filtering tools that will help you fast-track your research process. For a more affordable alternative, SERanking is a great pick.
Here are examples of tech keywords:
Technical support



Best VPNs
IT services
Wearable technology
Best anti-virus services for your pc
Best mobile apps for android
How to choose a web hosting service
30 Best Chrome Extensions to boost your work productivity
How to fix windows taking forever to start
How to save photos on Reddit
How to change alarm sounds on iPhone
How to download YouTube videos for free
How to secure computer data and privacy
What Is vectoring?
Of course, these are just but examples since every sub-niche within the tech industry will have a different set of keywords. To uncover them, you will need a powerful keyword research tool like Semrush.