If you're looking to join the Pictory affiliate program then here's a quick overview of what it entails.
While not necessarily a high-ticket affiliate program, its high and recurring commissions makes it quite lucrative.
The affiliate program is hosted with First Promoter, a powerful but user-friendly affiliate software for businesses.
If you're new to Pictory AI, here's a brief description of what it is and how it works.
What is Pictory AI?
Pictory AI is a powerful video generator that uses artificial intelligence to produce videos from simple text inputs. This makes it easy for people to create professional-looking videos without any prior video editing experience.
Many people use this AI tool to generate short, branded, and highly-shareable videos from long-form content.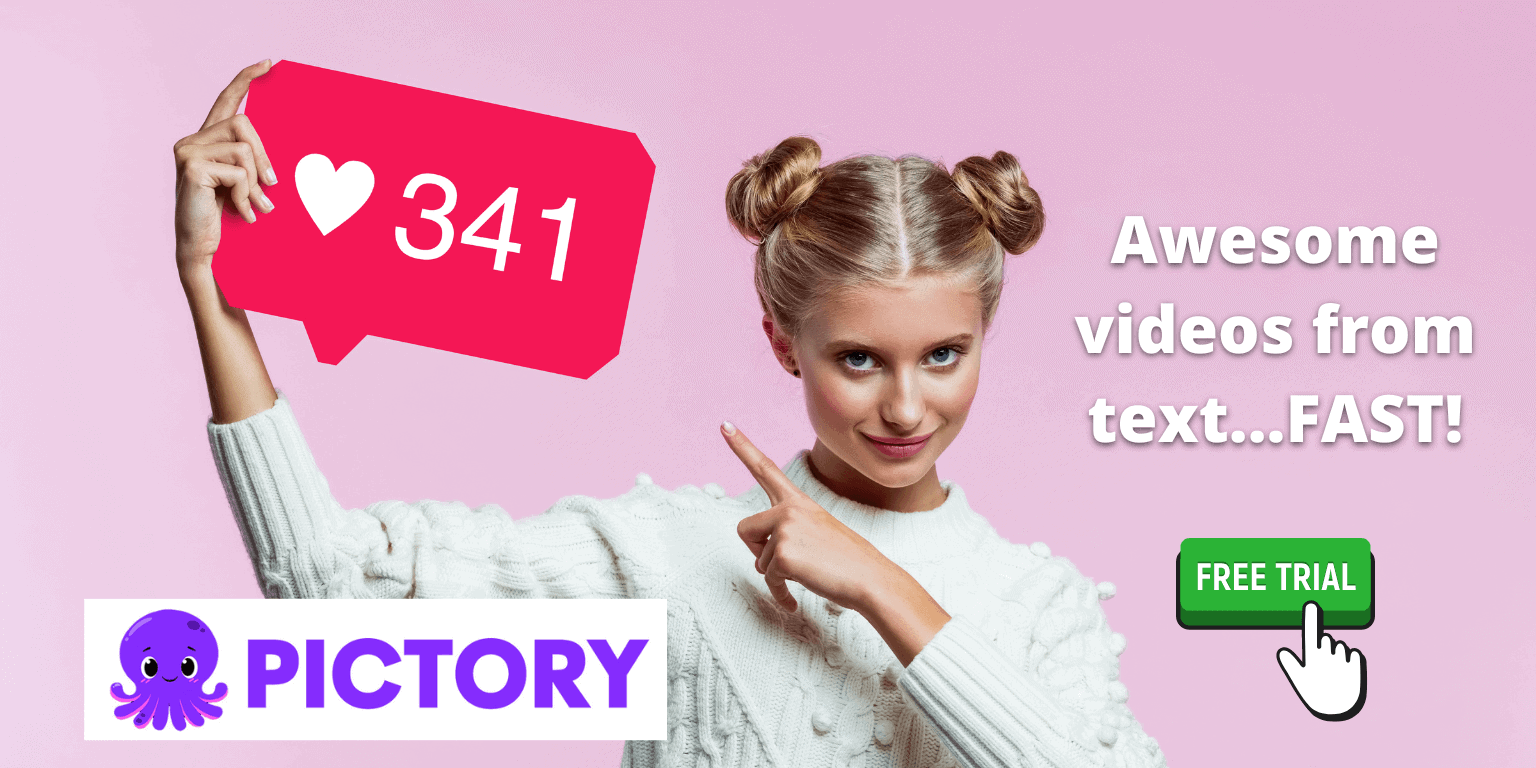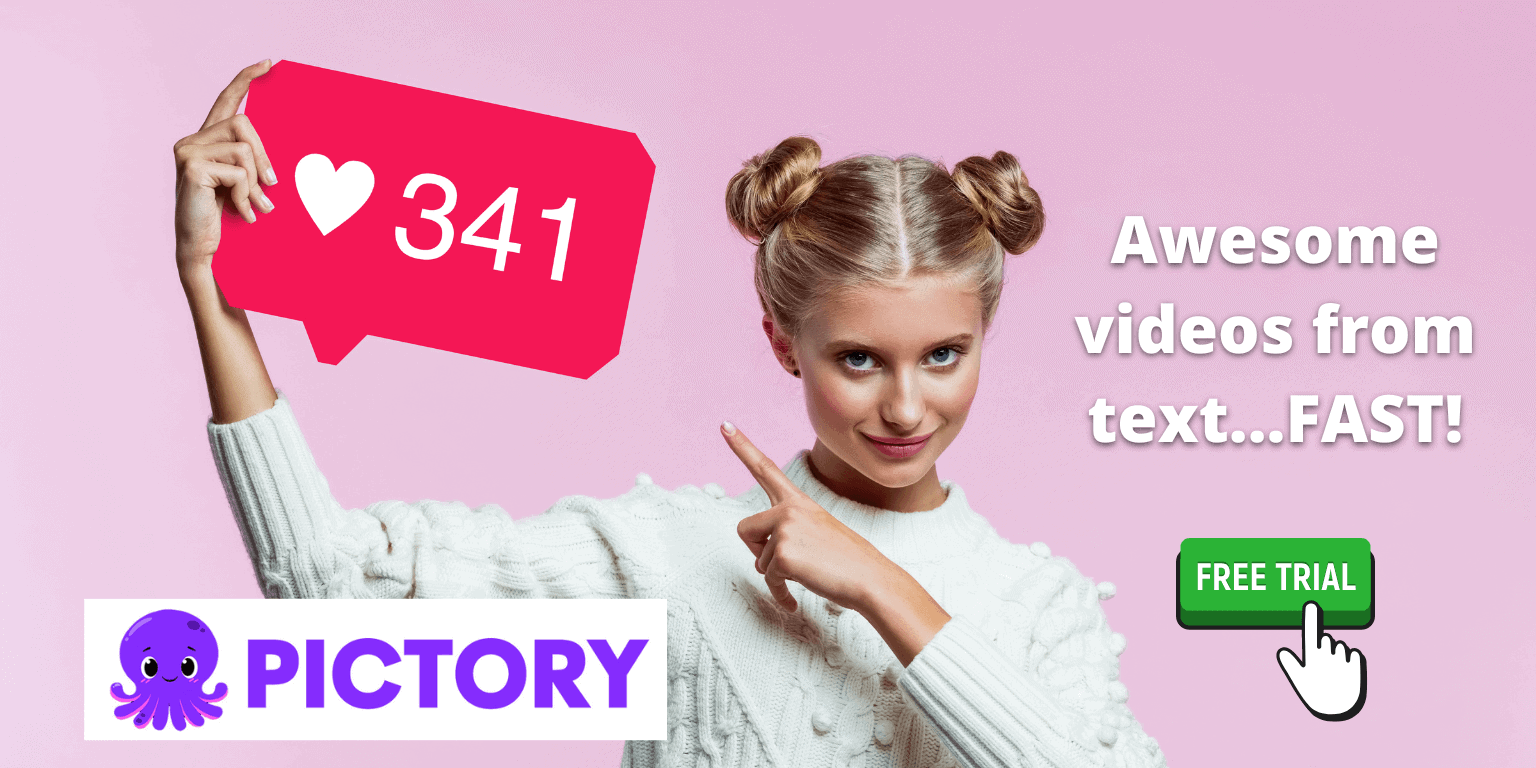 Pictory uses a combination of technologies such as Natural Language Processing (NLP) for summarizing text into video scripts, Computer Vision to scan and find relevant background images and media for each sentence in the script, and Text-to-Speech tech to convert the scripts into audio.
It includes tools such as:
Script to video
Article to video
Editing videos using text
Visuals to video, etc.
Thus, if your audience includes digital creatives, freelancers, content developers, and marketers, Pictory is a great tool to promote.
Be sure to use coupon code mysson63 for 20%off lifetime discount
Why join the Pictory AI affiliate program
There are a few reasons to consider being part of this great program:
Recurring affiliate program, earn a commission for every sale made by your referrals
High Commissions: Earn 20% – 50% commissions on each sale
Professionally designed creative assets for promotional purposes.
It's a two-tier program, that allows you to earn an extra 10% commission on earnings made by your sub-affiliates.
Generous bonuses and rewards
Pictory is a unique product that is easy to promote
It has a great price point, starting at just $23/month which reduces customer objections
How to join the Pictory AI affiliate program
To become a Pictory AI affiliate, all you need to do is sign up for an account.
It's free and only takes a few minutes. Once you've completed the signup process, you'll get access to your own affiliate dashboard which will provide you with promotional materials and tools.
You can start promoting Pictory AI right away by sharing your unique affiliate link with your audience, or you can set up a website or blog in order to promote the product and increase your chances of making more sales.
Pictory AI commissions structure
There are four levels, each with different commission rates and bonuses:
a) Standard affiliate partner
This is the entry-level level. When you first sign up as an affiliate you get to enjoy the following:
A 20% recurring commission
A unique discount code that grants your referrals 20% off their purchases. Use this as an incentive for them to use your affiliate link
$10 minimum payout threshold
b) VIP affiliate partner
You get to proceed to this level upon referring your 50th customer to Pictory.
Benefits on top of the standard level include:
30% recurring commission, instead of 20%
No minimum payout threshold
Unique promo discount code — You get to offer your referrals extra discount whenever Pictory is running promotions and flash sales.
Free 1-year access to Pictory premium account ( $468 in savings)
c) Super affiliate partner
Refer your 250th customer, and you enjoy these two extra benefits, in addition to those of the VIP partner:
A 40% recurring commission, instead of a 30%
Lifetime access to Pictory premium account ( $468 in savings)
d) Mega affiliate partner
This is the highest status you can achieve with the Pictory AI affiliate program. You need to refer 500 paying customers to qualify.
On top of the super affiliate partner benefits, you also get:
A 50% recurring commission, instead of a 40%
A one-time bonus of $1000
Option to receive your earnings via bank transfer instead of PayPal.
Pictory affiliate payments
This program pays via PayPal. Simply enter your PayPal email address when signing up. In case you don't have a PayPal account, enter
for your commissions to start accruing.
Once you have your PayPal account set up in the future, go to your PayPal settings, change the email and you will receive your earnings in the next payout circle.
If you're unable to use PayPal, you can request a bank transfer once your accrued earning is $1000.
Your earnings are usually cleared for payout on a net 30-day basis, and as long as you have a $10 balance and a PayPal account set up, you should be able to receive your money.
What you need to know
Pictory AI doesn't allow you to use your own creatives for promotions. Use the assets in the asset library instead
Cookies last for 9,999 days (this is the maximum, almost 27 years)
Payments are made on or around the first working day of every month.
You cannot use Pictory brand or its variants in your domain names
If you're going to run paid ads, make sure not to use their restricted terms for targeting. You can find all this info on their Terms and conditions when signing up as an affiliate here
Become a Pictory AI affiliate
Ready to get started promoting this awesome AI video generator?
Then click on the button below to get started.
Another cool AI tool is Content at Scale. It's a powerful AI writing tool that makes automating content writing possible.