Today, it's almost impossible to publish content without running it through QuillBot
This tool has grown to become every student's, writer's, and blogger's favorite tool, for two reasons:
It's free, and the pro version is affordable
QuillBot can help improve your writing to make them more readable, and plagiarism free.
And in the world of AI-written content, QuillBot has never been more useful.
In fact, many content creators use QuillBot to beat AI detectors, and in this quick but comprehensive QuillBot review, I take you through more than 7 features that make this tool a must-have.
What is QuillBot?
QuillBot is an AI tool that helps with rewording or paraphrasing content to make them unique and beat plagiarism checkers, correct grammar mistakes, and much more.
It started as a primarily paraphrasing tool but has evolved to include other suites of tools for improving and speeding up content production.
Cmpare two popular paraphrasing tools in our latest post on QuillBot vs WordAi
How much does QuillBot cost?
a) Quillbot free plan
This is the default package after you sign up.
It grants you:
Up to 125 words in the paraphraser tool
Up to 1200 words in the summarizer.
3 synonym options
Ability to freeze 1 word or phrase.
b) QuillBot Premium
This plan offers 3 different billing options:
Monthly billing — Billed at $9.95 per month, paid every month.
Semi-annual plan — This costs $39.95 ($6.66 per month),

Annual plan — If you choose to pay every year, your cost comes down to just $49.95 (About $4.17 per month).
2 paraphrasing modes (Standard and Fluency)
The premium plan package gives you access to the following benefits:
Unlimited words in the paraphrase feature,
Upto 6000 words in the summarizer tool,
Faster processing speeds,
Unlimited freeze words and phrases,
plagiarism, and tone detector,

Compare modes feature when using a desktop or a laptop,
Access to a plagiarism checker,
Tone detection,
Access to all 5 paraphrasing modes (Standard, Expand, Fluency, Shorten, Formal, Creative, and Simple.), etc.
c) QuillBot team plan
If you are part of a team, QuillBot now has a team plan that can help you save on cost, where you can get to pay as low as $2.91 per writer. In addition to all premium features, you enjoy centralized billing and writer management dashboards.
QuillBot features
Here are some exciting features you can explore with QuillBot.
1) QuillBot paraphrasing tool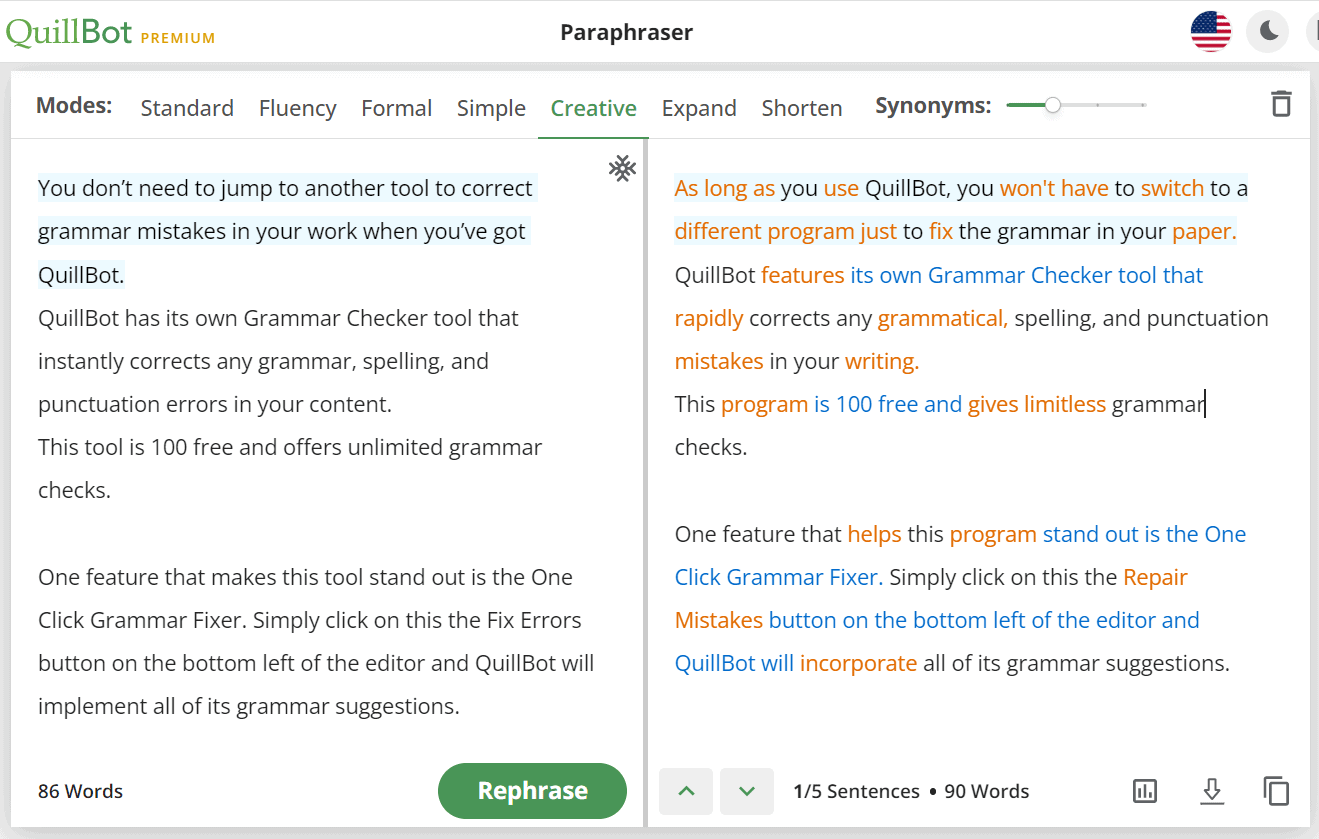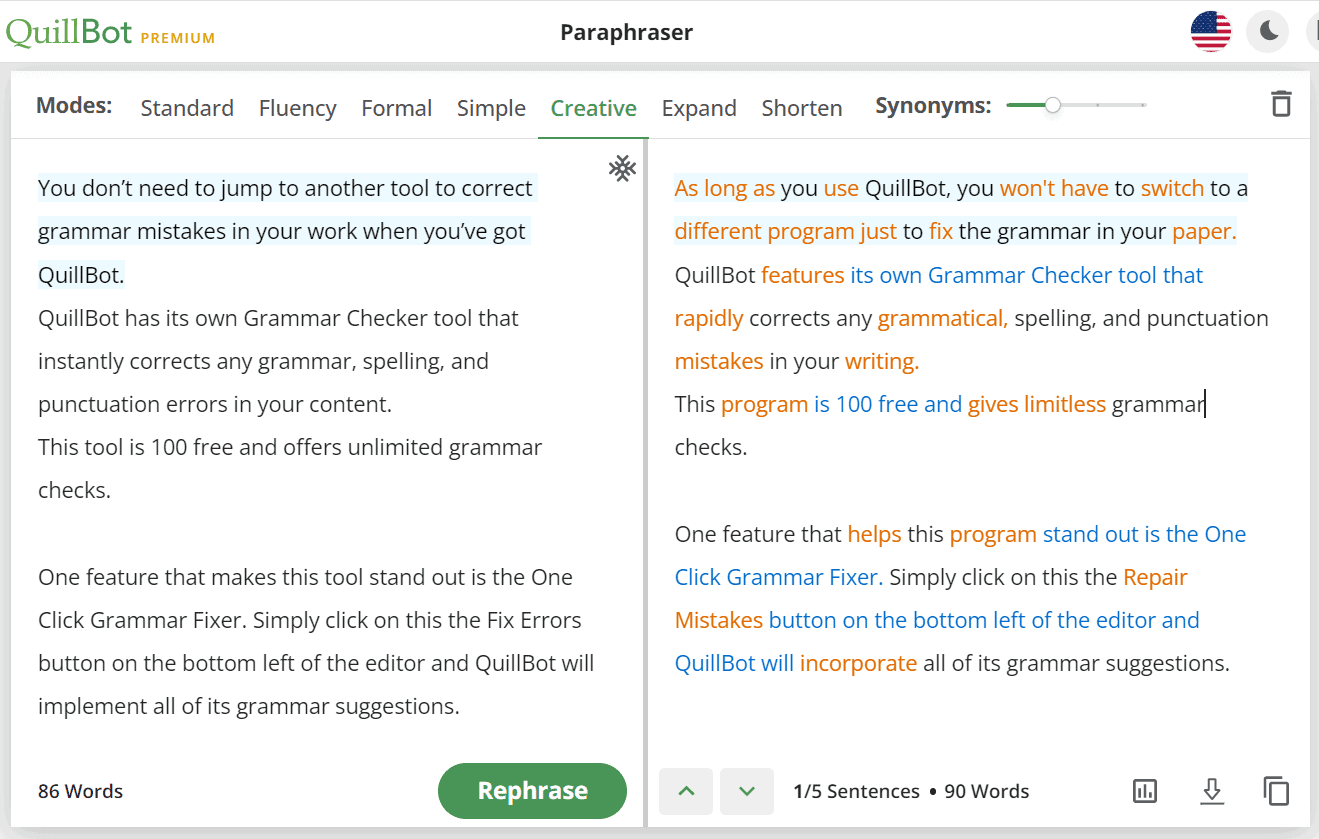 This is the main use case that this AI tool is known for. Many writers, students, and marketers use this AI-powered paraphrasing tool to improve and enhance their content.
With the premium option, you get access to all seven paraphrasing modes. You will often alternate between these modes, as you will find that some modes are better with some content than others.
These modes include
Standard — Opt for this if you want the paraphrased content to be unique, but retain contextual meaning. Works well for all content types, and topics.
Fluency — This mode is great for improving language, and fixing common grammatical errors.
Formal — If you are working on a formal document, then this is a better option to work with.

Simple — This mode often simplifies your content to make them easier to understand.
Creative — This gives the AI paraphraser a bit of freedom. The content generated will be more expressive.
Expand — As the name suggests, QuillBot will take the input content and improve upon it to make it longer by including more contextual details.



Shorten — This is the opposite of the Expand mode. The aim is to make the content more concise and clearer.
You also get to decide how much vocabulary change you want, the tone you want to use, and the style you want to adopt in your content.
To control the vocabulary change, use the synonyms slider. The higher the number (sliding towards the right), the more changes you can expect (higher creative freedom).
You can also change the synonyms yourself within the paraphraser by clicking on any word. A popup appears that provides a list of synonyms for the word or phrase. Simply choose the one you want to use.
Another cool feature or rather a setting worth mentioning is Freeze Words. When you freeze a word or a phrase, QuillBot will overlook it when rephrasing your content. Freeze words, phrases, or brand names that you don't want to be altered.
Other paraphrasing features built into this tool include:
Ability to compare outputs from all the 7 paraphrasing modes
Option to quickly regenerate new outputs (requill)
Thesaurus for customizing outputs
Supports 4 English dialects (American, British, Canadian, and Australian English)
2) QuillBot grammar checker tool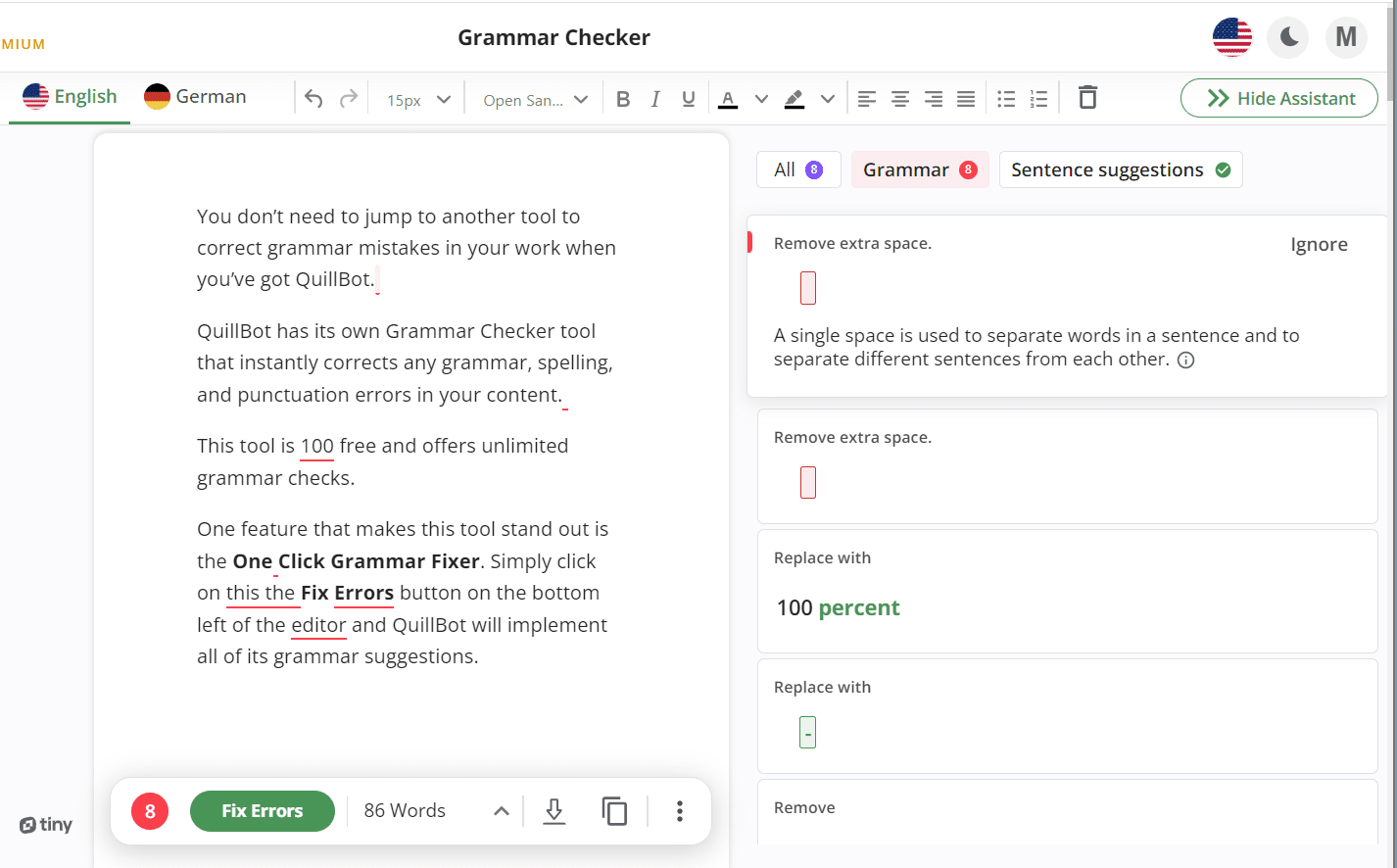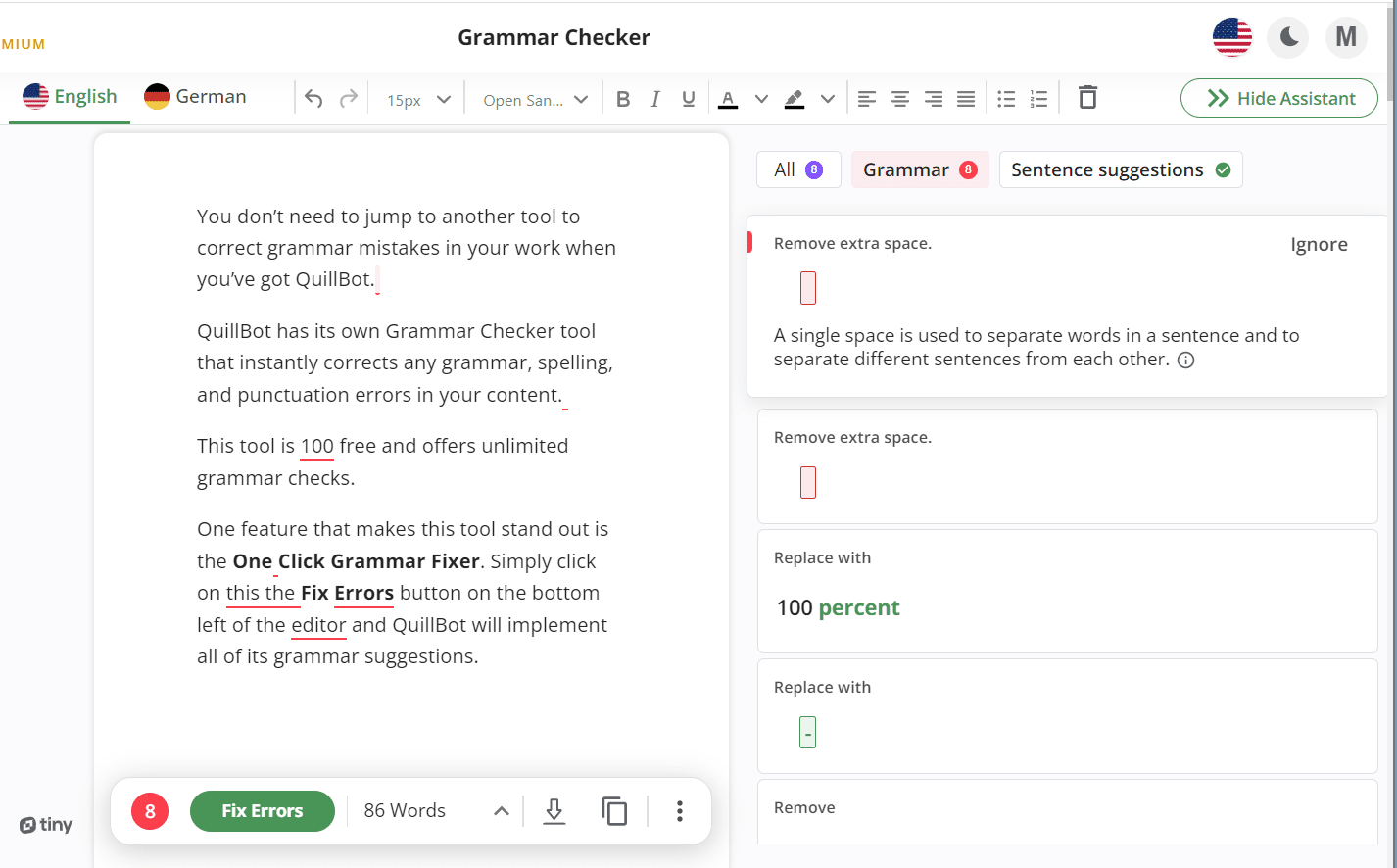 You don't need to jump to another tool to correct grammar mistakes in your work when you've got QuillBot.
QuillBot has its own Grammar Checker tool that instantly corrects any grammar, spelling, and punctuation errors in your content.
This tool is 100 free and offers unlimited grammar checks.
One feature that makes this tool stand out is the One Click Grammar Fixer. Simply click on this the Fix Errors button on the bottom left of the editor and QuillBot will implement all of its grammar suggestions.
This tool can help you with errors pertaining:
Comma splices
Oxford commas
Word misuse
Subject-verb agreement
Possessive plural nouns

Misuse of prepositions, etc.
How does QuillBot's Grammar Checker tool work?
To use this tool, follow these steps:
Navigate to the Grammar checker tool from within your dashboard
Copy and paste your content into the textarea box



Wait a few seconds for QuillBot AI to analyze your content
All the errors will be highlighted in the editor
Click on each error to learn more, and tab on the suggestions that you want to accept

You can also click on the Fix Errors button to correct all the errors with just one click.
The Sentence Suggestions feature is also quite useful in helping you rewrite content to make it more fluent or simpler.
After you have finished editing your document, you have an option to easily copy the full text or export it as a Word document.
3) QuillBot plagiarism checker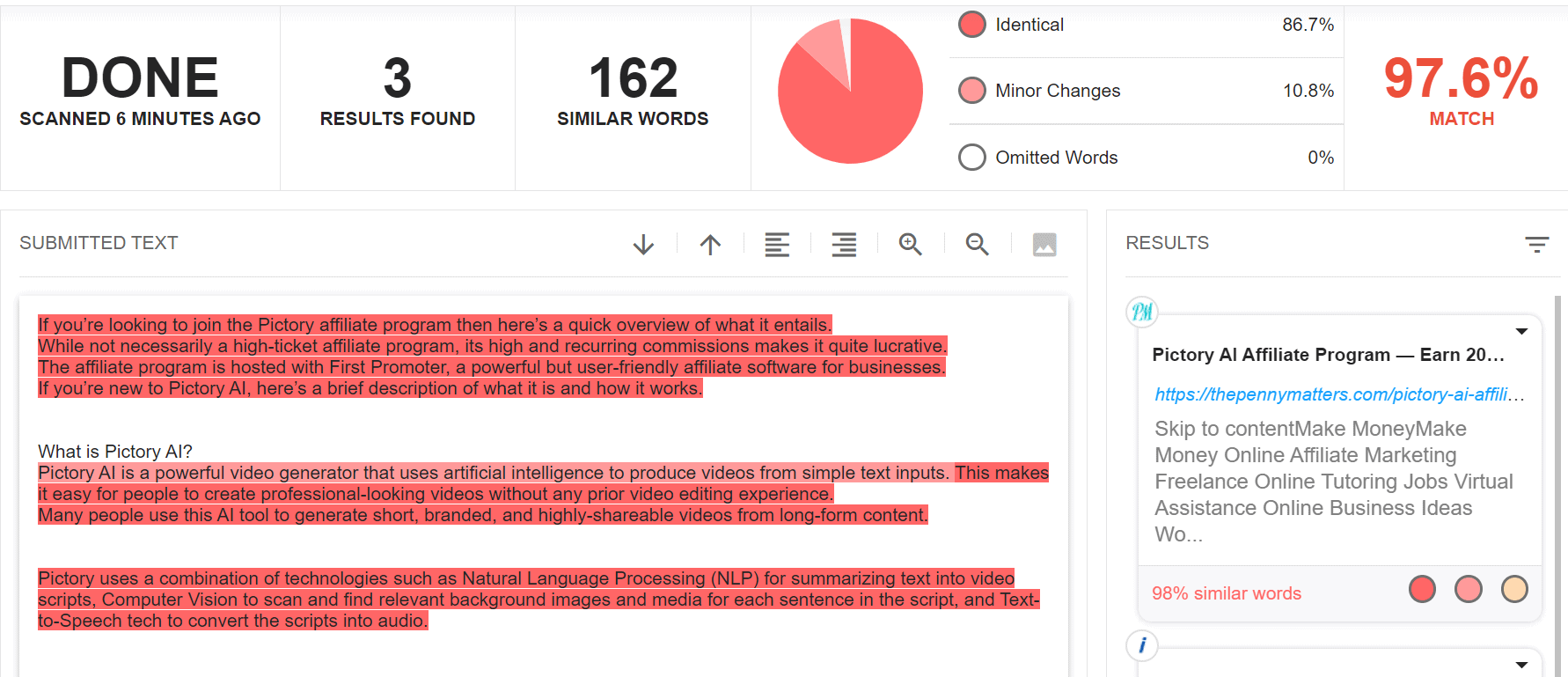 QuillBot's plagiarism checker is a tool that helps writers identify instances of plagiarism in their work.
The tool uses advanced algorithms to compare the writer's text with millions of web pages, academic articles, and other sources to check for any similarities. Thus, it aims to identify any instances of unintentional or purposeful plagiarism.
Here are the key features of this plagiarism checker:
It gives you the exact sources where the work was derived

Can check for plagiarism in more than 100 languages
You can preview the plagiarised source from the report page
Plagiarism reports are saved to your scans history section so you don't have to rerun them.



The tool provides a percentage score of the originality of the writer's work, along with a list of any plagiarized sources.
The plagiarism checker feature also highlights specific sections of the text that match the identified sources, making it easier for writers to locate and correct any plagiarism issues.
The QuillBot plagiarism checker is easy to use and provides accurate and reliable results. It helps writers to maintain academic integrity, avoid ethical issues, and protect their reputation by ensuring their work is original and properly cited.
4) QuillBot Text Summarizer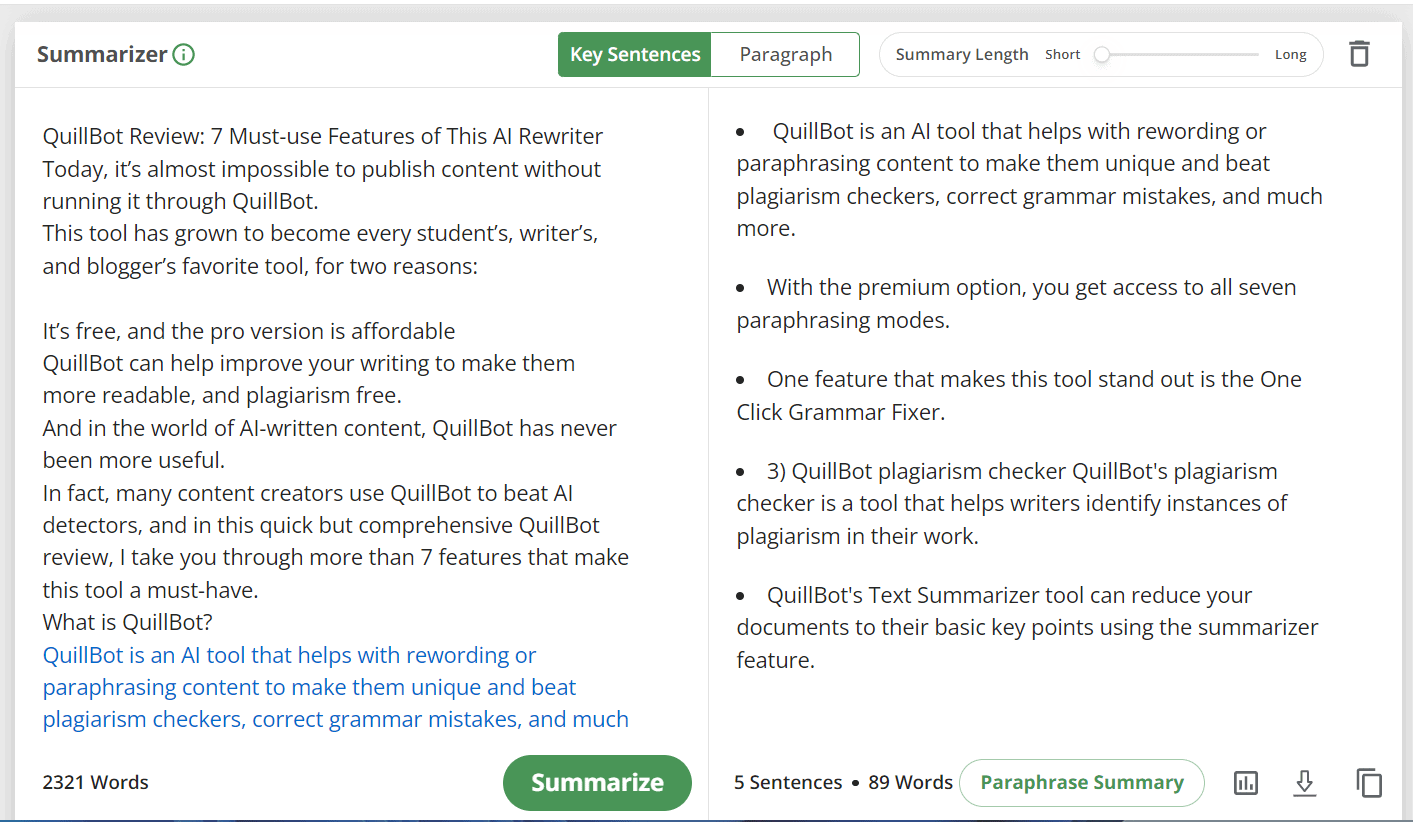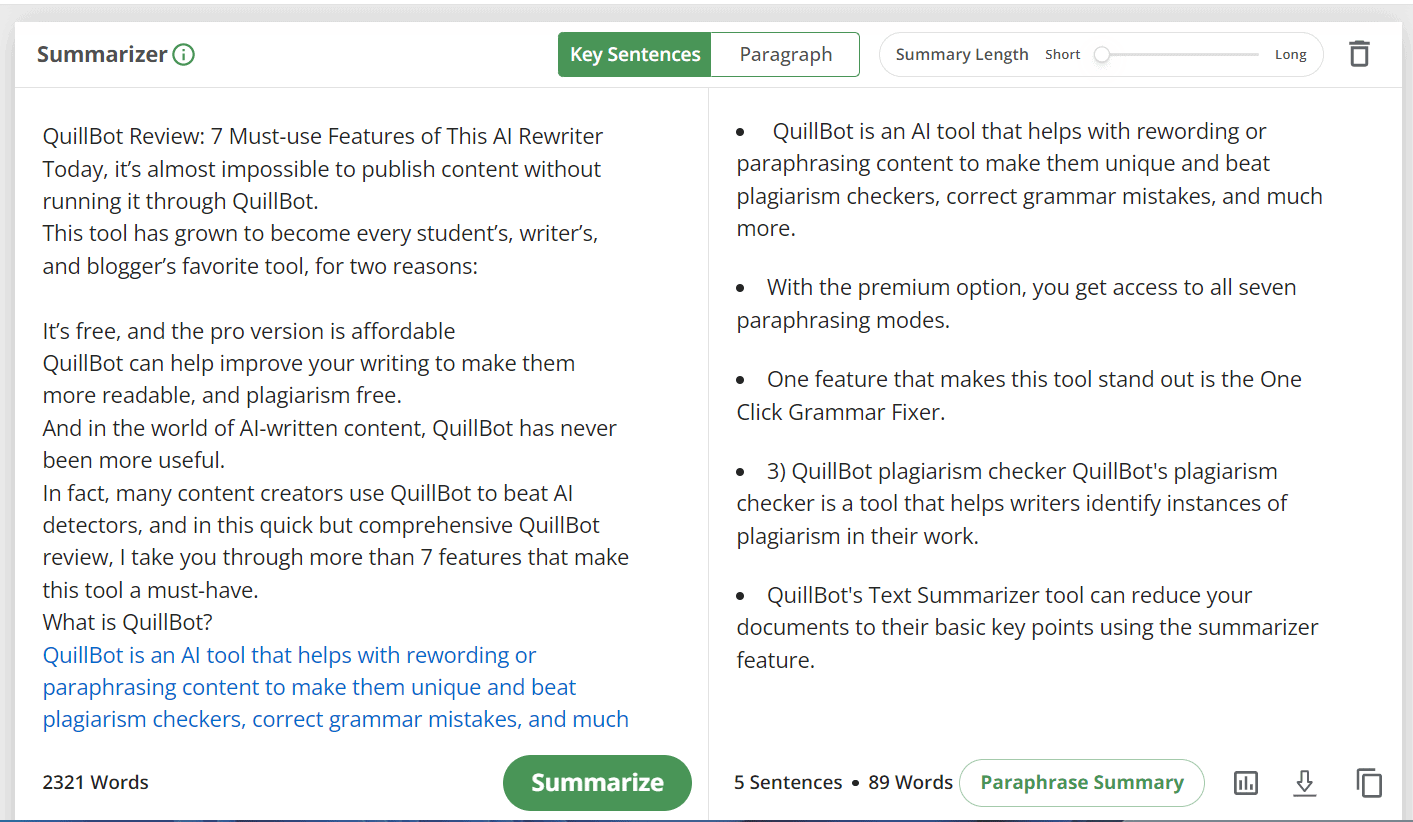 There are a few reasons why you need an AI text summarizer tool, one being able to quickly understand what a huge chunk of content is all about without having to read it in its entirety.
QuillBot's Text Summarizer tool can reduce your documents to their basic key points using the summarizer feature.
It uses AI and natural language processing to find core information in your post. It then filters out what is deemed non-essential and leaves key points while maintaining the original context.
You can summarize content in two ways
Sentence mode, and



Paragraph mode.
Sentence mode condenses your document to a few key sentences. QuillBot will present the summary as bullet points. You can adjust the number of points presented by changing the summary length slider that runs from short to long and everything in between.
In the Paragraph mode, you can instruct the QuillBot summarizer to reduce your post to single or multiple paragraphs, by adjusting the length of your summary with the length slider.
How does the QuillBot Text Summarizer work?
To use QuillBot Text Summarizer, here are some steps to follow:
Copy and paste your content into the summarizer
QuillBot will take a moment to analyze your content and return some main keywords
On the top center of the editor, you can switch between Key Sentences (for simple bullet point takeaways) and Paragraph modes (for more elaborate summaries)
Towards the top-right of the editor, you can control the summary length outputs by dragging the Summary Length slider. (Applicable to the Key Sentences mode only)
(Optional), you can select the keywords that are dominant in your content to enhance your summary
Click on the Summarize button on the bottom right of the editor
What can you summarize?
Sales page copy
Blog posts
Research papers
PDF documents
Any short-form copy
News articles
Confusing paragraphs
Academic essays
This tool can be helpful if you want to repurpose your long-form content and blog posts into LinkedIn posts, tweets, Facebook posts, or Instagram captions.
5) QuillBot Co-writer


QuillBot's Co-writer tool is your newest writing superpower and not just another writing assistant.
Here are some of the things you can accomplish with the QuillBot Co-writer:
a) Web research — use the web research tool on the right of your editor to research the web, preview articles, and use content without ever switching to another tab.
This makes it easier to research ideas on the go, while you do deep writing work.
b) Citations — you can insert content from the web into the editor and have the AI automatically insert citations based on the citation style that you select.
c) Write faster — The Co-writer has an AI write assist tool that predicts text as you write.
To use this tool, simply start writing, and when stuck, press the Suggest Text button on the bottom of your editor to let AI generate the next lines for you, based on what you've already written.
You get 2-3 suggestions on a popup, simply click the one you want to use, and it will be added to your content.
d) Enhancing your content — With QuillBot Co-writer, you don't have to switch to other QuillBot tools to improve your content. You can paraphrase, summarize, correct grammar, and even cite sources from within your editor.
It also gives you access to your text analytics at all times. This keeps you within your word count and updates when you change the tone of the text.
By using QuillBot Co-writer, you get to save time, and helps you create excellent content faster and with minimal effort.
6) QuillBot Translate
The new addition to the QuillBot suite of writing tools is an AI-powered language translator that supports more than 30 languages, including French, German, Thai, Portuguese, Greek, Korean, Finnish, Italian, Japanese, etc.
This tool is completely free and is also not ad-supported, presenting you with a really cool user interface for translating your documents.
You can translate up to 5,000 characters at a time, but you can always delete already translated text to allow for more translations.
If you are learning a new language, QuillBot translate can help you make sense of modern phrases, slang, idioms, and strange language nuances. It can also compare sentences and paragraphs to further clarify grammar rules, sentence structure, and verb conjugation in your target language.
QuillBot translate is especially useful to students and researchers who need to understand academic material written in foreign languages. This will help you in case you need help in a foreign country, with an unfamiliar language, by easing communication barriers.
Here are some other languages supported by the QuillBot Translate feature:
Bengali
Cebuano
Chinese
Czech
Finnish
English
Dutch
Danish
French
Italian
Tagalog
Thai
German
Japanese
Swedish
Turkish
Greek
Korean
Spanish
Ukrainian
Hindi
Malay
Romanian
Vietnamese
Hungarian
Norwegian
Russian
Indonesian
Polish
Portuguese
Who is QuillBot for?
Online brand marketers, digital creatives, small businesses looking for brand recognition, language students, and researchers can all use QuillBot because of its diverse features.
How does QuillBot work?
Decide what you want to do with your content (paraphrase, summarize, correct grammar, check for plagiarism, etc)

Select the relevant QuillBot tool
Copy and paste your content into the editor
Depending on what you are looking to accomplish, click the button on the bottom right of the editor (Paraphrase, Summarize, Scan, Cite, etc.)



Copy and paste the improved content back into your document editor (Microsoft Word, Grammarly, Google Docs)
If you are unsure of what exactly you want to do with your document, you can use QuillBot's co-writer to help you fix your article. Copy and paste or upload your content to the co-writer and select the tool you would like to use.
Is QuillBot Legit?
Yes, QuillBot is a legit writing tool. Here are some supporting reasons:
1) Advanced technology: QuillBot uses advanced natural language processing (NLP) technology to paraphrase and rewrite the text, making it a powerful writing tool.
2) User reviews: QuillBot has received positive reviews from many users who praise the tool for its effectiveness and ease of use.
3) Transparent policies: QuillBot has transparent policies regarding its usage, payment plans, and data privacy, which indicates its legitimacy and commitment to ethical practices.
4) Regular updates: QuillBot is regularly updated with new features and improvements, indicating the company's dedication to providing a quality product and staying current with industry trends.
5) Millions of users trust the platform as their writing assistant.
Is QuillBot free to use?
QuillBot offers a free version of its tool with limited features. However, it also offers paid subscriptions (QuillBot Premium) that provide more advanced features such as unlimited usage, access to exclusive tools, and more extensive paraphrasing options.
How accurate is QuillBot's paraphrasing tool?
QuillBot's paraphrasing tool is relatively accurate, but it may not always produce the exact output that users desire. It's important to use critical thinking and evaluate the output for coherence, tone, and meaning.
Does QuillBot provide citation support?
Yes, QuillBot offers a citation generator feature that can create accurate and properly formatted citations in various styles such as MLA, APA, Chicago, and Harvard.
QuillBot Alternatives
QuillBot review: pros and cons
It is important for you to have a clear picture if you choose to use this rephrasing tool. Here are some advantages and downsides to using QuillBot.
Pros (Benefits of QuillBot)
QuillBot helps you communicate your messaging with clarity by monitoring your tone, choice of words, and performing grammar checks on your document.



QuillBot can help ensure your content is plagiarism free using its plagiarism checker.
The premium version has a compare mode that allows you to see the differences between the original and the improved version of your content.
Powerful integrations (Chrome extension, Microsoft Word, Gmail, and Google Docs integrations) for your convenience.
Cons (Limitations)
This tool limits the number of words you can run through its tools, even with the Pro version. You can summarize a maximum of 6000 words with QuillBot.
The grammar checker is not as robust as a dedicated grammar checker tool like Grammarly or Pro writing aid.



Lack of general settings to customize your brand voice and tone, as with a tool like Writer.com