Sometimes, as a blogger, you wish you could wave a magic wand and write quality long-form articles in a snap of a finger.
You would not have to hole yourself up in the furthest corner of a room, struggling to create factually correct, original blog posts. You won't have to type from the morning until the cows come home and still have pending work.
Your dream could come true if you could find the best AI writing tool. In this post, we compare two of the most prominent AI writers; Article Forge vs Jasper AI.
While both of these tools can help you generate quality articles within a few minutes, they differ in the technologies they use, and hence how they work and the quality of content they output.
To help you determine which of the two tools is right for you, here's our unbiased Article Forge Vs Jasper AI review.
Article Forge Vs Jasper AI — Overview
Let's look at each tool individually to help you know what you would get yourself into from the get-go.
What is Jasper AI
Jasper AI (Formerly Jarvis AI) is a really powerful writing tool that enables you to quickly generate different content pieces five times faster than human copywriters using state-of-the-art AI technology. It's powered by GPT-3 technology developed by OpenAI.
Like many AI writing tools, Jasper utilizes templates that make it easy for users to generate content for specific use cases such as Quora answers, blog posts, social media captions, sales copy, etc.
This tool is therefore ideal for content creators such as bloggers, digital marketers, freelancers, copywriters, and other experts who need some assistance in their content creation process.
What is Article Forge?
Article Forge is a one-click article generator that enables creators to go from keywords to a full first draft in under 7 minutes.
Unlike Jasper AI, you don't have to direct the AI any further besides just feeding it the topic, and setting the optional features such as article length and subheadings.
Article Forge Vs Jasper AI — Features
Jasper AI features
Jasper AI has some incredible AI features that set it a bar higher than Article Forge. Take a look:
Article Forge features
Article Forge vs Jasper AI (Head to Head)
Now that you know the features of each tool, let's place them head to head and compare them in terms of tech, languages, customer support, pricing, and ease of use.
1) Technology
Jasper AI uses GPT-3 learning technology to create content that feels human-written. GPT-3 is a more advanced language model that Jasper uses to give the content a human touch.
Article Forge doesn't use GPT-3, but utilizes its own custom-trained deep-learning models.
2) Supported languages
Article Forge can create content in 7 languages. Jasper AI, on the other hand, can generate and translate content in more than twenty-five languages.
So, both of them could help you reach a wider audience, though Jarvis could give you an upper hand.
3) Ease of use
It's effortless to feed these tools topics, select the type of content you need and let them sweat it out.
Using Article Forge is easier than using Jasper AI. You enter the keywords and the phrases related to the main keyword, and your article will be ready in minutes. You then tweak, edit, and fact-check it to improve readability and logic.
Using Jasper on the other hand is a bit more involving since you need to leverage different templates, or commands to build up your article. Luckily, the newly introduced one-shot blog post generator can help, though to have long articles, you might have to run the template 2-3 more times.
4) Community and support
Jasper AI has a larger artificial writing community in the industry, with over 40,000 members in a Facebook group, dedicated channels, and even a few blogs focusing solely on Jasper AI copywriting.
You will find great tips in these communities on how to leverage Jasper and AI tools, in general, to scale content production
Article Forge doesn't have such a community structure as Jasper AI, but the tool is quite simple, and watching just one dedicated video tutorial on YouTube should be enough to get you started.
Article Forge vs. Jasper AI — Tabular comparison
| | | |
| --- | --- | --- |
| | Article Forge | Jasper AI |
| Smallest plan price (paid annually) | $13/mo | $24/mo |
| Smallest plan price (paid month-to-month) | $27/month | $29/month |
| Words included per month | 25,000 | 20,000 |
| How many words per article? | 50, 250, 500, 750, or 1,500+ | Requires multiple steps to generate a long-form article |
| Use with WordPress? | Yes | Yes |
| Simulates human writing? | Yes | Yes |
| Technology used | Multiple custom-trained deep-learning models | GPT-3 |
| Bulk article generator, | Yes | No |
| Ease of use | One-click 1500+ word content generator | Requires dashboard learning |
| Free trial | Yes | Yes |
| API Access | Yes | No |
| Content Quality | 2.9/5 | 4.2/5 |
| Chrome Extension | No | Yes |
| Short form copy | No | Yes |
| Built-in copy templates | No | Yes |
| Content Rewriter | No | Yes |
| Integrations | WordAI, WordPress | Closerscopy, Grammarly, Google docs |
| AI Art Generation | No | Yes |
| Media auto sourcing | Yes | No |
| Post-scheduling and auto-publishing | Yes | No |
| | Get Article Forge | Try Jasper AI |
Pricing comparison
Article Forge pricing
Article Forge has pocket-friendly packages starting at a measly $13 per month. You pick the one that suits your needs, and you can get a full refund should you feel you need to get what you signed up for. (The catch is that you need to NOT have generated more than ten articles during the period)
The game changer is the third package, where you pay $57 annually and create unlimited words.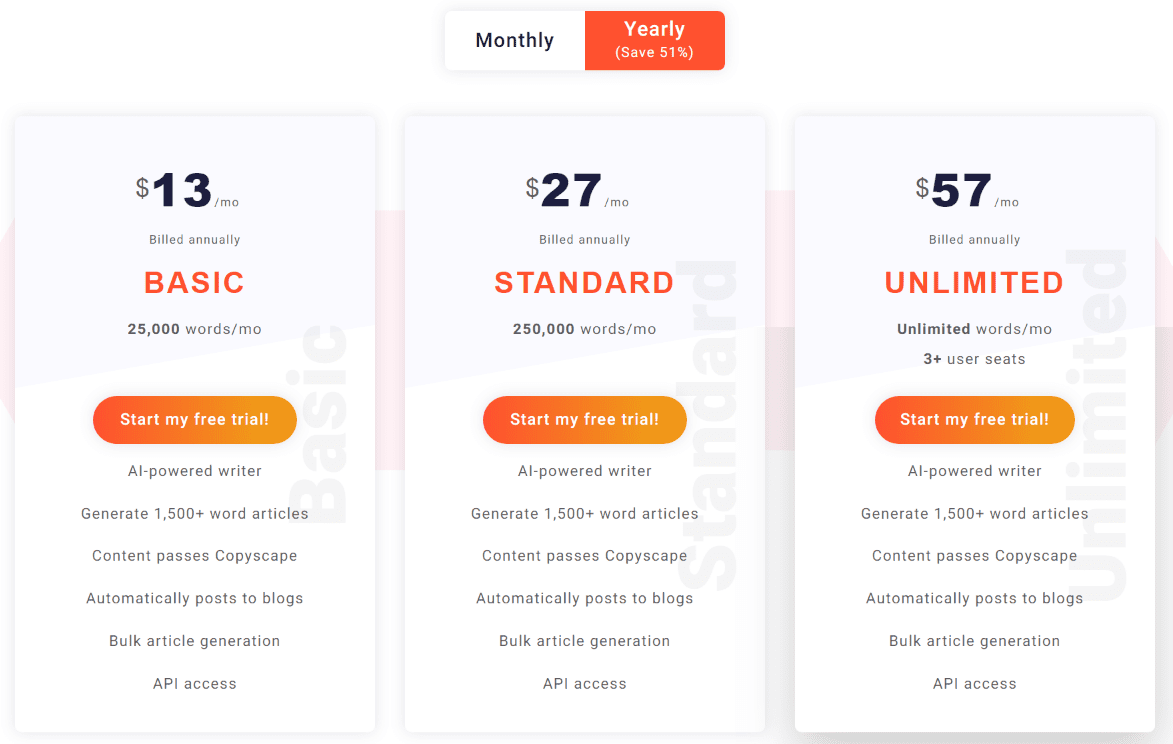 Here's how to try Article Forge AI for free
Jasper AI pricing
Jasper AI's plans are a bit pricey, compared to Article Forge. Your plan determines the words you can generate with it and the features you assess. You get to do more and save more with Boss Mode.
You get all the features Jasper has in store and can create 100,000 words per month. With Jasper, you get what you pay for.
Starter plan: for short copy generation, starts at $24/month for 20,000 words
Boss Mode: for long-form content, starts at $59/month for 50,000 words.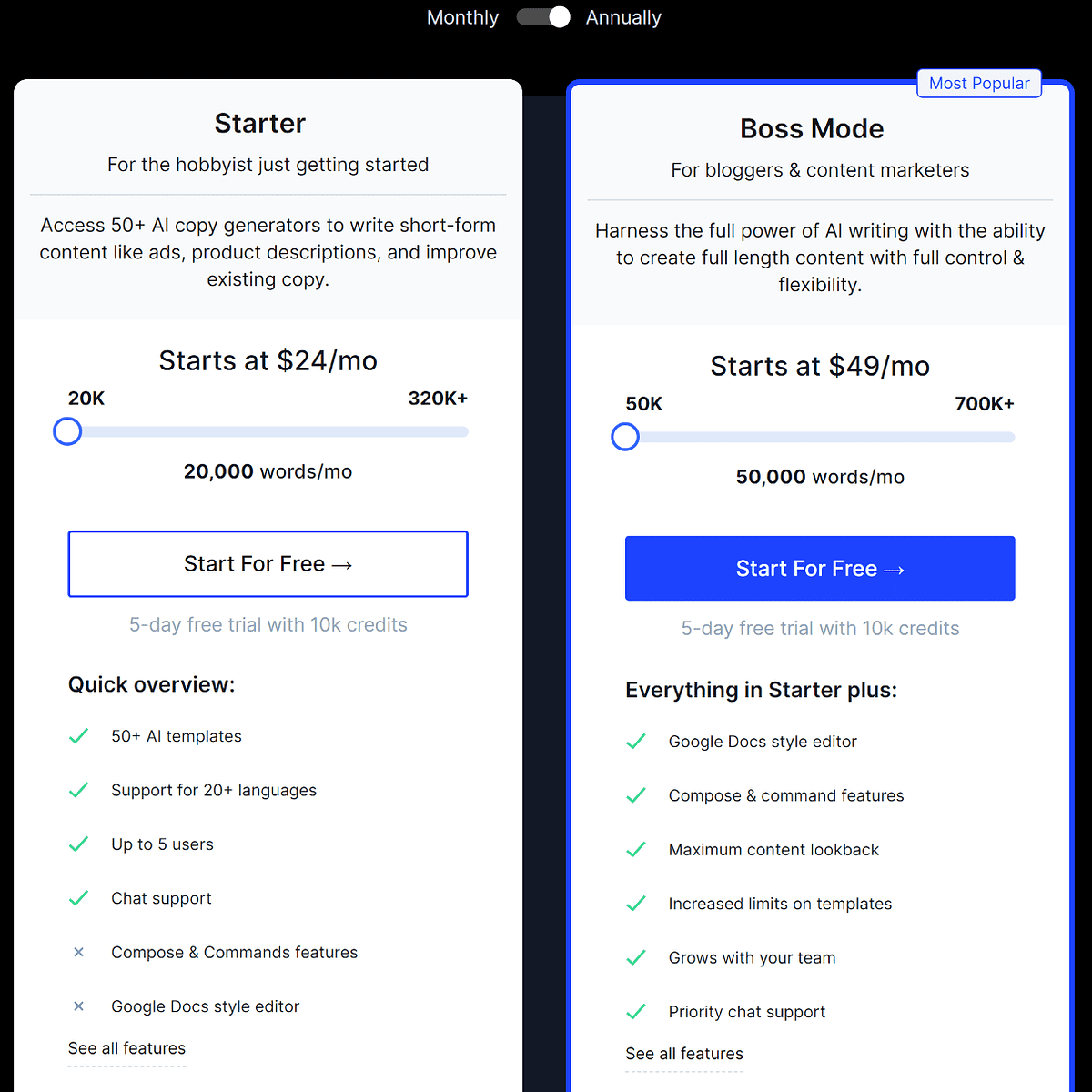 Here's how to try Jasper AI for free
Pros and Cons
Jasper AI pros
Deep content-creation template library that is constantly growing
Jasper's commands and recipe options make creating content faster, easier, and enjoyable.
It's ideal for creating both short and long-form content.
It creates original content
It has 60+ templates to give you content ideas and help you write.
Jasper AI cons
GPT-3 technology occasionally struggles with highly technical topics.
Even "junk" content you do not use will count against your monthly word count.
You've to research extensively before prompting Jasper to generate content
It takes time to master it
It is too pricey for beginner writers to afford
Article Forge pros
It only takes a few clicks to generate 100% unique content.
You can automate the content created to be published on your websites automatically
It's painless to use
Creates long-form and short articles
Article Forge cons
If you use it frequently, the monthly charges may appear excessive.
The blog posts produced are not yet ready for publication. You'll still need to fact-check and edit them, which can be time-consuming
Although it creates easy-to-read articles, the information generated is factually incorrect and thus needs lots of rewriting. So, it can be tricky to use it to create medical and health blog posts.
Which one should your choose?
We'll tell it as it is. Jasper takes the day in this Article vs. Jasper AI review. It beats Article Forge hands down as it has incredible features that make the generation of useful content possible:
Jasper commands
Content summarizer
Content Improver
One Shot Blog Post.
Jasper also gives you lots of tools, and hence control over how you want to develop content for various use cases.
Article Forge is also a superb AI writing tool. It creates original content, is more affordable than Jasper AI, and is simple to use. It is cheaper to create content with it than hiring copywriters if you are okay with spending a few hours editing and proofreading the content.